Yesterday's rain is now away from Northern Ireland and making its way across Scotland. There has been flooding, with more NI traffic information here.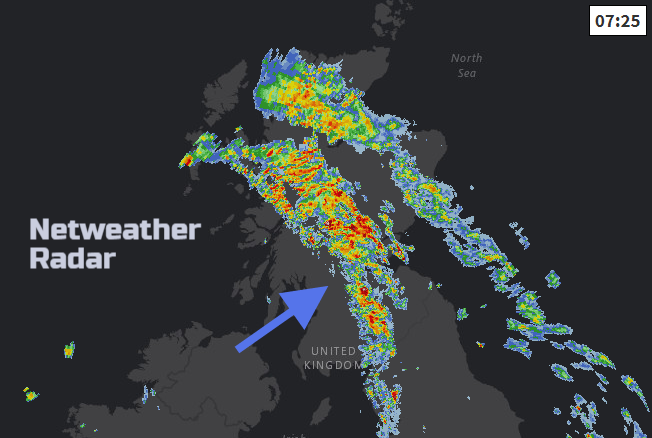 We still have the warm humid air over England this morning with temperatures starting at 18C in the rather muggy air. Temperatures in the southeast could still reach 24 or 25C today. However, changes are afoot from the west as a cold front moves in. This is bringing plenty of rain over Scotland but also introducing cooler, fresher air. Northern Ireland has just seen temperatures dip down to 11C as this different airmass arrived.
It's been very wet for Northern Ireland and western Scotland with South Uist recording well over an inch of rain overnight, and nearly 3" for NI on Tuesday. The cold front is now nearly catching up with the warm front over Scotland, and there will be more wet weather about this morning. So tricky driving conditions with a lot of surface water and spray. These bands of rain continue to push NE today, up to Grampian, Caithness and the Northern Isles. Behind the fronts we are already seeing brighter skies for Northern Ireland and this clearer even sunnier weather will spill into Scotland too before showers appear from the west. The winds will be SW or westerly and sheltered spots could reach 20 or 21C.
For northern England and Lincolnshire, we will lose the SE wind along the North Sea and veer to an SW wind as the rain band moves across. This will be a defined line but will bring a cloudy, wet spell this morning with heavy and thundery bursts, especially over the hills. Temperatures will then reach 20 or 21C (70F)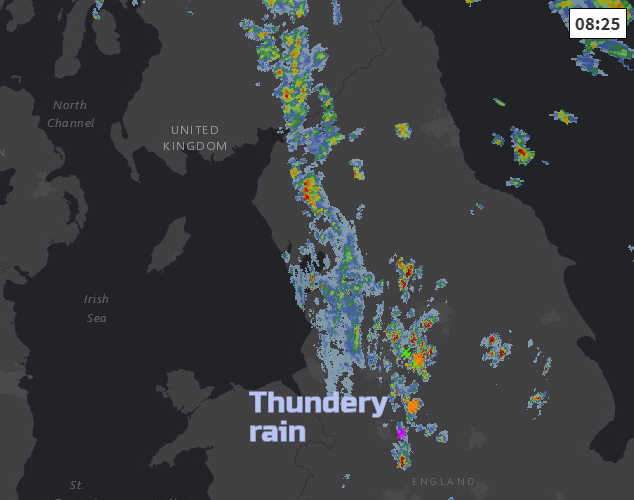 For southern Britain, Kent has been in the sunshine, but there is a lot of cloud about for Wales, the Midlands and southern England into East Anglia. Things improve from the SW with sunshine appearing here this morning and the swathe of cloud pulling away into the North Sea this afternoon. West Wales and Anglesey will keep a brisk SW wind, but much of southern Britain will have a westerly breeze with temperatures from the high teens to the mid 20sC