An area of low pressure to the west of the Ireland today, containing the remnants of ex-Hurricane Gert, will pull a plume of warm and humid air of sub-tropical origin across the UK today. So, where the sun comes out across the south, we could see the temperature reach 27C. However, this burst of warmth and humidity, in what has been a generally cool and changeable August so far, will be short-lived – as a cold front moving east on Wednesday sweeps the muggy air away. Then Thursday and Friday sees a north-south divide – with England and Wales staying mostly dry and fine, while Scotland and N. Ireland see sunshine and showers.
The Bank Holiday Weekend (for England, Wales and N. Ireland) looks more mixed for all, with some sunshine, but also a threat of showers in places on Saturday and Sunday, Bank Holiday Monday looking mostly fine to start, though rain arriving from the west later. But by no means a washout for many over the long weekend.
Today
For now, the warm and muggy sub-tropical air flooding north over the last 12 hours is bringing leaden skies thanks to low cloud, mist and hill fog sitting across many areas to start Tuesday. The cloud thick enough over northern England to bring some patchy rain or drizzle over the hills, we also have some rain clearing north across Scotland and some thundery showers affecting Cornwall and south Devon. But for many it's a dry if grey start.
Through the day, patchy rain will continue to clear north across northern Scotland, while further south, the low cloud and hill fog may take some time to lift, but it will break up in places away from northern Scotland, and where it does it will feel warm in the sunshine, very warm across central and southern areas – where temperatures will reach the mid 20s. Thundery showers across the southwest this morning may tend to wane, but as the sun warms the air up we will see some heavy and thundery downpours develop across Ireland, N. Ireland, north Wales and parts of northern England through the afternoon and into the early evening. Some isolated showers possible across south Wales and southern England this afternoon, but most central, southern and eastern areas will stay dry with sunny spells.
Feeling muggy today with generally light winds away from the northwest, temperatures reaching 17-20C across Scotland and N. Ireland, 20-24C across England and Wales – perhaps 25-27C in a few spots with most prolonged sunshine.
Tonight
A cold front will move in across western areas tonight, most active across northern areas, where we will see heavy and thundery downpours continue into the night across Scotland, northern England and parts of Wales, while downpours early on across Ireland and N. Ireland tend to clear northeast by the end of the night. Elsewhere across England, a mostly dry night, though low cloud and hill fog perhaps reforming and the odd heavy shower can't be ruled out. Another warm and muggy night, but turning fresher across the far west by the end of the night.
Wednesday
A wet start across the northern half of Britain, heavy and thundery downpours across northern England and Scotland through the morning along a cold front moving east gradually clearing northeast through the afternoon to drier and brighter conditions into the evening. The cold front clearing east further south just bringing a band of cloud and change in airmass as it clears eastern England in the afternoon. Fresher, drier and sunnier conditions following the front with temperatures reaching 15-19C for many. Warm and humid air hanging on across SE England and East Anglia may allow temperatures to reach 24C before the cooler air arrives.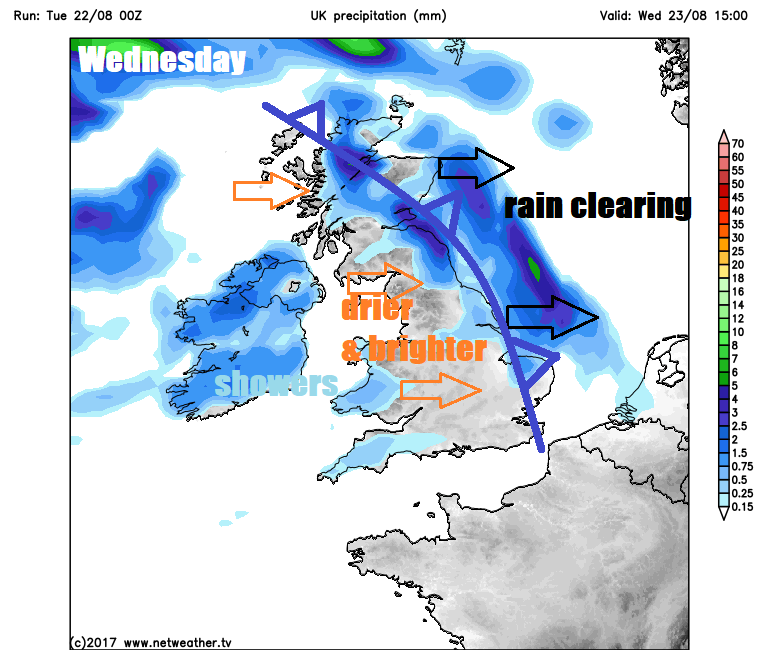 Thursday & Friday
Low pressure close to the northwest on Thursday, wrap around front bringing a spell of persistent rain to western Ireland and N. Ireland then later western Scotland, sunshine and showers elsewhere across Scotland and northern England, mostly dry and bright or sunny for rest of England and Wales. Fresher for all, temperatures reaching 17-19C generally, perhaps 21-22C across SE Britain.