Summer continues to tick away, and this weekend is like so many others of late - not bad, but could be better.
We may as well deal with the ex-hurricane in the room first. That's ex-Gert on the chart below, approaching slowly during the weekend. During Sunday much of Ireland will be seeing some rain from it. With the southwest of England also at risk, along with Wales by the end of the day.
Today, for eastern, central and southern parts it's set reasonably fair. Yes, there is the risk of the odd shower, but in the main there'll be plenty of bright or sunny skies. The further north and west that you are though, the higher the shower risk is. Some of those showers will be heavy and thundery too, blown in on the still blustery west or northwest wind.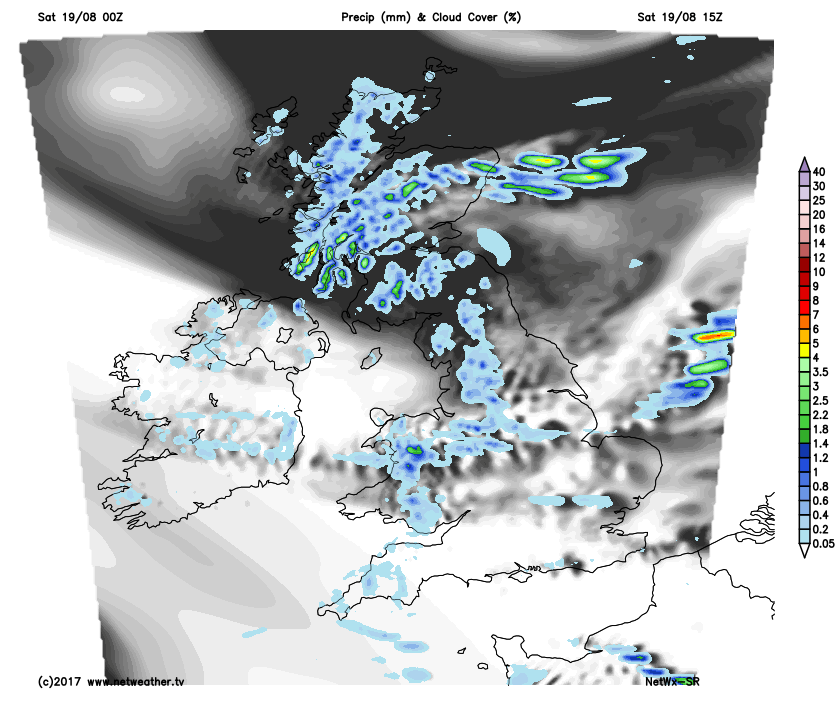 Temperatures today will be warmest in the east and south, where 17-19c will be typical, 20-21c possible in some spots though. Further north and west the mid-teens will be more likely. This evening and overnight, as skies clear and many of the showers die back, it'll be turning quite chilly, and many rural spots will see lows dipping down into single figures by dawn.
Tomorrow (Sunday) sees ex-Gert nearing, and for many it's actually going to help to bring a mostly settled day by encouraging a ridge of high pressure up across the UK ahead of it. But as mentioned above, some western parts are going to miss out on that benefit as one of it's weather fronts move in to bring rain.
Although many parts will start the day sunny tomorrow, cloud will be thickening from the southwest throughout, so it'll be eastern and central parts seeing the best of the sunshine. Temperatures will be up a bit on today, rising to 21-22c in the east and southeast, mid-high teens elsewhere.
The wet weather in the west will slowly spread north and east overnight on Sunday and during Monday. There's some uncertainty over this, but it does look like a good part of Ireland will be staying wet for the duration, much of England and Wales will see a wet spell, with Scotland staying dry for longest - perhaps into Tuesday in the north.
Heat and humidity after the rain
As the rain clears from the south, it'll leave behind some warmer, muggy air. So even on Monday afternoon, highs in England and Wales could make it into the low-twenties. By Tuesday with increasing amounts of sunshine, the mid-high twenties are possible quite widely. All the while though, parts of both Scotland and Ireland will be continuing to see outbreaks of potentially heavy rain.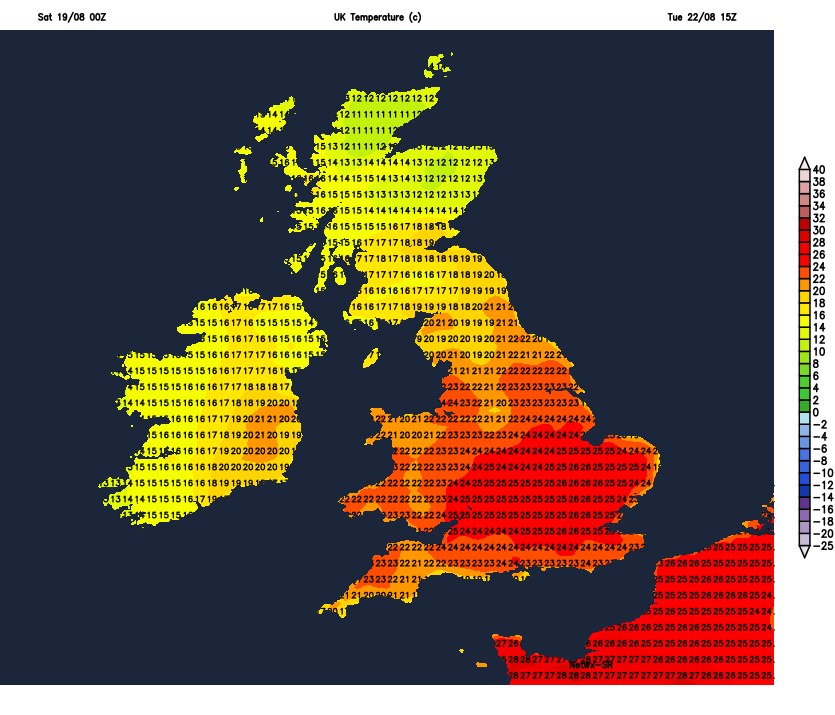 Wednesday should see the last of the persistent rain clearing from northern Scotland, but there'll be a fair few showers following into the north and west. Further south and east it stays mostly and still very warm and humid. But that heat will slowly be squeezed away to the east during and beyond midweek as winds switch from the south or southeast into a more westerly direction.
The outlook for the remainder of the week is cooler and mixed, with low pressure never too far away.