By this evening the low pressure in the north is easing away, so the rain peters out over Grampian. Showers continue to feed in from the far NW and a cluster of more persistent rain looks to be heading for Wales, Cheshire and then the Peak District through this evening. This could include some heavy and thundery bursts too. Many places become drier and clear although showers continue to affect the NW Highlands.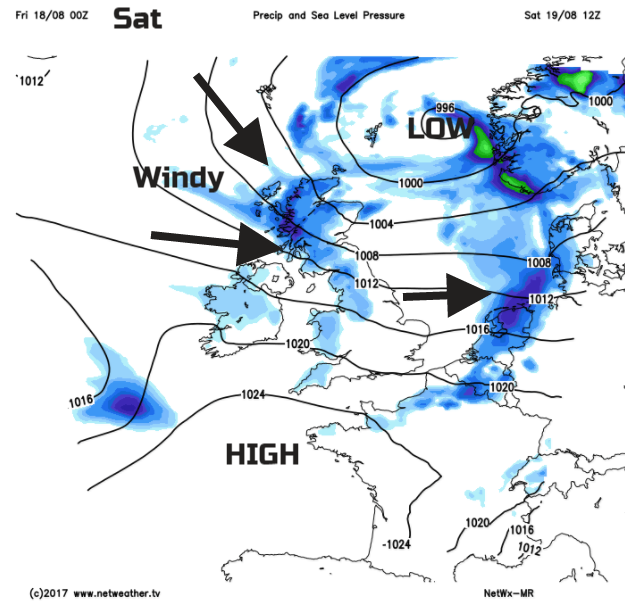 Saturday gradually improves. Many areas will have a fine bright day although still windy. There will be a fresh to strong west wind blowing, worth thinking about if you are camping or having an outdoor fete or event. Eastern areas might reach 19C further west only 16C
The winds ease during Saturday evening and it turns cooler. Most of the showers fade before high cloud begins to edge in from the southwest, bringing patchy rain to Devon and Cornwall. This is the first front linked to the Atlantic low containing the remnants of Gert. This band seems to falter as it comes up against the ridge of High pressure over the UK
Sunday
Sunday will be an in-between day. The showery, windy low pressure to the NE is pulling away and the low with the tropical energy to the west won't quite be with us. So hopefully there will be a lot of fine, bright weather about and lighter winds. At some point, cloud and rain will increase from the SW and there is a lot of uncertainty about when this will happen. Either by lunchtime on Sunday, or at the end of the weekend. It does look like the West Country will see some damp weather and this could reach into Wales too. This southern rain fades, but as th3e cold front moves over Ireland this is when the heavy and persistent rain could start.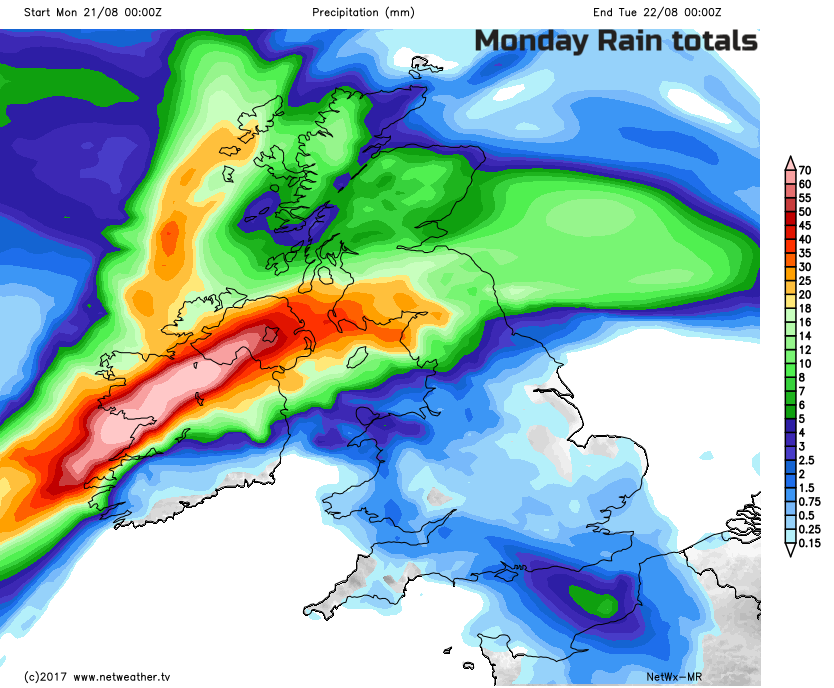 This gives an idea of possible rainfall totals during Monday, so starting Sunday night. The areas may shift but it shows a difference from the recent showery speckles.
The Environment Agency is already highlighting a possible flood risk for Sunday into Monday, with northern England and north Wales looking prone, along with Scotland and Northern Ireland.
Much of central and southern England could miss this rain and end up in the warm sector of a low pressure with tropical origins. This means some very warm, humid air for the start of next week.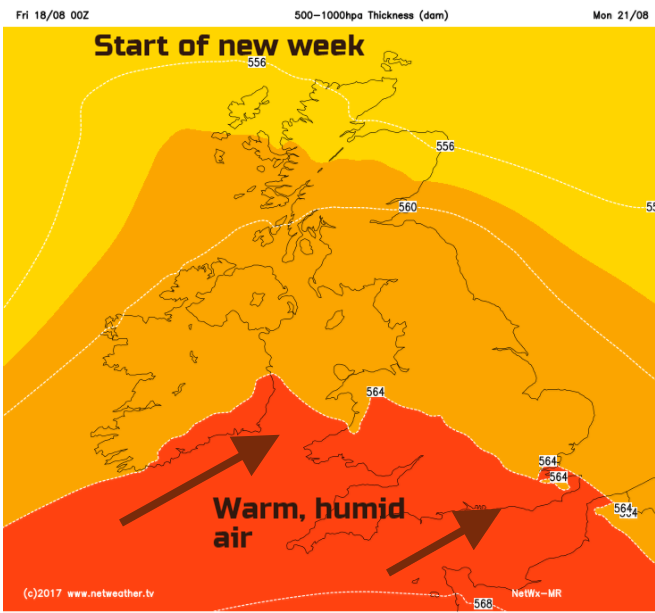 Temperatures could rocket and there are signs that thunderstorms could break out for inland southern Britain on Tuesday. It will feel quite different after the fresh coolness for the end of this week. So, although there could be heavy and persistent rain for some, Gert could result in a spell of summer muggy warmth for the start of the new week. Keep in mind the uncertainty from Sunday onwards.
It does look like Gert will give the jetstream a good old kick and upset this monotonous west to east flow which has made our UK summer so mediocre. So with a few undulating ripples in the flow, we could see more variation next week, That's not a promise of amazing sunshine and heat but just not the endless flow of blustery showers off the Atlantic.
SEPA Flood alerts for Scotland
Environment Agency 5 day flood risk