Tonight
Then we will all see some rain on Wednesday night, as it reaches eastern areas of England too, some heavy burst of rain developing across southern and eastern England into the early hours of Thursday, while showers and clear spells between spread in from the west across northern and western areas.
Thursday
Some uncertainty over how quickly the overnight rain will clear East Anglia and SE England on Thursday morning, there could be some heavy rain to contend with for the morning commute in these areas, but the rain should clear out into the North Sea by early afternoon. Sunshine and showers following the overnight rain across most parts for Thursday, heaviest and most frequent across northern and western areas. A warm day for England and Wales, temperatures reaching 18-22C generally, SE England and East Anglia again the warmest part of the country – where 23-24C is likely. Across Scotland and N. Ireland, temperatures reaching 17-19C.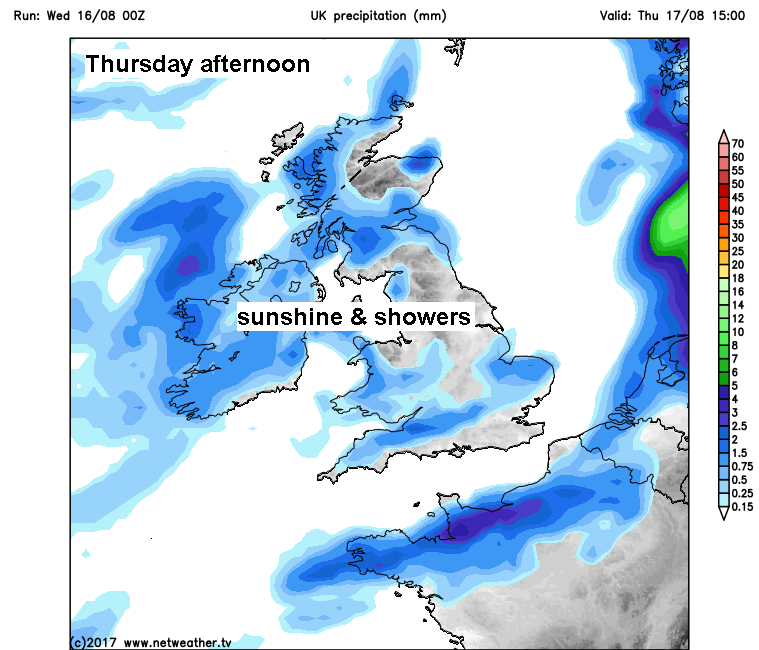 Friday
Perhaps a longer spell of rain and strong winds spreading east across central and northern parts on Thursday night as a deepening area of low pressure crosses northern areas, rain clearing northern England and southern Scotland by early afternoon but remaining windy across northern areas, with gales developing across eastern coasts as winds turn northwesterly. Otherwise, many areas will see a day of sunshine and blustery showers on Friday, locally heavy with hail and thunder. Southern most counties of England perhaps escaping with a mostly dry and sunny day. A cooler day as winds swing round to the northwest, top temperatures of 19-21C across SE Britain, 15-18C at best elsewhere.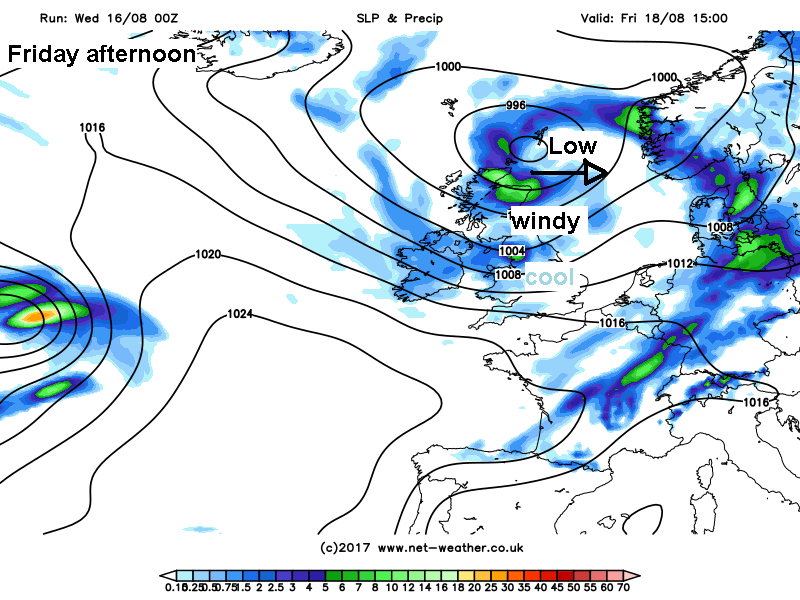 Weekend
A cool, blustery and showery northwesterly flow to start the weekend, showers becoming confined to eastern areas on Saturday afternoon, drier and sunnier further west.
For the second half of the weekend and the start of next week, weather forecasters are looking to Hurricane Gert, which is the other side of the Atlantic but some way east off the eastern seaboard of the U.S. This tropical system will remain a weak hurricane for a time before it is eventually swallowed up low pressure moving east out of Canada – then will form a deep Atlantic depression which will head towards Iceland by Sunday. The tropical air still wrapped up in this system may bring very heavy rain to northern parts of Britain on Sunday and into early Monday, with gales developing in the far northwest. Southern areas mostly dry, sunny and becoming quite warm again with temperatures reaching the low to mid-twenties.