Despite the weather remaining in an unsettled mood, we have a somewhat finer interval this weekend. There'll be a few showers at first mainly in the North and the nights away from city centres will be a little chilly. No heatwave, but it'll be pleasant enough at times before we see more cloud and rain moving in from the South West later on Sunday and into Monday.
This morning we still have the remnants of overnight patchy rain and drizzle. It's affecting the South East and some southern counties, but will soon move away. Sunny intervals elsewhere will then come through, but the morning will see variable amounts of cloud. Scattered showers mostly over Northern Ireland and the East and South of Scotland will move away, with a few also around Liverpool Bay and in the Manchester area for a while. Later in the morning East and North East England will see a few showers as well.

Radar image from earlier this morning - check the live radar here.
The trend by the afternoon will be for increasing amounts of sunshine in most parts. With the showers becoming largely confined to northern Scotland. A mostly moderate West or North Westerly wind may feel somewhat chilly over Scotland and in the North where temperatures will get no higher than 14 to 17C. Further South it'll be a little warmer, but 18 to 21C will still be somewhat disappointing for mid-August.
Most places see some sunshine into the evening, with any remaining showers after dark mainly confined to the North of Scotland. It'll be a dry night with clear spells developing particularly in central and eastern parts, affording good viewing conditions for the Perseid meteor showers expected to peak from about 2300 hours. With a westerly wind mostly light, some rural areas will turn chilly later in the night. We could even come close to a grass frost in some Scottish glens, with lowest temperatures here 2 to 4C. A few short-lived mist patches are also possible around dawn in rural areas, with minimum temperatures here mostly 5 to 8C and 10 to 13C in towns and cities.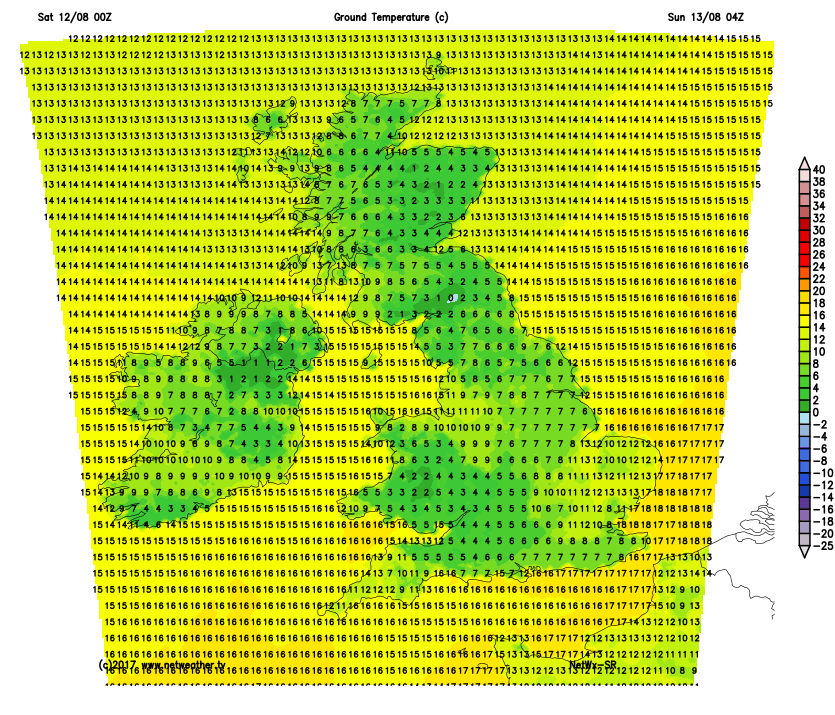 Sunday will largely start fine and dry, and it'll remain this way through the day for many. There'll be sunny spells particularly at first, but with variable amounts of cloud later that could build sufficiently to give isolated showers in the North and East, but you would be very unlucky if you caught one. Later in the afternoon Cornwall and Devon may see cloud beginning to increase ahead of the next Atlantic system moving in, but it should stay dry. A mostly light West or South West wind will 'back' southerly, freshening a little in the far South West later. Although quite pleasant it won't be particularly warm, with top temperatures in the range 14 to 17C in the North and 19 to 22C further South.