A brief ridge of high pressure does start to suppress the showers, but I can't promise a totally dry Saturday evening, and it won't feel as warm. Many areas will have a fine end to the day with just a few showers in the east and then overnight it will be dry, clear and cool with a glorious start to Sunday
However, soon enough frontal rain will arrive over Northern Ireland with outbreaks for western Britain. A new low pressure system will be heading in from the Atlantic to bring wet weather over the NW half of the UK. The winds will turn back to south westerlies, yet SE Britain will see a fine Sunday with sunshine and warmth. Not back to heat and humidity but strong sunshine and a mainly dry picture.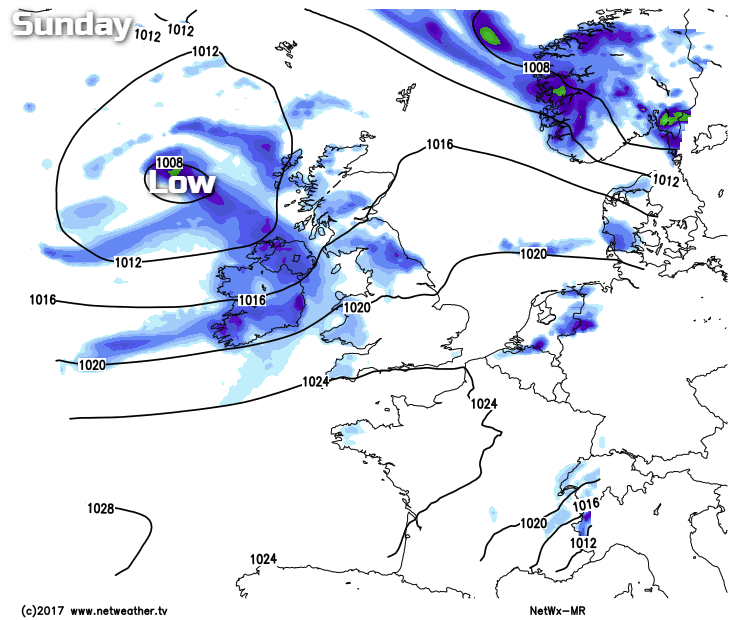 For Monday, we'll have to see where the frontal rain band reaches. It could be that parts of England and Wales sit under wet weather for much of Monday with brighter skies in the far SE and a cooler, showery picture over Scotland, N.Ireland and maybe NW England. There is uncertainty about where the waving frontal band will be or if it might just clear through. With low confidence, by Tuesday the frontal band could be over SE England, and then most of the UK is in a fresh NW flow with sunny spells and showers.
After that there are signs that the Azore's high could head our way, extending in from the west. That would mean more settled, steady weather and an end to these hefty downpours.