Although in Scotland the school summer holidays started back in late June, across England and Wales many schools are finishing today or last Friday for the summer break. Despite some spells of fine and hot weather over recent weeks, unfortunately the UK weather has its own agenda and the coming seven days or more look decidedly unsettled at times, as low pressure systems move west to east across or near the UK. However, there should be some drier spells between these low pressure systems.
For a spell of fine weather for more than a few days, ideally, we want the jet stream well away from the UK, in summer it will usually be to the north of the UK when we see high pressure bringing fine, dry and warm or hot weather for more than a few days. However, over the coming days the jet stream is forecast to be quite far south for the time of year, often running across southern Britain. This means we will see a few areas of low pressure moving off the Atlantic, with the synoptic charts looking more akin to Autumn than late July. So, if you are planning to take a holiday in the UK and Ireland and other parts of northwest Europe, be prepared for some wet and windy weather at times, but there should be a few days here and there between low pressure systems where we may seen some fine weather too. But the model output recently has not shown any signs of any hot and sunny weather returning.
Low this weekend
A wedge of cold upper air breaking off from the upper cold vortex covering Greenland and northern Canada earlier this week dived southeast across the far North Atlantic towards Ireland over the last few days, this has shunted the polar front jetstream south across the Atlantic. This brings a low pressure centre across southern Ireland today, briefly deepening, before the low drifts east across southern Britain on Saturday and fills, before drifting out into the North Sea on Sunday.
Wedge of cold upper air breaks away from cold vortex over Greenland this week, the upper low UK bound and bringing unsettled weather for the weekend.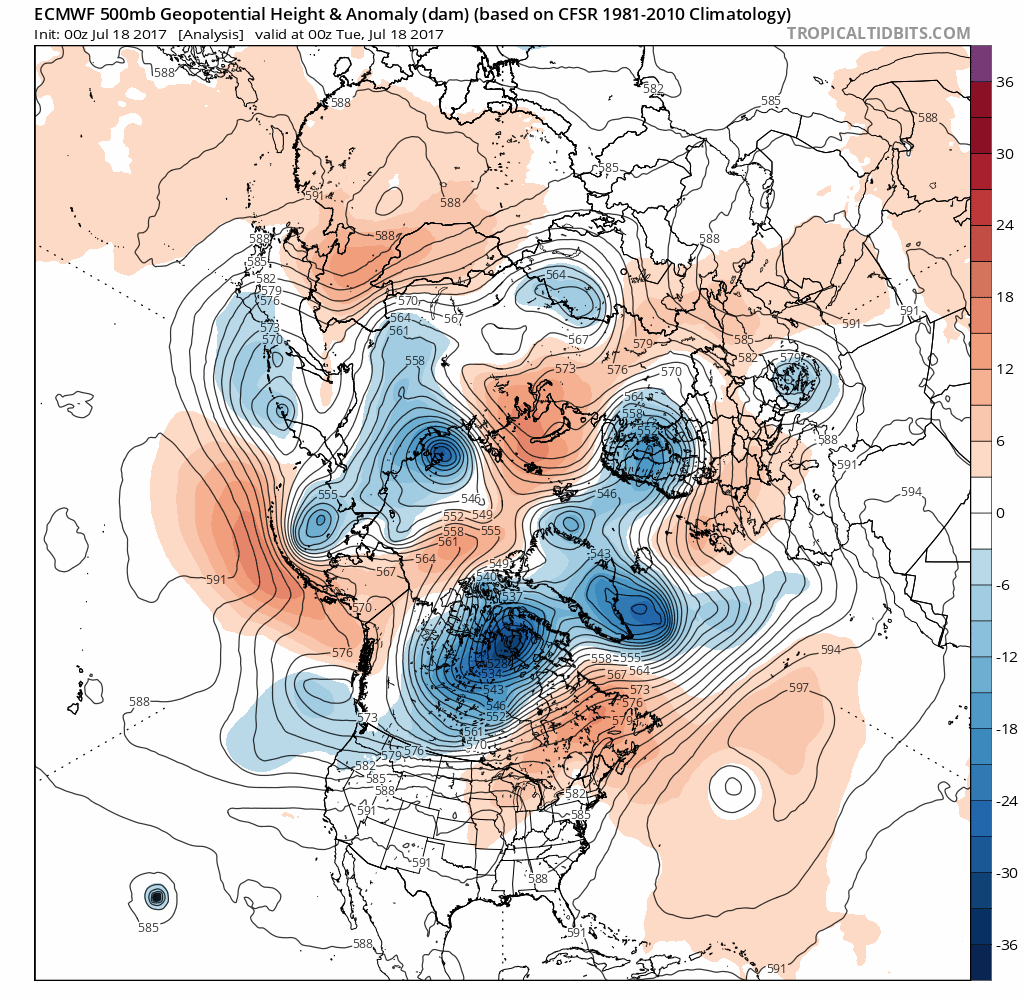 A band of heavy rain along an occluding cold front spiralling around this low and across the west today will edge slowly east before clearing England and Wales Saturday morning, but could linger across southern then eastern parts of Scotland. In wake of this rain band, colder air aloft moving in with upper low moving east will, with surface heating in sunny spells, create steep lapse rates … which will trigger heavy showers and thunderstorms across England and Wales, accompanied by hail, localised intense rainfall and gusty winds.
Sunday will likely see further heavy showers across England, Wales and perhaps southern Scotland, with thunder and hail locally across central and southern England.
It will be quite breezy on Saturday, especially windy around coasts, but winds should ease on Sunday as the low fills as it leaves eastern England. As a result, Sunday will feel warmer in the sun, though temperatures both days reaching 16-19C generally, 20-22C across eastern England.