A mostly dry respite Monday and Tuesday
The low over the weekend moves on east, which will allow a ridge of high pressure to build in from the west. However, cloud will bubble up in the afternoons on both days to bring some well-scattered showers, mainly across central, southern and eastern areas, but you'll be unlucky to catch one, many staying dry.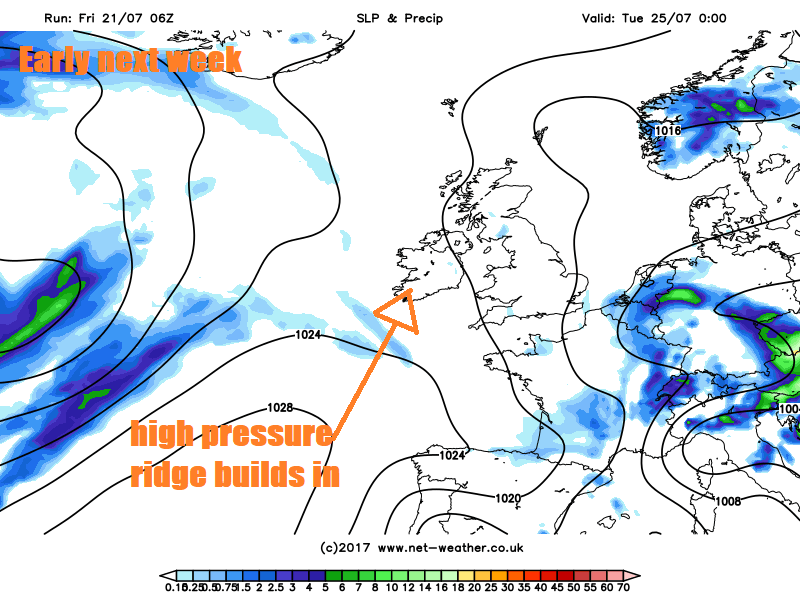 Turning unsettled from mid-week
The models are currently indicating weather going downhill again next Wednesday as the ridge is flattened by another strong pulse in the Jetstream moving towards the UK over the Atlantic. This is due to another cold upper vortex breaking away from the main cold vortex over northern Canada, strengthening the jet over the north Atlantic. A deepening low will accompany this upper vortex as they both move towards the UK by the end of the week. Naturally, some uncertainty on exact timing this far out, but for now GFS and ECM bring a deepening low east below Iceland towards the west or northwest of the UK by Thursday.
Another upper low breaks away from northern Canada - which brings a strong jet streak toward the UK and more low pressure
A frontal system ahead of this low bringing some heavy rain and strong winds to western areas initially on Wednesday, before wind and rain push east Wednesday night /Thursday morning before clearing to sunshine and blustery showers for Thursday and Friday – showers particularly prevalent in the west. Given the tight isobars indicated by models with the low moving in, there could be some gales around southern and western coasts.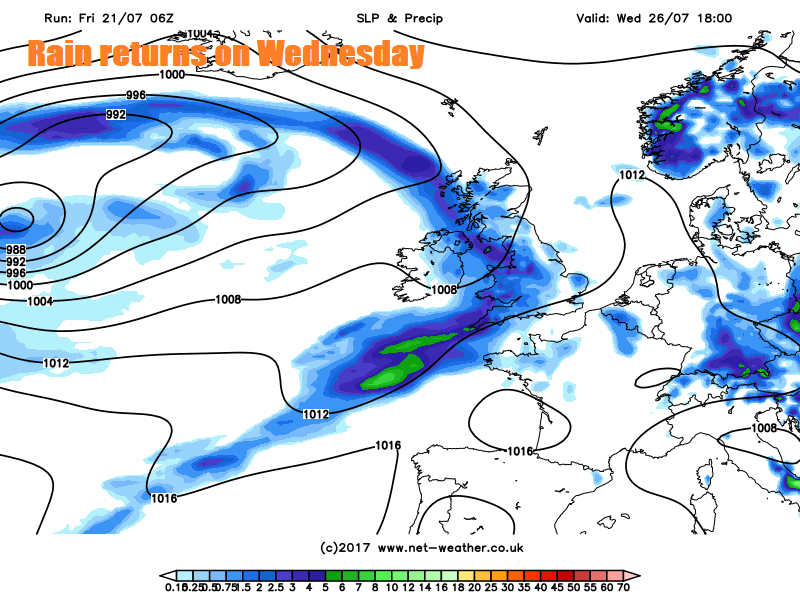 So, there could be some unwelcome autumnal-like wet and windy weather at times for the first week of the summer holidays for those breaking up today. Particularly this weekend and again from Wednesday next week, but early next week promises something more summer-like.
Longer-term prospects
Looking further ahead past the end of next week, past 7 days it is better to rely on ensemble guidance. A look at the EPS (ECMWF ensembles) and GEFS (GFS ensembles) and they don't paint a particularly encouraging picture for those staying in the UK and on holiday unfortunately.
GEFS and EPS 500mb ensemble mean and anomaly out to 15 days ahead suggest the prevalence of an upper trough/low close to the NW of the UK – which infers that the weather will likely remain unsettled and dominated by Atlantic low pressure systems moving over Britain or close to the north. However, this only guidance, and in summer the models can struggle with patterns at these lead times, so it may change for the better.
GEFS and EPS 500mb height ensemble mean indicate a trough persisting near the UK in the 10-15 day range