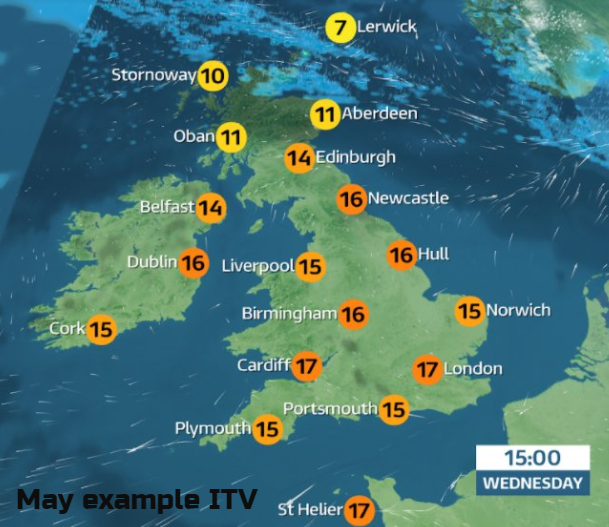 The temperatures information produced by the models is analysed, and an upper and low bound is decided upon for a location, then the most likely Max temperature. So say some early fog is likely but should clear you might get 21C, but if the fog is slower to clear, there may only be time to reach 18C, or if the fog barely forms then 22c could be possible. LB 18 UB 22, forecast 21C.
Looking ahead into the start of next week, there is an upper bound of 34C showing. It seems possible temperatures in SE Britain will creep up to 30 or 31C with a low probability of slightly higher. This heat will only result if we get a sequence of hot days and warm nights, allowing the ground to store up heat. The record for June is 35.6C recorded on the 28th 1976 in Southampton.
Just because bookies start to cut odds on the UK breaking temperatures records, doesn't actually relate to a proper forecast, they just want your money. This happens every year, yet the UK record of 38.5C (101.3F) stands from 2003
Bookmakers cut odds on 2016 being UK's hottest year on record and May's record high of 32.8C being broken - May 2016

UK weather: Bookies slash odds of hottest summer EVER as temperatures set to soar to sizzling 39C - Mirror Jul 2015

Bookies slash odds for hottest summer EVER as Britain sizzles in 24-degree Celsius heat- Daily Star Jun 2014
You get the picture.
Our Netweather MR (Medium Range) model does show heat for the weekend with temperatures in the high 20s. Widespread warmth on Saturday (away from NW Scotland) and heat again for Sunday particularly for England. Monday seems to still be hot in the south, but weather models vary about a front moving down from the north. This could introduce fresher, less warm air for next week. Other models keep the heat for longer, which could result in the 34C Upper limit.
There are signs that heat could return for the following weekend, but that is quite a way off, and it is Glastonbury by then, so hot summery weather would seem unlikely. A bit like a forecast showing warmth and sunshine for a Bank Holiday Monday, no-one could quite believe it.
Nick Finnis had a look at the tricky picture for next week Model Woes.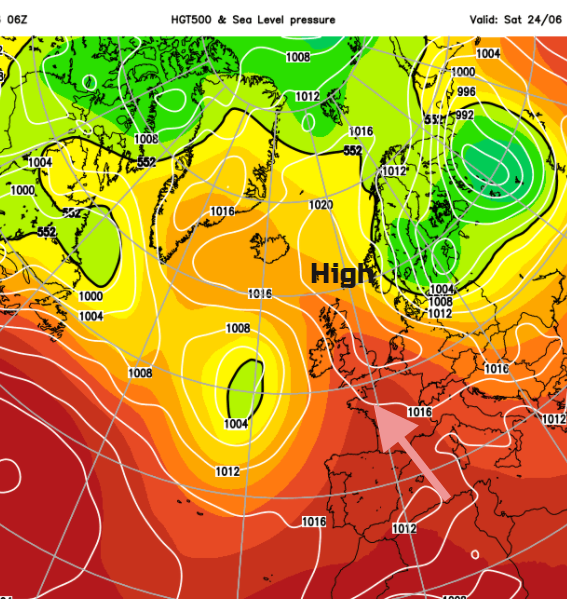 Temperatures Rise and a Hot weekend to come
Information about the Heat Health Watch for England
A service from the UK Met Office for health professionals which acts as an early warning system forewarning of periods of high temperatures, which may affect the health of the UK public.