Current Snow and Weather Conditions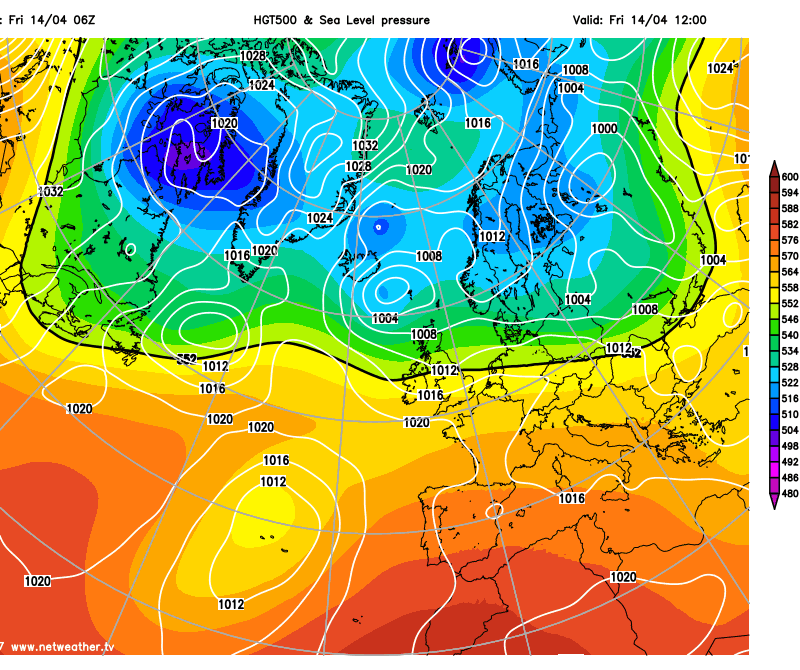 For the Alps, mid April is the time when the many of the lower resorts tend to close up for the season, with this coming weekend as the final one to the season.
Conditions have matched this over recent weeks with mild or even warm weather and a lack of recent snowfalls.
Higher resorts tend to remain open a week or so longer, many closing after the following weekend, and the conditions here are somewhat better. Resorts are reporting decent to good snow depths, with the best skiing in the morning, with slushy or "spring snow" conditions by the afternoon.
Synoptic Pattern with the week ahead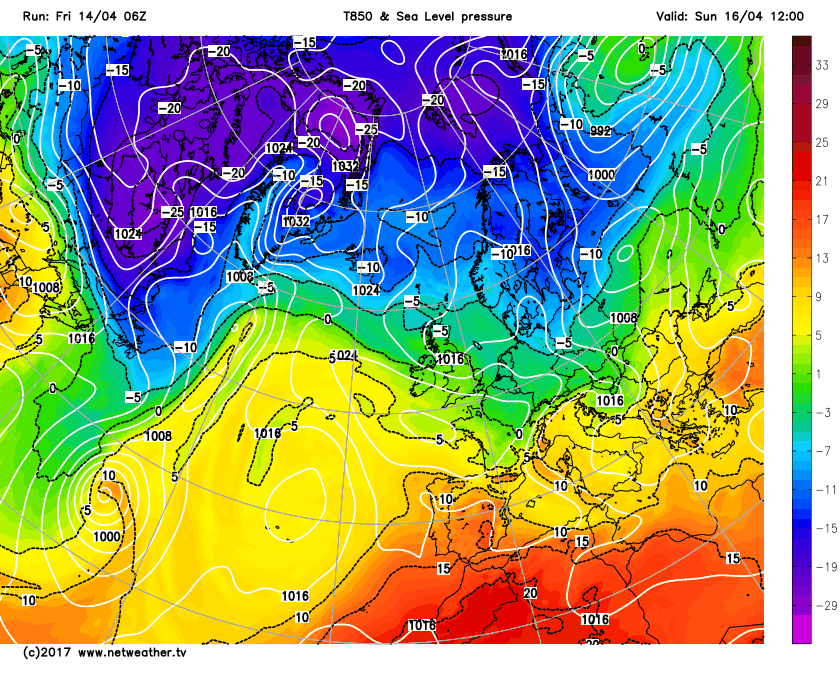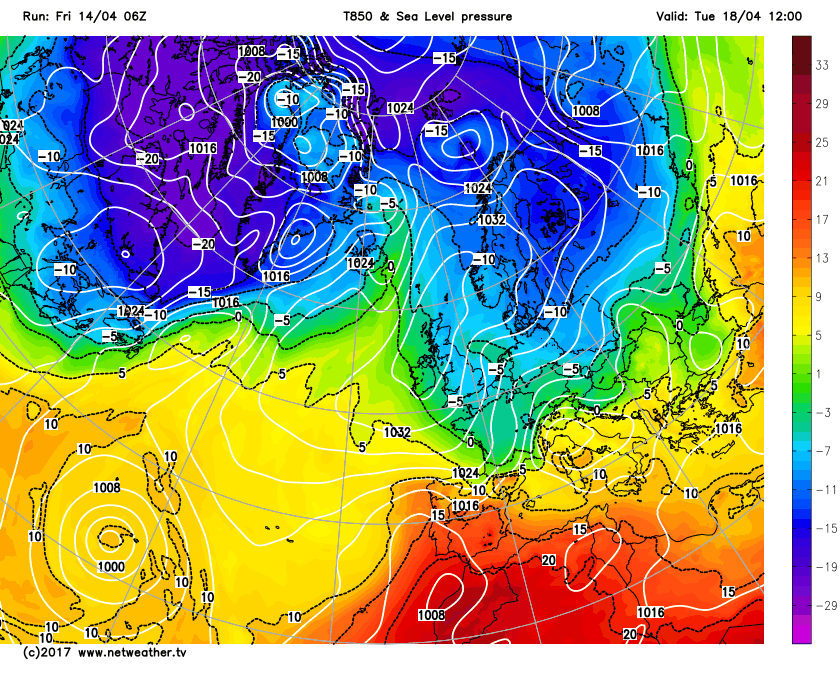 To start the weekend, High Pressure to the west of the UK, with North Westerly winds edging in for NW Europe and feeding in over the Alps.
High pressure remaining to the west of the Alps to end the weekend and start the week, with low pressure close the Alps with winds veering Northern Easterly bringing in some much colder air.
By midweek, a deep low pressured system over Central Italy (1001mb) with an East to South Easterly breeze over the Alps, very unsettled with heavy precipitation in places.
Turning a little more settled from the west, as High Pressure edges in for Thursday and Friday, remaining cold on Thursday, less cold on Friday.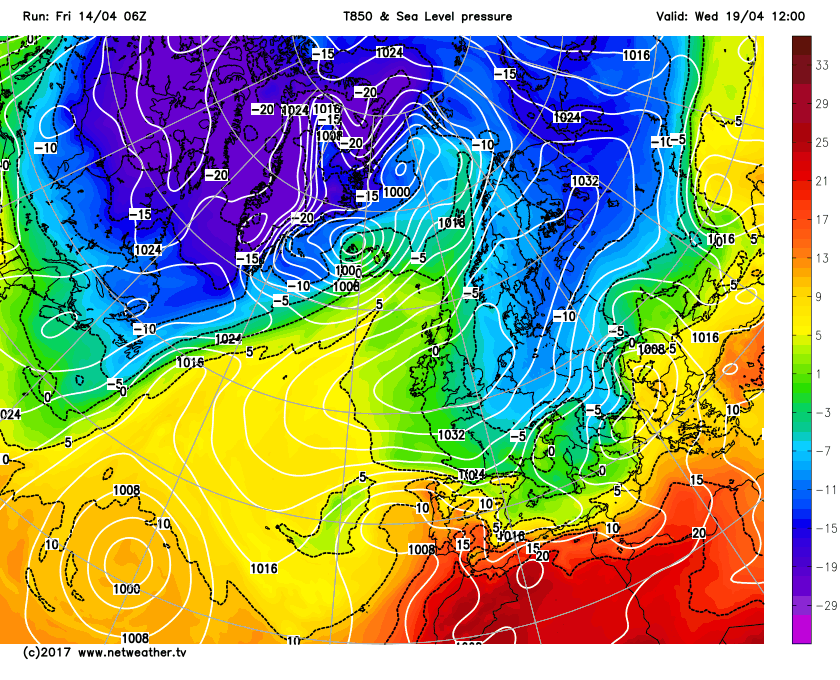 Temperatures
Mild to start in the South, but turning much colder from the North everywhere later.
Precipitation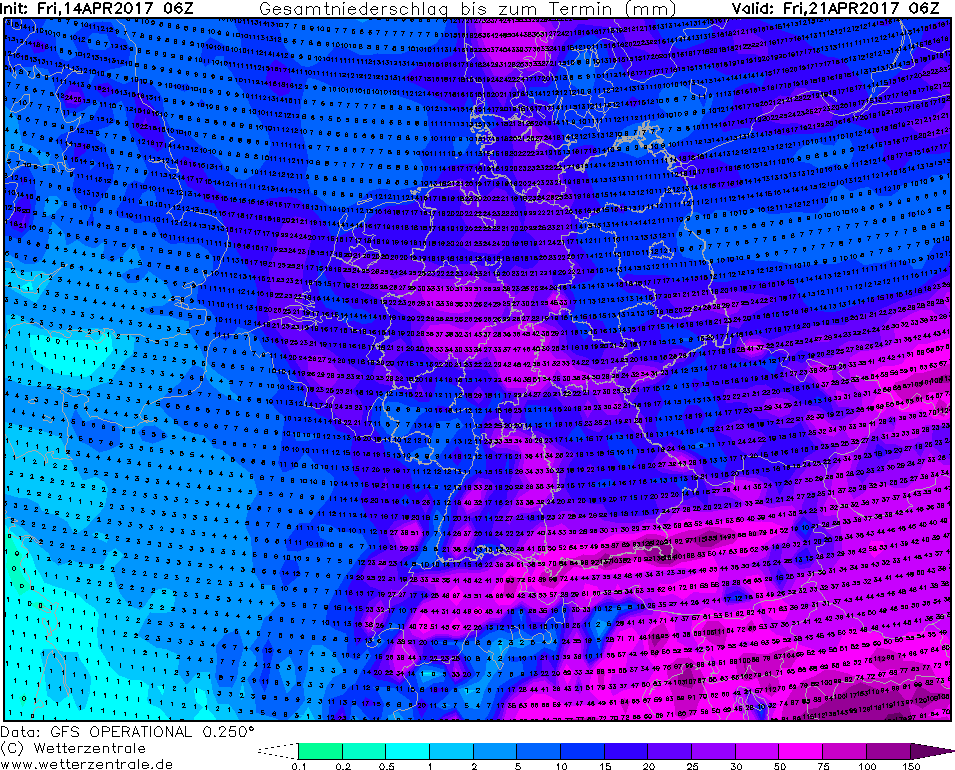 Rather Unsettled with periods of precipitation over much of the Alps on Saturday with snow very limited to the highest of slopes. Turning a little drier a little on Sunday, but again with showers developing in Northern parts of the Alps with snow down to around 1500m on Sunday.
Dry to start on Monday, but with heavy precipitation edging in from the North from Monday afternoon for Southern Germany, Austria and Switzerland. This lingering over Northern parts of Austria and Switzerland into Tuesday morning with snow down to 1200m.
Precipitation becoming more extensive over the Alps into the afternoon, with snow down to around 1200m quite widely, perhaps closer to 2000m over some parts of Central Italy.
The rest of the week looking a little bit drier for France, Italy and Western parts of Germany and Switzerland. Showers continuing for Austria in particular where there could be persistent precipitation at times for Wednesday and Thursday. Snow down to around 800m-1000m daytimes, and to sea level overnight.
Looking drier everywhere on Friday.