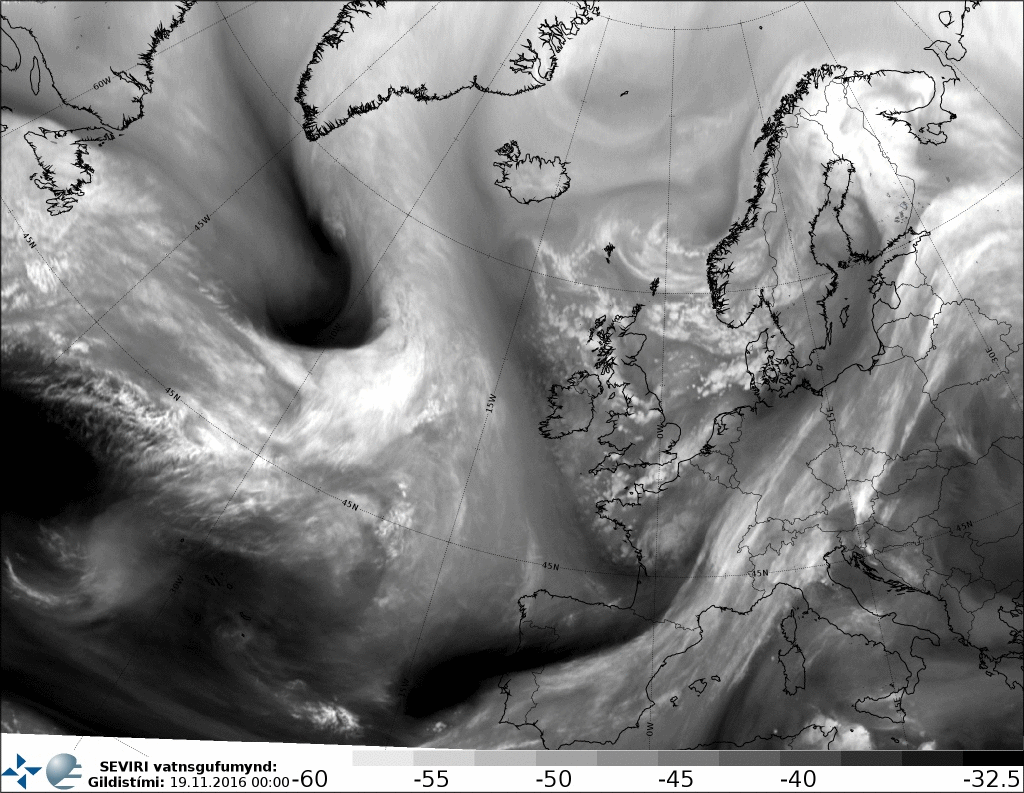 The 12Z GFS run makes landlfall with Angus around 12hrs later around 3am Sunday morning at around 974mb, when the low's pressure will bottom out as it crosses SE England and E Anglia, before pressure slowly rising as it heads out over the North Sea. Peak gusts look around 6am across Kent/Sussex coasts with gusts of 60-70mph.
The 12z French Arpege model had Angus even deeper at 966mb 3am further west across Devon, some 17mb drop in 12hrs, which is rather significant RACY (rapid cyclogenesis). 12z Arpege model shows gusts of 110-120 km/h (68-74mph) toward Kent and Sussex coasts at 10am.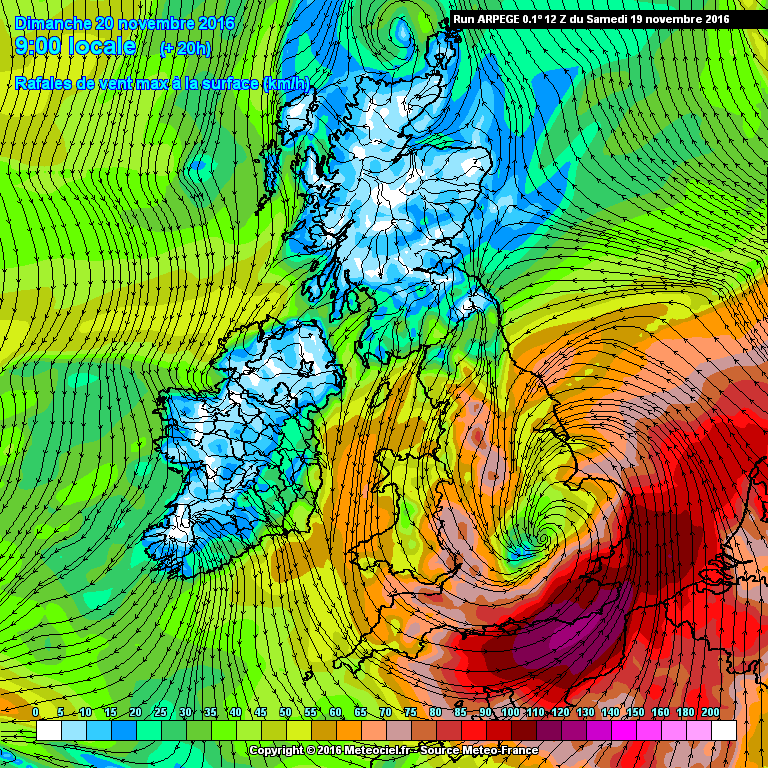 The 00z ECMWF out this morning bottomed out pressure at 967mb to the SW of Cornwall before the crossed SE England at 970mb around 6am Sunday.
The 12z UKMO-GM had the low at 970mb at 6am Sunday across SE Midlands/Nern Home Counties – so again deeper than GFS and some 6mb deeper than the 00z run of UKMO-GM.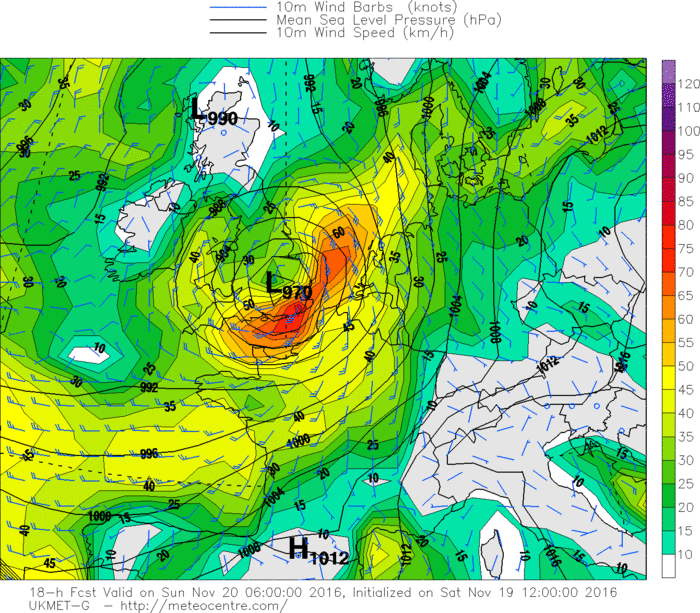 So, given models have deepened the low more than others and more than earlier runs, with some showing wind gusts of in excess of 70mph towards the English Channel coasts, you can see why an amber alert has been issued.
Heavy rain from Angus has also be warned of in the Met Office yellow alert across southern England. I would include south Wales, Midlands and E Anglia aswell as southern England. 12z GFS shows some spots seeing 20-30mm in 12hrs, Arpege 25-35mm. The rain is likely to turn to snow too over higher parts of Wales, The Midlands and northern England as it pushes into the cold air already in place from the last few days.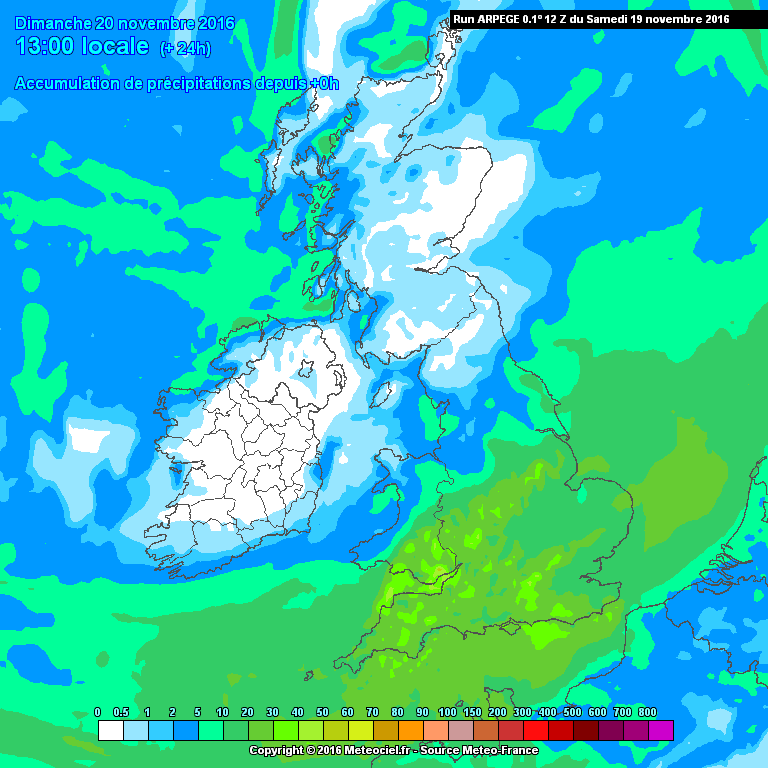 Then another deep low arrives on Monday.
Hot on the heels of Angus, another shortwave upper trough of cold air and jet max dropping SE from southern Greenland / Labrador will cause a wave to the SW of Ireland Sunday morning to deepen into a closed low which further deepen then drift toward NW France before swinging NE then north across England and Wales on Monday while continually deepening. This low will bring a swathe of heavy rain northward across England and Wales ahead of it on Monday, before GFS and UKMO-GM has the low arrive across SW UK then central England Monday night.
By early Tuesday, 12z GFS suggests some parts of England and Wales could have seen 50-70mm rain from Angus and Monday's system – which may be named too (#Barbara?)
With Monday's low, the strongest winds this time look to be on the north and western flank of the low as drifts NE across SW then central UK. 50-60mph N to NEly wind through Irish Sea, SE EIRE, Wales then northern England. Though gales likely to develop to the east of the low too across southern and eastern England.
Please stay tuned to local TV News and Radio and also updates on Twitter for the latest on Storm Angus. You can follow how Storm Angus progresses with live updates on our dedicated thread on the Netweather Forum here