Desmond was initially named for the low's winds, but it was the impacts from the rainfall which affected more people. Northern England saw widespread flooding, power outages as a substation flooded and landslips on roads and railways with disruption near Carlisle between Manchester and Glasgow lasting for months.
This has led to one of the major changes in this year's storm naming.
Wind, Rain and Snow
Last time, it was just windstorms which were named. This year impacts from wind, rain and snow will be included when naming low pressures. The project remains a trial or pilot scheme.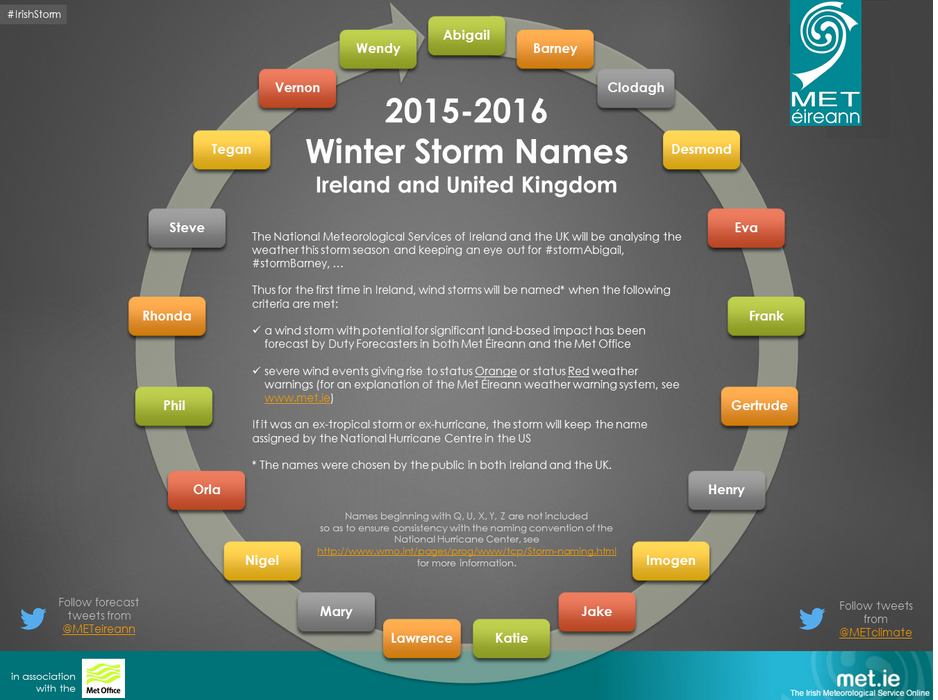 Met Eireann seem less enthusiastic this time. Last year they presented a lovely graphic, this time I struggled to find anything on their website and only one little low-key tweet.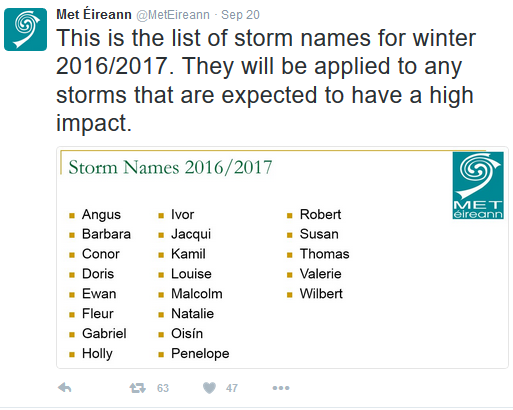 Eva was the Christmas Eve storm which just added to the flooding problems with more heavy rain. For Jan 2016, Frank and Gertrude brought more stormy weather in the north, with a Met Office red warning for Shetland and a top gust of 105mph. The Northern Isles are pretty hardy about gales, so a red warning there meant real extreme weather. Henry followed quickly with more disruption over Scotland resulting in a Wind Day (not Snow day) for schools in the Western Isles
With such a project, to get the mainstream media on board with #NameourStorms a southern Britain storm was needed. Low pressure after low pressure took the usual autumn path near to NW UK, which meant the storm naming wasn't really being taken that seriously in some quarters. Finally, Imogen arrived. Early February strong winds caused disruption with power outages, trees down, and to transport across southern England and Wales.
After that, there were 2 more storms in March and both affected southern Britain; Jake and then Katie for the end of Easter Weekend. And that was it! If you were waiting for Nigel, Orla or Phil etc. I'm afraid you are out of luck.
Who chooses these names?
Last year the Met Office and Met Eireann invited the public to send in suggestions, and the created a list from those. The new list is also from the 4 thousand suggestions sent in last year.
If a low pressure is linked to the remnants of a hurricane or Tropical storm, the low will keep its Atlantic name, so ex-tropical Storm Karl, ex-Hurricane Alex etc.
Why are there not any Qs, Us, Xs, Ys, Zs ?
This is in keeping with the National Hurricane Centre naming convention for Cyclones. These letters are not used. So sorry to all those Ursulas and Zoes . It is also male/female in the listing, Abigail last year and starting with Angus this time. #StormAngus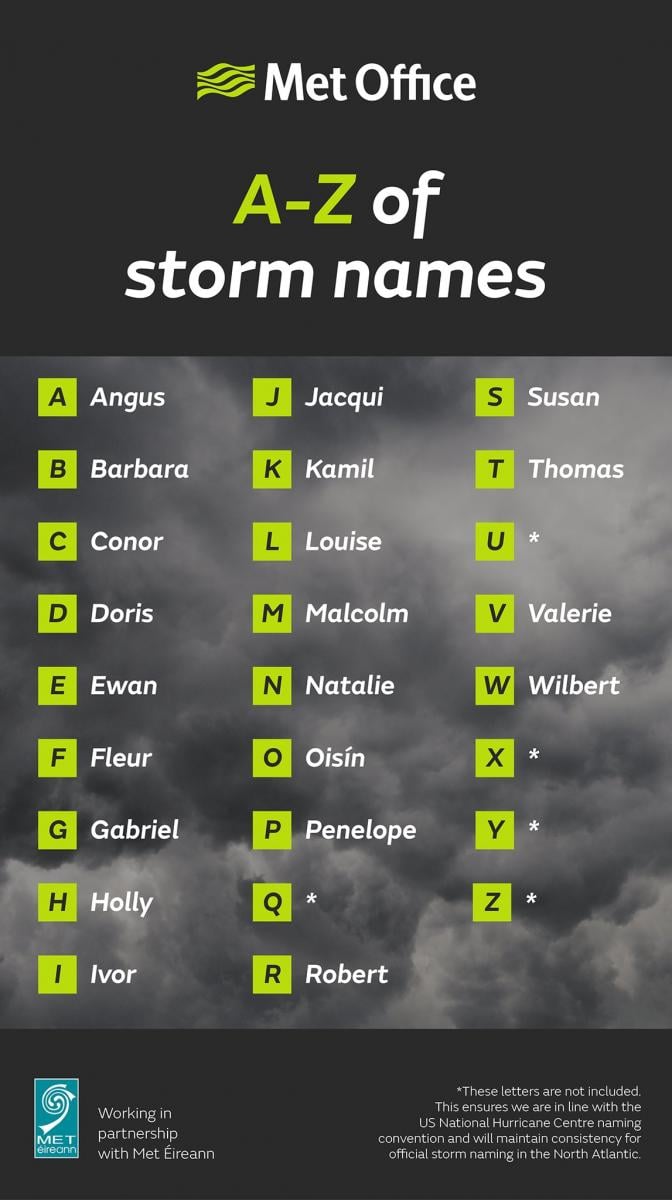 How the linking of a named storm with an Amber warning from the Met Office for the UK will work, I'm not sure. A lot of weather presenters were ready on Friday to cover the story in their weekday output, yet it was named with barely 12 hours notice. Whilst some new outlets have 24 hour coverage, there is a lot more staff available to get this message out, just one day earlier. And the naming of storms is just a media tool to help get the message out. An Amber warning has repercussions for council processes and the emergency services. We'll see how this year's trial pans out
Add your thoughts on the Netweather Forum
Up-todate Met Office warnings http://www.metoffice.gov.uk/public/weather/warnings