Are there more spiders around at the moment?
Spiders. Even though spiders in the UK will do us no harm, they still cause panic and fright in many people. We all know they do a worthy job of keeping flies and other pests in check but it's the scuttling about and all those legs.
Autumn is spider mating time. Many spiders have been in your house all along, others start coming inside during autumn for their breeding season. The males are looking for a female and are willing to take the risk of being seen. So it's a man spider on the lookout for some action who will boldly run across your living room floor in autumn, he's on a mission. The males stay with their chosen females for some weeks, mating numerous times until eventually, they die, at which point they are eaten by their female. Very tidy Mrs. Spider.
Most UK spiders couldn't bite you if they tried, their fangs aren't up to it. They also don't really want to bite you. Even, if one did it isn't as bad as a wasp or bee sting.
Of course, there are the illegal visitors, those spiders who sneak in with plants and foodstuffs. I recently had a packet of grapes with a South American (dead) spider in the bottom. The supermarket did exchange my grapes.
A friend's mum used to work in admin at a well know banana importers in the East Midlands. She said that if she was working late she would stay well away when the trucks arrived with the containers off the boats, you didn't want to be around as things scuttled off into the night...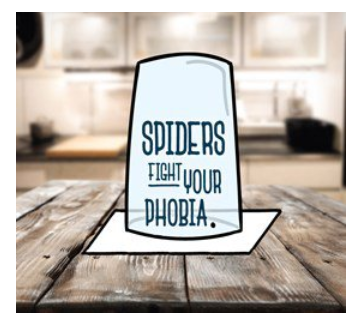 If it is all getting too much for you, what about a Spider Phobia Workshop? Edinburgh Zoo is running one in October.
"We understand how a fear of spiders can really begin to impact on people's everyday lives. Our course is designed to help you to overcome your fear of spiders in a friendly, relaxed and supportive atmosphere with the help of our experts. Every participant has been able to capture and release a spider and everyone has reported a reduction in their phobia."

And all this extra spider activity will settle down as winter arrives.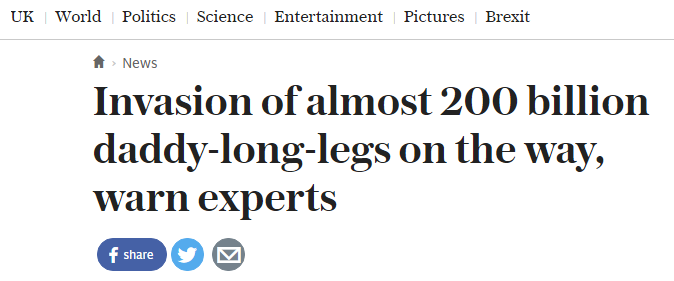 Are we being invaded by billions of Daddy longlegs?
Another autumn visitor is the Daddy longlegs, waiting for you as you leave the house on a cool autumn morning. It reminds me of large school windows, which were always covered in them at this time of year, with some weird lad claiming that he'd eaten one.
There were several stories recently in the media about an invasion of swarming Daddy longlegs. Surprisingly "the facts" had been confused. Daddy longlegs are usually around in the summer flying about your garden, but by September they are trying to nip inside your cosy house. Buglife commented
" Media reports today appear to have misunderstood a comment from Buglife about the spider Pholcus phalangoides and used it for a story about craneflies. Daddy longlegs is a common name for three types of invertebrates in the UK: the Cellar spider (Pholcus phalangoides), craneflies (Tipulidae), and Harvestmen (Opiliones). Pholcus phalangoides seems to be extending its range northwards, possibly as a result of a warming climate."

So, they the cranefly version are not invading northwards and there are usually loads of them in September anyway. The Daddy Longlegs, in its adult form, is the gangly insect that flits around our gardens in summer. I'm going with the Cranefly version, not the HarvestMan. The larvae of the Daddy Longlegs are grey grubs (also known as 'leatherjackets') which live underground. The Wildlife trust said
Hot summers as a result of climate change can have a devastating impact on insects like the Daddy Longlegs, killing off the larvae. In turn, this has a negative effect on species that feed on such insects, particularly those that are already vulnerable like the Golden Plover. When it comes to feeding their chicks, there are just not enough adult craneflies emerging at the right time, so the chicks starve.

So, all these insects are important, you may not want them in your house or to be stung by an aging wasp but the season will soon be over and calm will resume. That spider, on the photo above, will go back and hide in its web til next year.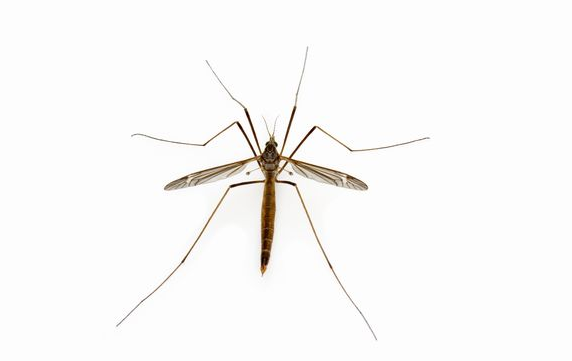 Handy links
First Aid For Bites and Stings
Bug friendly areas
Other events