FORECAST FOR THE WEEKEND
A weather system will be lurking in the Atlantic on Friday bringing more of a breeze and cloudy conditions to western Scotland. but it fades. No fresh snow but great conditions.
Saturday - very light winds, Cold again, with frosty, icy start. Fine and bright day
Sunday - Same again, very cold start, fine with sunny spells and light winds.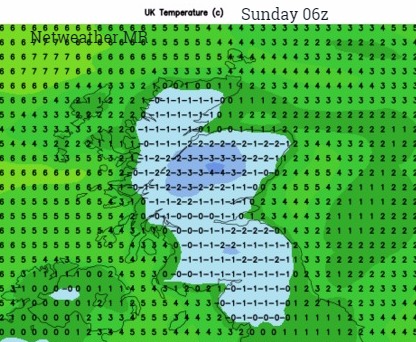 -----------------------
February Thurs 11th update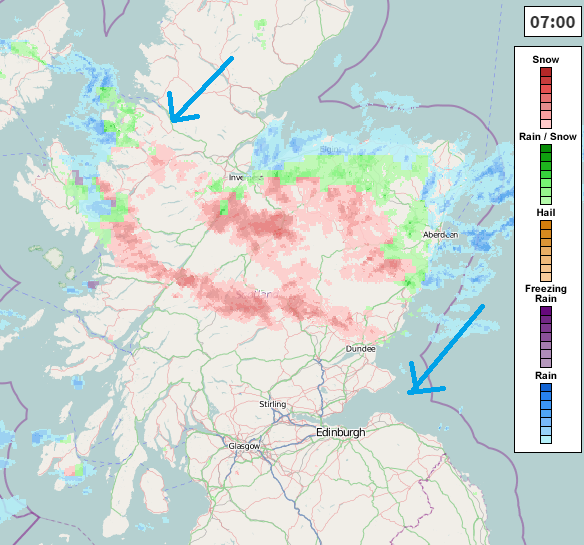 Netweather Radar (precip Type ON) or Netweather Snow App
EAST
Cairngorm /Aviemore
"Top Station Weather, Light winds, -5.0C, Snowing, Reasonable visibility. It has been snowing heavily since 4.00 AM with about 3 - 4 inches of fresh powdery snow. This will further improve the snow quality on our open terrain. Looking like a pow day, enjoy.!" Snow School is on next week for Half term.
Grampian is going to see a feed of snow showers continuing through the weekend, coming in from the NE off the North Sea. By Friday, the East winds will pick up but these will ease at the weekend, so potential for light winds, sunny spells, the fresh snow of Friday and more Saturday night with just a few snow showers by day.Very cold, especially early on.
The Lecht
Could be in for a good amount of snow in the next few days. It will be cold, with the easterly winds picking up on Friday but 30cm of snow is forecast for parts of Grampian. "More Fresh snow improving cover,". "Main runs all improving, heavy snow showers roads are open slight snow, 9 lifts opening" Thursday
Glenshee
"Most runs complete with a dusting of fresh snow on a packed base. Good cover higher up, narrow and thin in places lower down" Early Thurs "Overcast, snowing Wind, temp @ 700m - 15mph N, -1.5C" Again further snow is likely right through the weekend. The brisk winds on Friday will ease at the weekend with sunshine after a cold frosty start. 10's of cms of snow likely for parts of eastern Grampian.
WEST
Nevis Range
"Fresh snow over the last few days giving good skiing and boarding across the slopes. Mix of soft snow and firm and grippy along with groomed and un-groomed areas on both upper and lower mountain. Lower runs thinner narrower sections towards the bottom." Lots of lifts open Thursday. There won't be much more new snow as we head into the weekend, it's all further east but it stays cold. The blustery winds from Friday will ease at the weekend
Sun 14 Feb - VALENTINE'S DAY - includes gondola trip, handmade chocolates and your choice of drink from our Winter Warmer menu.
Glencoe
"All runs on the mountain are open with the exception of the Car park Run. Flypaper will be assessed shortly. Nice skier packed snow on all runs with pocket of fresh fallen and windblown. Cafe open from 9am to 8.30pm.Ski school open but please book in advance." 20th February 2016 60th Anniversary Celebrations
Head torch procession, fireworks, reception and film/photo displays. There won't be much more new snow as we head into the weekend, it's all further east but it stays cold. The blustery winds from Friday will ease at the weekend.
HALF TERM
Stays cold for Monday, looking dry, sunny with lighter winds. Then a change to weather coming in from the Atlantic once more, so winds strengthening through Tuesday with wet, cloudy conditions moving into western Scotland which could bring new snow to NW Highlands but it won't be great conditions when it arrives. Signs even further into the week of more new snow.
January
Many people quickly got their sledges out this weekend as snow has been very thin on the ground in recent years, at low levels and away from Highland Scotland. If that is the only snow some people see this winter (and I'm not saying it will be) then at least the sledge got one use.
Last year provided great snow for some of the Scottish Ski resorts. This year has had a very slow start thanks to the very mild November and December, but finally proper wintry conditions have arrived. Here we'll take a look at the weekly conditions starting with the Lecht and Glenshee on Monday.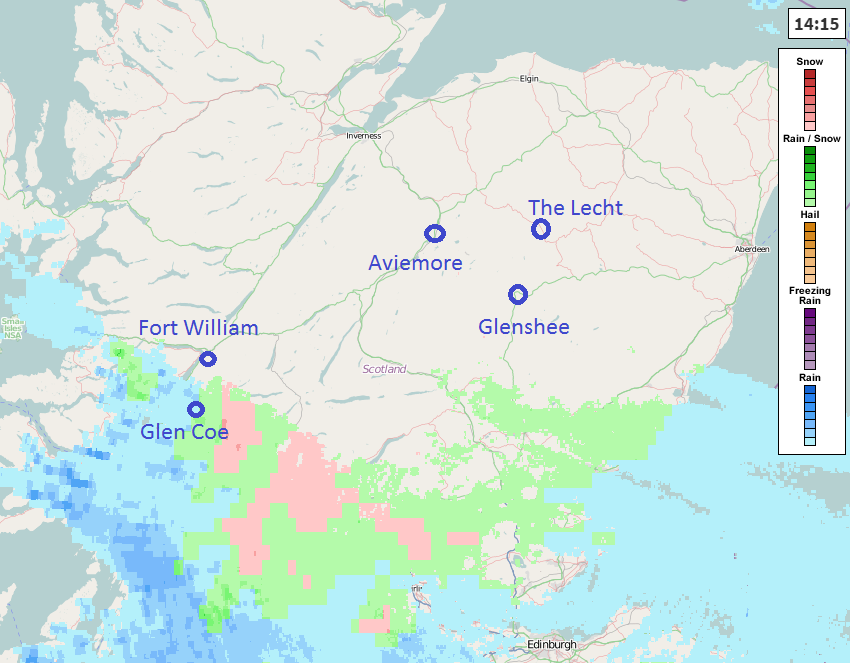 Monday's band of rain/sleet and snow moving and fading southwards, after giving a few cms of new snow on the slopes early on. No more snow is forecast this week before Friday. Winds will be light but with very cold nights, there will be frosty conditions.
Monday 18th Jan 2016
Glenshee near Braemar NE Scotland http://www.ski-glenshee.co.uk/
Most runs are complete with a covering of fresh snow on a packed base. Good on piste conditions with the current cold temperatures and plenty of free riding all over.Weather Snowing in the morning, roads open.
Glenshee's impressive 22 ifts and 36 runs offer an amazing diversity of natural terrain for all standards of skiers and snowboarders. Glenshee Base Cafe is open all year round serving mountain bikers and walkers exploring the Bremar landscape and motorists driving the A93, the highest A road in the UK. New shop opening soon.
On Facebook Glenshee ski centre
The Lecht, Corgarff NE Scotland http://www.lecht.co.uk/
A great cover of fresh groomed snow All runs complete, ample nursery area. Bright and frosty on Monday, roads open, Great snowsports conditions Most lifts sheduled to open.
Lecht 2090 is based 2090 feet (645m) above sea level amid the beauty of the Eastern Cairngorms. The Lecht Activity Centre is situated in the heart of Scotland's largest National Park at the top of the pass between Tomintoul and Strathdon. Winter activities are ideal for all levels of skiers and snowboarders but especially good for beginners and intermediates. A total 12 different lifts, including a 3 person chairlift and a magic carpet travelator which get novices going on day one.
The Penguin Kindergarten Park will be opening soon, we have a new Rotondo Carousel which allows kids to get to grips with balancing and sliding around on skis or snowboards for the first time in a safe and fun way. There will also be a new lift to take them to the top of the penguin park
@lecht2090 and Facebook Lecht 2090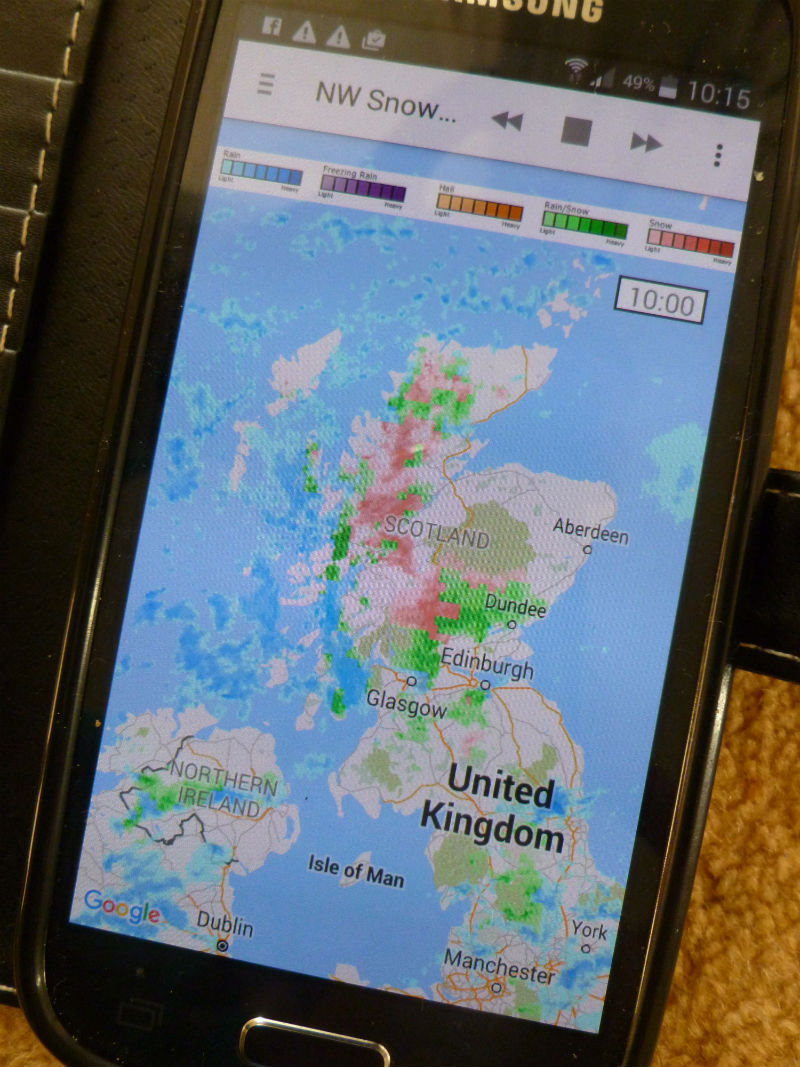 Remember to keep an eye on the Netweather Snow App, after this week's settled spell
Tuesday 19th Jan 2016 - High pressure is bringing dry, settled conditions across the UK. Northern Scotland is seeing sunshine, which will linger over Grampian midweek. Monday night saw the lowest temperature so far this winter as Kinbrace in the NW Highlands dipped to -12.4C and the same is expected tonight. More ice and frost, no new snow.
Cairngorm Ski Area, Aviemore Inverness-shire http://www.cairngormmountain.org/
CairnGorm Mountain has a reputation as one of the most beautiful - and sometimes challenging - places to ski in the UK, as well as boasting Scotland's only funicular railway.
It's also Scotland's most popular resort and is located just a short distance from the main A9 arterial route which runs between Perth and Inverness.
Whether you're a skier or not, the ride on the train to the Ptarmigan Top Station is a unique experience with an opportunity to take in fantastic panoramic views of the surrounding area
Conditions Tues 19th Jan All open terrain has mostly good cover of packed powdery dry snow with light snow falling. Great route back to the Day Lodge via the M2 and Day Lodge runs. Lower slopes are also complete back to the Day Lodge but are unpisted. Another morning of Great visibility and No wind and a temperature of -4C with sunny spells. Firm packed snow across the mountain with top to bottom snowsports available. M1 Poma, Daylodge Poma, Polar Express, Ciste Tow, Cas Tow, Ptarmigan tow, Shieling Sun kid, and Funicular Railway scheduled to Open at 9am. Great top to bottom snowsports available with great snow cover on the M1 piste, white Lady and M2 pistes
@CairngormMtn and Facebook CairnGorm Mountain Ltd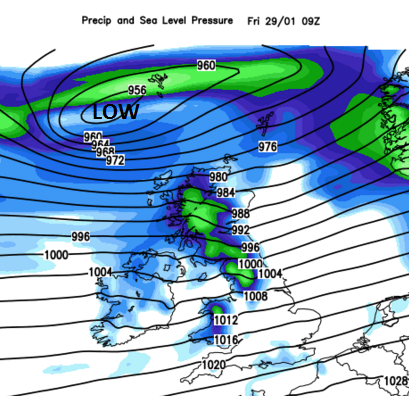 Weather in next few days Thurs 28th Jan - looking very windy
Nevis Range, Fort William Inverness-shire http://snowsports.nevisrange.co.uk/
Thurs 28th - it is snowing and further snow showers will feed in from the west today. However, the fresh winds will only strengthen and the Gondola is currently shut.
@TheNevisRange and Facebook Nevis Range Snow
Glencoe Mountain Glencoe, Ballachulish, Argyll http://www.glencoemountain.co.uk/
"Ski and Snowboard across 20 runs and 8 lifts - catering for skiers and boarders of all levels. Complete beginners can enjoy the gentle plateau runs while experts can experience the incredible variety of terrain. (Which includes the longest and steepest runs in Scotland)"
Thurs 28th - It is snowing today but still too windy.Rail Jam planned for Saturday 30th Jan has now been re-scheduled until later in the season.
@GlencoeMountain and Facebook Glencoe Mountain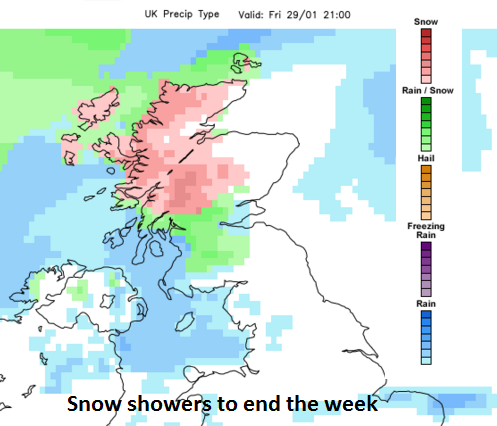 Snow showers, particularly for western resorts from Friday pm, all through Saturday. Over 15cm of new snow by Sunday, more in places ready for lighter winds on Sunday.