While the trend is for colder weather through the week as air from polar regions increasingly takes hold, it has been modified by a quite long sea track. This makes the air moist and not as cold and the bitter weather that sometimes comes off the nearby continent. Nonetheless it still feels very raw, but any snow tends to be wet and slushy, often resulting in widespread ice when temperatures fall to or below freezing at night. This has lead to parts of Scotland and northern England in particular waking up this morning to icy patches while farther south it's generally somewhat milder.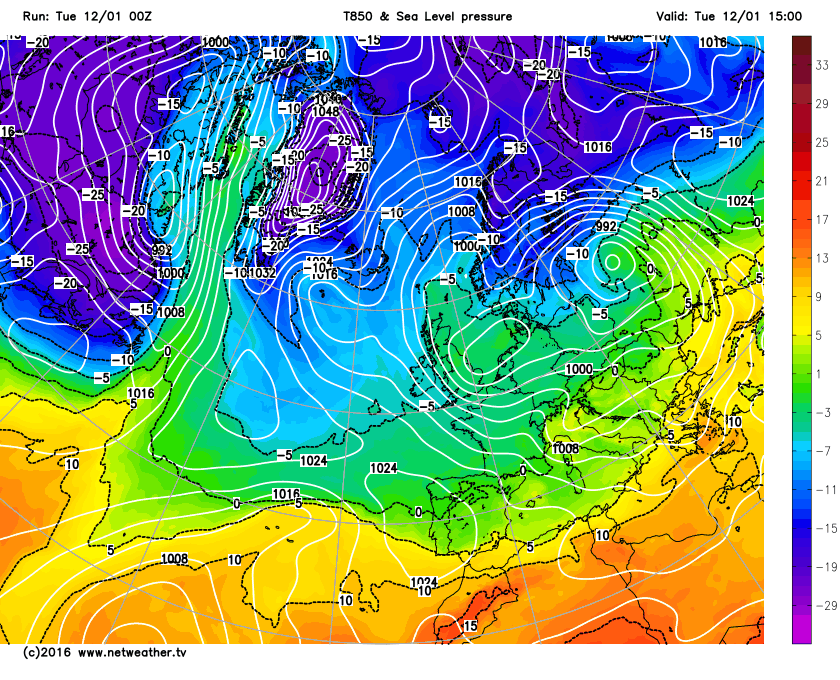 With low pressure still in charge, Tuesday is expected to be very unsettled. East Scotland, The Borders and parts of North East England will see outbreaks of rain and mostly hill snow. Elsewhere showers already in the west will affect other parts through the day, after sunny spells in some eastern area to begin with. The heaviest showers will mostly be in the west and over Northern Ireland, falling mainly as rain, but as sleet in places and snow on hills. You may also see snow at lower levels in the heavier showers, but any will be wet and unlikely to settle.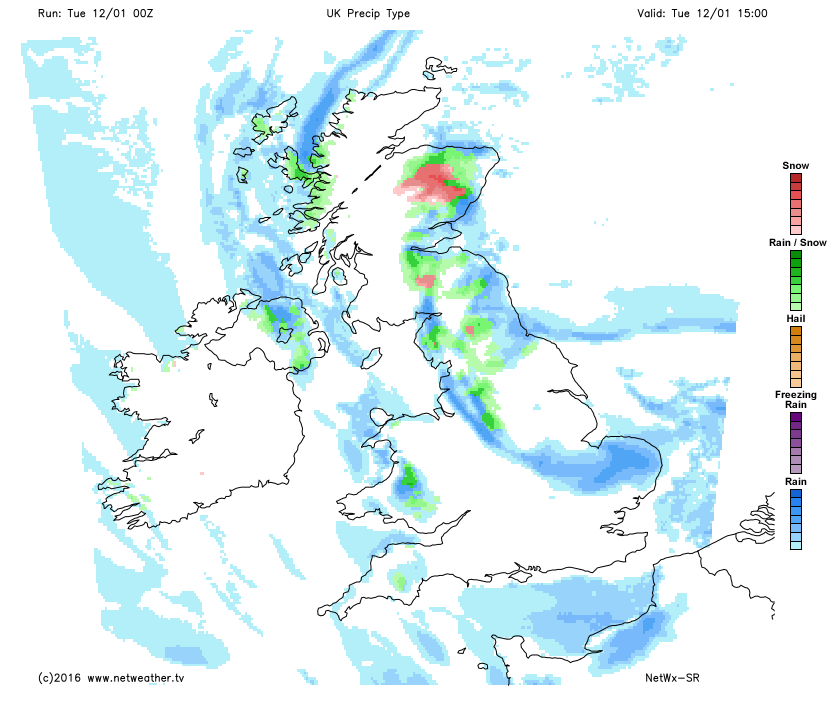 The showers will tend to spread south through the day and come in 'streets' mainly through 'The Cheshire Gap' and as a result, some places particularly in a line from say The Wirral, through the Midlands and on towards the M40, may see shower after shower. Where you have shelter from the wind though, over West Scotland and across southern England, you should see fewer showers and the best of the sunny intervals, with one or two places perhaps missing the showers altogether.
A west or north west wind will be fresher than of late. Some strong or gale force gusts are likely for a while over Northern Ireland, towards Irish Sea coasts and in the south for a while, before winds decrease somewhat later. This will make it feel rather raw, with top temperatures only 3 to 5C in the north and 6 to 8C in the south.
The evening sees further blustery showers, particularly in the east. Some will fall as sleet or wet snow, with the Cheviot Hills and perhaps the North Yorkshire Moors in particular perhaps seeing a covering of snow by morning. As winds decrease further though, the trend will be for the showers to become fewer overnight. It will also turn misty in places, with a few freezing fog patches possible later mostly over Highland Scotland. Where skies break a frost is expected leading to icy stretches, with minimum temperatures -1 to +3C depending on cloud cover. Over the snow covered glens of Scotland however, the thermometer could fall as low as -7 or -8C.