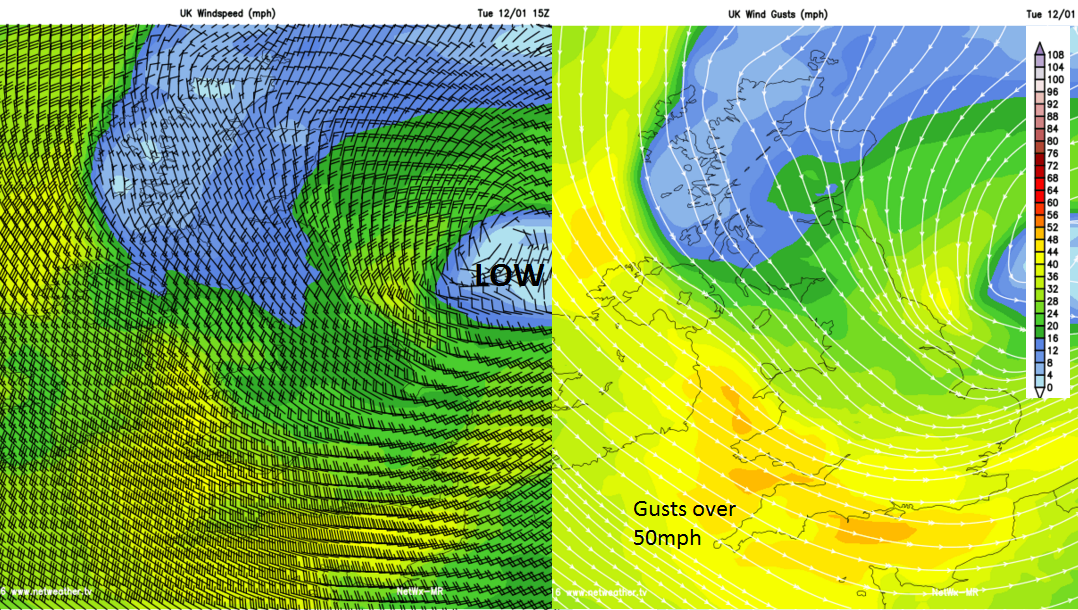 Tuesday will start off feeling cool in the brisk winds at around 2 to 4C. Wales and SW England will have a very windy morning with gales and these strong winds will spread along the English Channel during the day, with perhaps the east coast also getting hit later in the day. Temperatures range from 4 to 8C. Showers will have been whirling about all day, with N.Ireland, Wales, NW England, Cornwall, N&W Scotland all being most prone. Other clusters will move down the east coast of Britain. The showers will be of rain and sleet mostly, hail and thunder possible with the heavier ones. Wales could become even more windy later in the day with gusts over 60mph in the NW flow, this may impact the Severn bridges. Westerly gales also along the English Channel coasts during the evening.
Thermals ready
As the low finally pulls away, lines of showers will move across the UK by night. So more chance of snow falling in the colder air as temperatures fall to freezing for Ireland, N.Ireland and N.Britain
There could be some fine winter sunshine for a time midweek, although it won't last. By Wednesday, the bands of showers from the west now, will be more wintry and fall as snow over northern hills. N.Ireland may see snow to lower levels just for a time, also northern England. The northern half of the UK will only reach 1 to 3C and further south up to 7 or 8C with lighter winds. For the rest of the week, once darkness falls it will feel much colder. Widespread frosts and ice and a noticeable change from the 'nippy but not bad' nights of the past week.
For Thursday, there will be NW winds, getting stronger through the day to only add to the cold. It will feel bitter at times. There will be snow showers but these look scattered, so many areas will miss and keep bright skies. However, it will be cold enough for snow at low levels even reaching southern Britain where the showers do arrive. So this isn't thick covering of snow for all of southern England, it's just bands of showers heading in on a NW flow. A heavy shower could give 5 -10 cms over the hills, a dusting or 1-2cms at low levels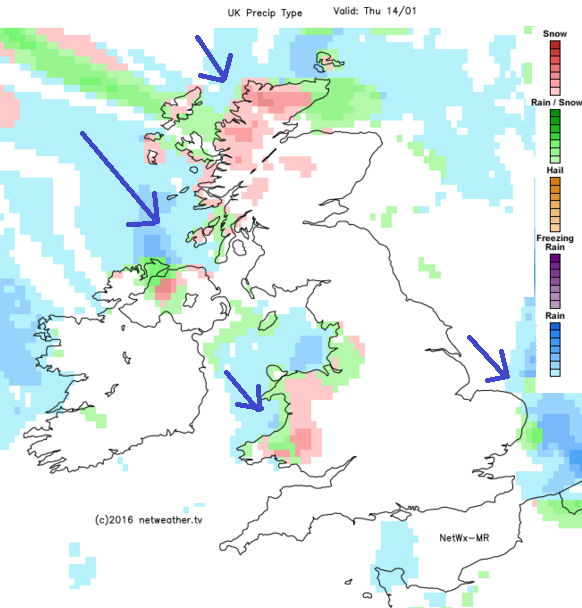 The winds ease down overnight and it becomes cold everywhere, many inland parts just below freezing and well below in the Highlands.
Snow showers do continue into Friday but there will be many places that miss them and see more dry weather. It seems that at some point milder air will edge in from the SW. When this will be has low confidence at this time, but Cornwall and Devon will see a return to temperatures in double figures whilst the cold NW winds keep NE Britain chilly for a while.
Will it Snow? Check out the chances for your location this week