Tuesday starts off blustery with showers and bright skies, although the SE will have more cloud first thing. It will be mild until the winds veer Westerly in the afternoon and cooler air filters in. Again NW England, S.Scotland could see another inch of rain 25mm with W.Scotland seeing 40mm. Tuesday night turns clear and cold for a time.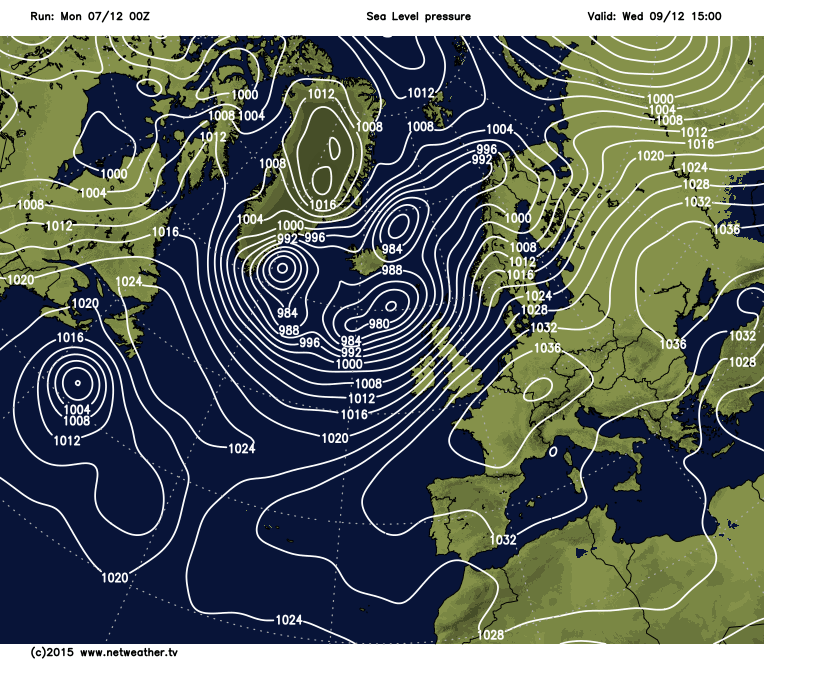 Then during Wednesday another low looks like it will head just north of the UK, bringing SW gales or severe gales and heavier rain to the NW half of the UK. There are worries about the midweek rainfall with totals of nearly 100mm showing up for Cumbria Wednesday into Thursday. This low is still a few days away. Friday looks drier and colder.
A look back at Storm Desmond
The news coverage from Saturday showed flooding from Scotland, N.Ireland, Isle of Man, N.Wales and N.England. The trailing fronts from Storm Desmond have brought a weekend of severe weather to many parts of the UK. The gales and damaging gusts began on Friday and returned during Saturday as a secondary low developed. And boy, did it rain. Worst hit were Cumbria and the Scottish Borders, where there were numerous severe flood warnings from the Environment agencies as rivers burst their banks and Met Office Red weather warnings for the sheer amount of rainfall.
Trains were cancelled with landslides on the lines or rails flooded, some services are still suspended. Bridges are closed due to debris or structural damage. Ships were damaged in the high seas and thousands of homes were without power for a time. Roads that were submerged now have reappeared but are damaged and covered in sludge. The Army came to help in the NW as sandbags and flood gates or defences were just not enough. For businesses and properties which flooded on Saturday, now it is the depressing, dirty and saddening clear up time as Keswick and Hawick in particular try to recover, once more. Inspections and recoveries will continue in earnest today.
RAINFALL TOTALS
Not yet verified but the Environment Agency gauge at Honister measured 341.40mm of rain.
The Met Office gauges for 72 hours (3 days) 09Z Fri 3rd til 09z Sun 6th at Shap 299.8 mm, Keswick 220.6, both Cumbria, Capel Curig Gwynedd 213.6mm, Eskdalemuir Dumfrieshire 175mm, Kielder Castle , Northumberland 157.6mm
Glasgow saw 123mm , Derrylin and Cornahoule in Co Fermanagh had 117.8mm
203mm is 8" of rain. Usually in December Keswick would expect 173mm of rain, Glasgow 104mm, this weekend's rain has been phenomenal
WIND STRENGTHS
Capel Curig, N.Wales recorded a gust of 90mph at 1am on Sat, NE Scotland and Co.Down G78mph and S.Yorkshire G77mph. These sites all reaching severe gales for their mean speeds and even along the south coast of England, rather exposed, the Needles lighthouse saw Storm Force winds.
Most of the Scottish football matches were postponed due to waterlogged pitches or high winds. Part of a Cineworld cinema roof came loose in Glasgow on Saturday afternoon. In London, a man died when a gust of wind blew him into the side of a moving bus.
The weekend's severe weather has now cleared. Hawick has now cleared it's severe flood warning status. However, Cumbria keeps it's High then Medium risk of flooding as river levels stay high, there are still impacts to communities and roads closed. By Tuesday, the flood risk over N.England should have fallen to LOW. Environment Agency 3 day flood risk. The River Eden and Ullswater still on Severe Flood warnings this morning. No Severe warnings for Scotland but plenty of Flood warnings for central inland Scotland and the Borders.
Photo shows the River Greta overtopping the Flood defences, flooding the town of Keswick. River heights from the Environment Agency show 5.32m, the previous record was 4.66m.