Southern Britain is going to have some fair weather today with temperatures sticking at 13C (where they are now) and gradually seeing a bit of sunshine. It will be breezy but those SW winds are bringing in the mild air. However, for much of the UK it is a miserable start this morning. Temperatures are around freezing for Scotland and just above for NE England this morning. A band of rain, a warm front, is extending wet weather from N.Ireland N.Wales, the Midlands into Norfolk, across N.England and reaching into S&W Scotland. As it comes up against the cold air over N.Britain it is turning to sleet and snow with miserable conditions on the roads with the rain and slush. There is also ice about where the clear skies in the north let temperatures fall overnight. This weather front will continue moving northwards with more snow for the high ground of inland Scotland and rain mixed with sleet at lower levels.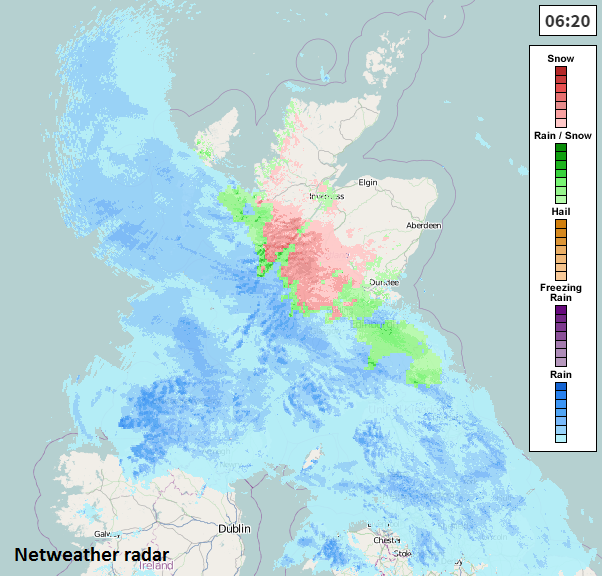 Keep track of the latest rain, sleet and snow on the live radar.
Through the morning the main rain band becomes confined to Scotland and the far north of England. N.Ireland, Wales and SW England keep some damp weather but the rest of England will enjoy the mild air in the warm sector and see brighter skies with glimpses of sunshine into the afternoon
As the milder air creeps into S&W Scotland, there will be heavy rain for the west coast and the SW winds will begin to strengthen. The Central Belt will reach a mild 11C late afternoon, Belfast up to 12C by mid morning, Cardiff and Manchester 13C but Aberdeen only 6C. Fresh SW winds will blow across the UK with strong winds around the Irish Sea and coasts of N.Ireland and W.Scotland. By this evening there will be SSW gales for NW Scotland and gusts over 60mph.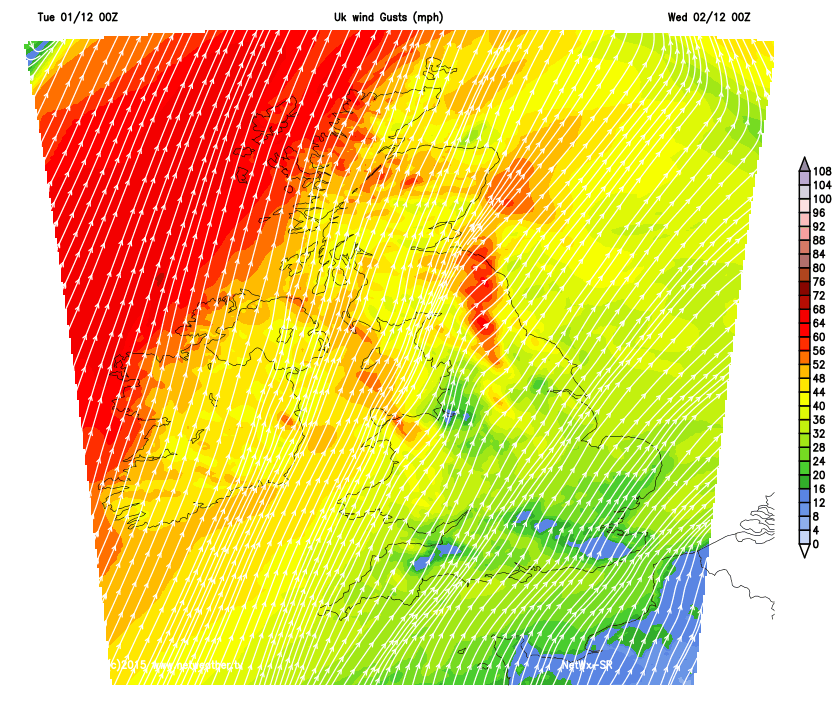 Through the night the northern half of the UK stays windy with gusts of 50 to 60mph, with the Western Isles keeping the gales, even severe gales for a time in the small hours. It will be a mild night everywhere, 7 to 11C but the cold air is set to topple back in from the NW during Wednesday.