Temperatures today peaking at 15-18c for much of England and Wales, 13-16c for Scotland and Northern Ireland.
A lot of the showers will clear into this evening, to leave some decent sunny spells to end the day. That calmer, drier weather continues overnight for many as well, a few showers will continue in the north and west though, plus some further showery rain may head up into southern regions by the early hours. It'll be a cool night, with temperatures widely down into single figures away from the southeast corner.
Hello Henri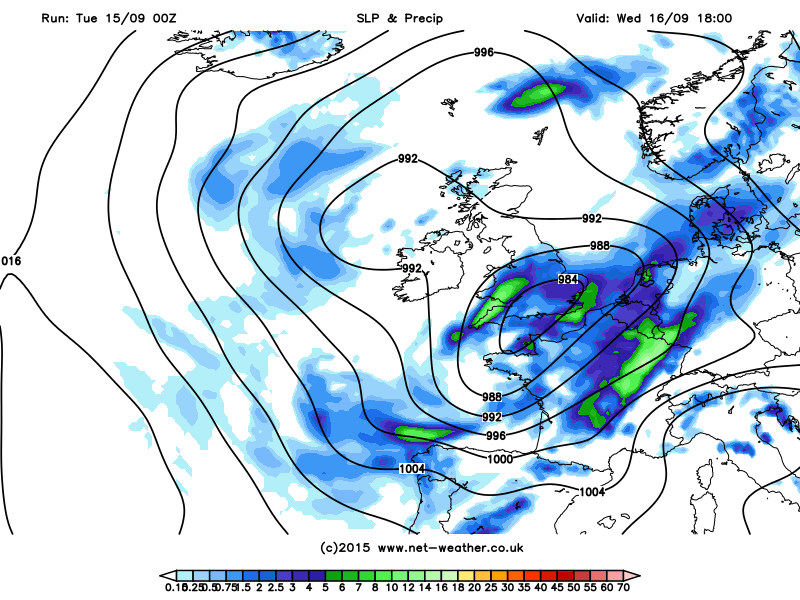 Then into tomorrow, and the showery rain in the south will soon gather itself and organise too, with a spell of heavy rain and strong winds pushing north through England and Wales during the day as the system containing the remnants of tropical storm Henri makes it's move our way.
All this may well take well into the afternoon to reach the north of England, and for the third day in a row, Scotland and Northern Ireland will avoid much of the trouble, seeing another mostly dry day with sunny spells, and a scattering of showers mostly close to coasts.
Stay tuned to Nick's blog for in depth info on the arrival of the remnants of Henri.
Into Thursday, the persistent rain should clear away to the east, with sunshine and blustery, potentially heave showers following. Winds will stay strong in eastern and southern regions in particular. More sharp showers are also likely during Friday - especially in England and Wales. We'll also keep the blustery winds along the south coast, and perhaps also in the far northeast of Scotland.
Looking ahead into the weekend, a ridge of high pressure is likely to greet us on Saturday, so plenty of fine, dry weather with sunny spells. The next Atlantic system won't be too far off though with rain making a move in from the west later in the day and through into Sunday.