The forecast chart shows two key low pressures. One off NW Scotland, an Atlantic low which will cause impacts and disruption to the UK or Eire, this time specifically N&W Scotland.= Storm Abigail. The other coming from the western Atlantic, Currently, Hurricane Kate, 4th hurricane of the Altantic season is well north of Bermuda. As the remains of this tropical system interact with the weather in the northern Atlantic, this low will keep it's ex-Kate label. Even if it was to impact on the UK or Eire, it would not be renamed Barney.
20th Oct 2015
After receiving thousands of emails, tweets and Facebook messages, the list of storm names have been announced by the UK Met Office and Met Eireann. This initial list will be used during autumn and winter 2015/16 when a storm is deemed to have the potential to cause substantial impacts in the UK and/or Ireland. By using this pilot scheme, it is hoped the warnings messages will be clearer and more consistent when picked up by journalists and social media.
A late update to the rules (so disappointing if you sent in Umberto, Xavier, Yolande, Zeb or Queenie) was to follow the US National Hurricane Centre naming convention, and not include names which begin with the letters Q, U, X, Y and Z. This will maintain consistency for official storm naming in the North Atlantic.
As stated before, any ex-Hurricanes will keep their cyclone name. So this new list shouldn't clash with the 2015 hurricane names. We're up to Hurricane Joaquin so Kate is next and then Larry; although not much Tropical storm action is expected after October. Katie and Lawrence shouldn't get mixed up unless something crazy occurs.
Here's the list Abigail, Barney, Clodagh, Desmond, Eva, Frank, Gertrude, Henry, Imogen, Jake, Katie, Lawrence, Mary, Nigel, Orla, Phil, Rhonda, Steve, Tegan, Vernon and Wendy.
Maybe there will be a different list for next winter, so we can put in more suggestions.
8th Sept 2015 Jude the sequel or Bawbag II
As we enjoy a settled, fine spell of September weather it won't be long before the autumn storms get going once more and the wet and windy weather returns to the UK
For this coming season, The UK Met Office and Met Eireann have announced a pilot project to name upcoming wind storms forecast to affect the UK and Ireland.
By naming of these storms it is hoped it will raise awareness of severe weather before they strike as the national Met services work together to issue warnings. It is hoped this could then lead to greater safety for the public.
Recent names that have helped identify windstorms were St Jude's on 28th October 2013 which hit southern England, named by the media after saints day and the less eventually named 'Bawbag' which took Twitter by storm. It is this engaging on social media which it is hoped will allow wider coverage of the warnings message.
There have already been some naming of mid latitude storms occurring over Europe. The free University of Berlin has been running an unofficial naming convention where you can actually adopt a vortex. You can pay; yes buy a low or indeed a high pressure's name. 199 euro for a low pressure and 299 euros for an anticyclone (they last longer).
Existing conventions
Of course tropical cyclones have carefully pre-planned naming conventions that span years ahead. The list of Atlantic hurricanes follows an alphabetic pattern male/female with particularly destructive storms being removed from the list. Many Asian countries contribute to the list for Pacific typhoons names.
If the remnants of an ex tropical storm or ex-hurricane are heading our way then this will follow the existing naming convention i.e. ex hurricane "Fred".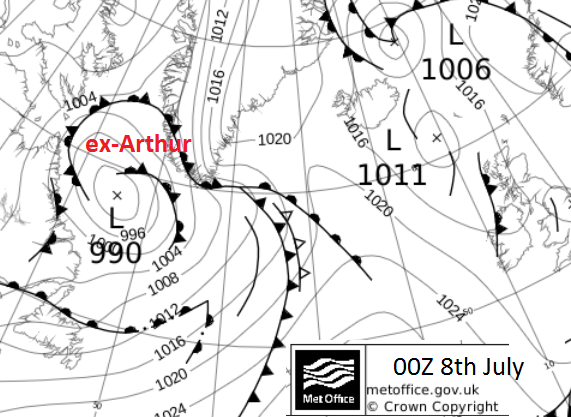 This naming system trial will be separate and Derek Ryall, Head of Public Weather Service for the UK Met Office said "the aim is to provide a single authoritative naming system for the storms that affect the UK and Ireland"
What will be in the list?
Now starts the interactive part. Your suggestions for names are wanted. The storms list will be in alphabetical order, alternating between male and female and the Met Offices want your input.
A storm will be named when it is deemed to have potential to cause medium or high wind impacts for the UK and /or Ireland. This relates closely to the national weather warnings. This is not for every single low of this autumn/winter; it is for vigorous systems which could cause damage or disruption.
Names of highly destructive global storms won't be used
How do I get involved?
So you can tweet using #nameourstorms or email/Facebook the project organisers. Here at Netweather you can join the conversation at https://forum.netweather.tv/topic/83943-nameourstorms-low-pressure-naming-this-autumn/ airing your ideas, seeing other's suggestions, before you officially put forward to #nameourstorms