Timing, they say can be everything, so it's hard not to see the irony of high pressure heading over the UK just as the summer holidays have drawn to a close.
It's not quite there yet though, so for today we still have some showers around - particularly down the eastern side of the country and also across southern England and south Wales. These showers will tend to become less prominent through the day, but some will remain, even as the cloud breaks up and sunny spells develop. For the northern half of England and Wales, along with the southern half of Scotland, away from those eastern coastal counties it's set to be a mainly dry day with sunny spells.
We do still have that northerly wind blowing, inland it's fairly light but head closer to the coast, especially the east and north coasts then you'll certainly feel it's chill. What it'll also do across the northern half of Scotland is blow more in the way of cloud inland, and with that there'll be some drizzly patches of rain.
Temperatures today will be warmest in the south at 16-18c, cooling off from the Midlands northward with 13-16c more typical, and cooler still once you reach the northern part of Scotland where 10-13c can be expected.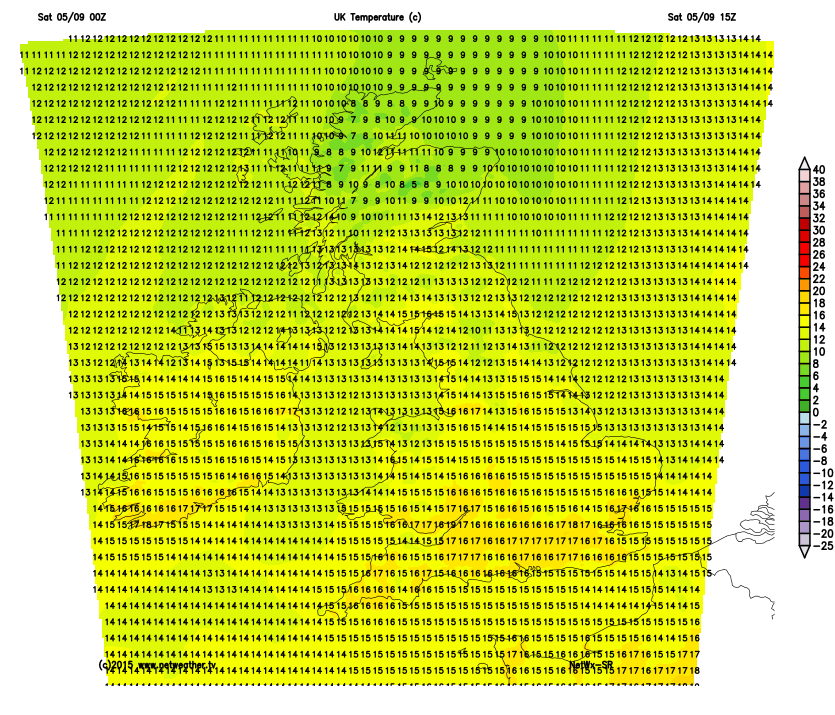 Another chilly night follows, but then with the high pressure moving ever nearer Sunday brings plenty of sunny spells, and less in the way of showers. The wind by this stage will have turned from a northerly to a northwesterly, so it'll be western parts - especially those across the northern half of the country prone to a bit more cloud and the chance of a shower or bit of drizzly rain, further east with more shelter, there'll be broken cloud and also the warmer temperatures. Highs tomorrow could well hit 20c in parts of the southeast and the high teens in many other eastern and central parts of England. For Eastern Scotland 15-16c will be the high, head further west though and that additional cloud and stronger wind will bring the temperatures down into the low-mid teens at best.