For much of the UK, this week is going to be drier, couldn't get much wetter after all that Bank holiday rain over England. There will be showers feeding in from the north, so areas exposed to this flow will still see some unsettled weather but elsewhere fair and cool.
Through this week, high pressure fills the northern Atlantic, not quite extending enough over the UK. Yesterday's low pressure is swirling near to Demark and will drift back over the North Sea towards eastern England later in the week before clearing away SE at the weekend. In between the high and the low, is the UK sitting in a cool northerly, showery flow.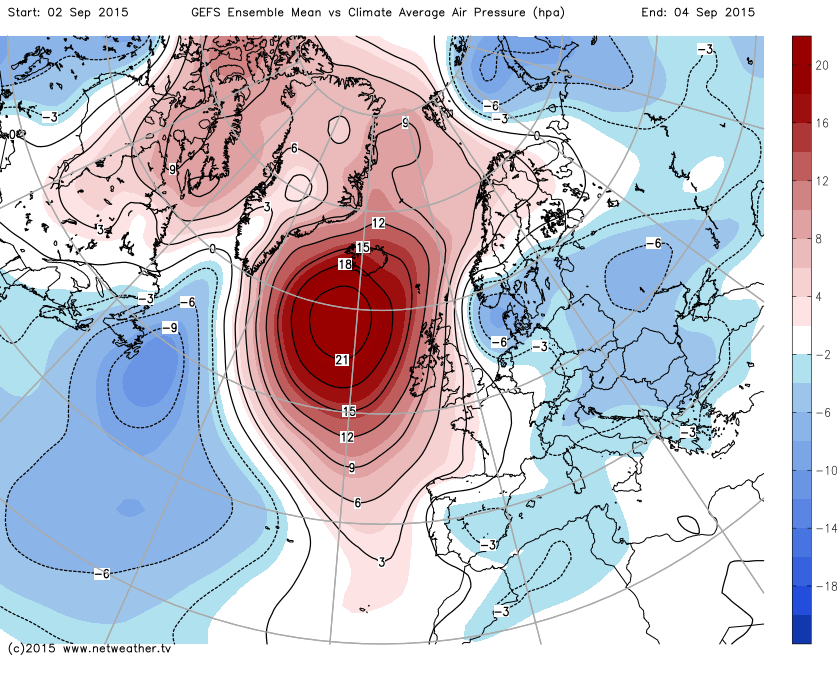 The showers won't affect all parts and through the week, there will be fewer each day. Northern Scotland, Western Isles, North Wales, Pembrokeshire, the north coast of N.Ireland, Norfolk and north coast Cornwall are all areas looking quite prone through midweek. Elsewhere is not immune but should see length drier brighter spells.
This morning we have clusters of heavy showers, one over north Wales and another over the Midlands, into East Anglia. These drift south or southeast today, as more showers arrive into northern England. Southwest England will have a fine day, escaping most of the showers and many parts of England and Wales will see some fine and bright weather. There will be a light to moderate NW wind, so feeling cool for NW England, Wales and SW England with the breeze off the sea at 14 or 15C. Cardiff will see 18Cwith some shelter. Southern and Eastern England will reach 17C with a few spots up to 19 or 20C. The air feels quite cool but the sunshine is still strong, it's that jumper on and off time of year.
---
Autumn Begins
Actually, it is the first day of meteorological autumn. For some parts of the UK you may be wondering when summer occurred. Provisional figures from the Met Office show this summer (Jun, Jul, Aug) has been cooler than average and wetter, even though July did have a lovely start.