Thursday will be most unsettled across the northern half of the UK, with low pressure to the Northwest bringing frequent showers or longer spells of rain to Scotland, N. Ireland and the far north of England. Showers possible elsewhere across England and Wales, but fewer and mostly towards western parts, with some sunny spells, though cloudier towards the south coast of England, where we could see some rain grazing the Channel coast. Temperatures reaching 15-17C in the north, 17-19C in the south, so rather disappointing for late August.
Friday looks like seeing sunny spells and scattered showers, mostly towards the Northwest. Breezy generally and windy in the northwest, though feeling warmer in the southeast, with temperatures reaching, 20-22C, elsewhere, 16-19C more likely.
Signs of a bit of warmth returning from the south east for the Bank Holiday weekend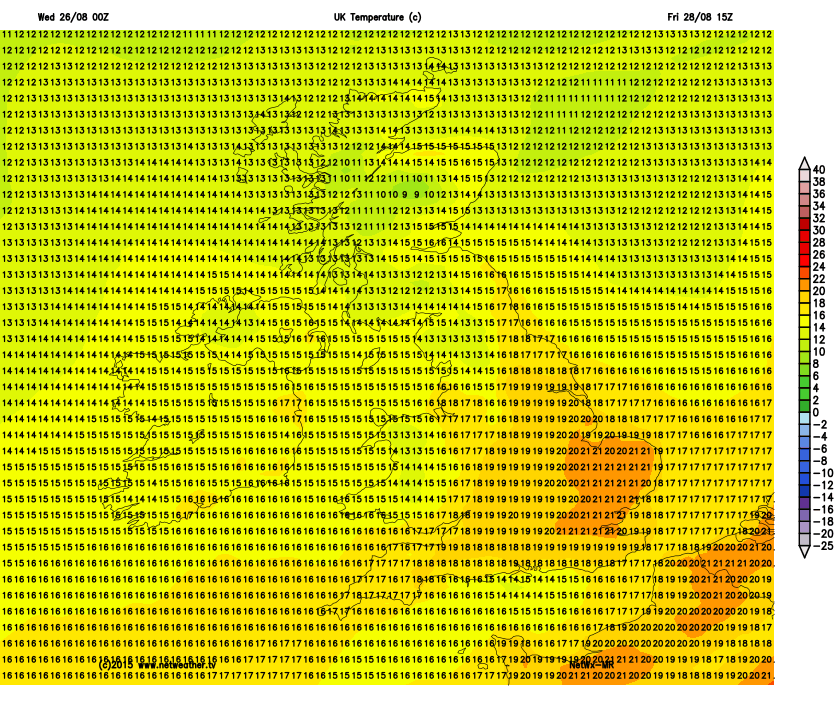 The Bank Holiday Weekend is looking rather mixed and increasingly unsettled, Saturday looks OK, bar a few showers in the Northwest. But heavy and thundery rain looks to spread north overnight into Sunday, with further heavy thundery showers or longer spells of rain into Bank Holiday Monday, though where the sun comes out, it will feel warm in the south.