This week we keep a westerly flow off the Atlantic that will feel fresher, although still with warm sunshine, and bring further rain and showers along too.
There's already been a lot of rain over southern Britain on Monday, and a fair bit for the far north of Scotland. There have been horrendous driving conditions, thunderstorms, reports of funnel clouds and localised flooding. In between it has been fine, even sunny and today will see a similar story.
Rainfall totals yesterday - taken from the Netweather radar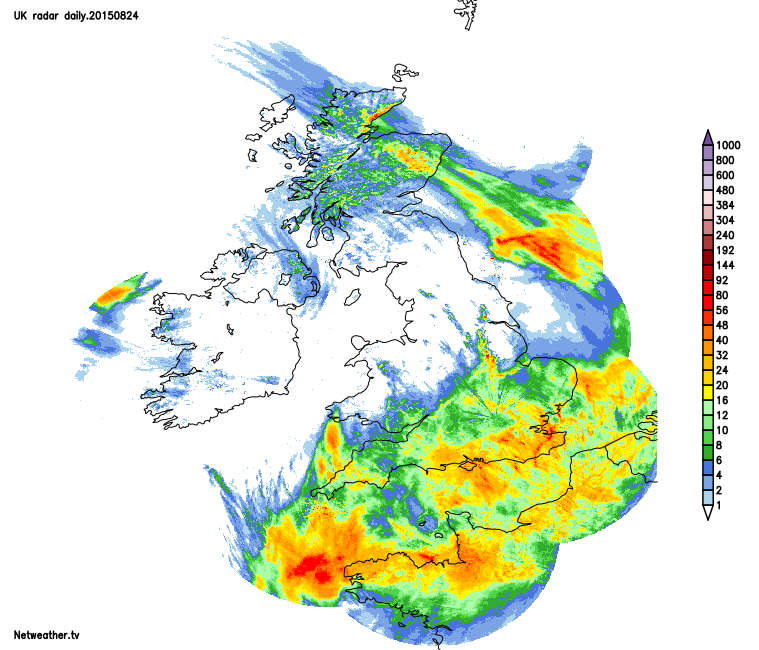 There is a frontal system still bringing a line of rain over NE Scotland which will pull northwards today over Shetland, finally leaving the mainland. A ridge of high pressure has brought some quieter weather to the UK overnight but there is now another low pressure heading in from the SW. This will bring further bands of cloud and rain as it moves north and east today. This rain will spread over SW England and Wales this morning, heading over the Midlands, SE England and E.Anglia this afternoon and up to N.Ireland and NW England this evening. Ahead of the rainband it will be fine with sunshine, lasting the longest over much of N.Britain.
Wales will have a fine morning with sunshine and light winds but the cloud will increase late morning as the rain arrives in Pembrokeshire for lunchtime. The S winds will pick up and a fresh SW wind will set in later today. Temperatures will reach 15 to 17C. The rain band will spread north with the heaviest rain in the south.