Over 10,000 lightning strikes were recorded yesterday, with Bramham in West Yorkshire topping the scales with 62.4mm of rain. Today brings more heavy rain and the risk of thunderstorms, up from the south, then as we move through next week we keep low pressure well in charge so staying unsettled.
Yesterday's lightning strikes (ATD lightning detector)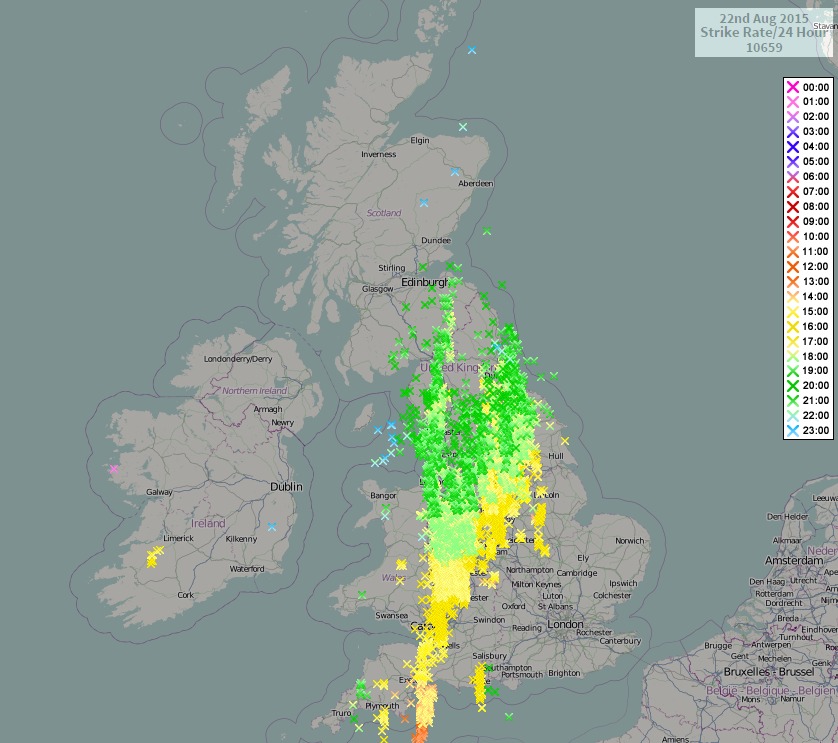 It's not all heavy rain and storms today though, to the north of the rain, and particularly through the far north of England and Scotland it's going to be a warm day with plenty of sunshine. Highs will reach 18-22c widely here, with 23-25c in some spots, cooler at 16-19c in the wetter parts.
The wet weather which cleared western Scotland earlier today is still plaguing Northern Ireland and will continue for a good part of the day before eventually clearing south into Ireland. It's also been a wet night in southwest England but the front is moving away through this morning leaving a scattering of showers in it's wake. As it pivots, it brings the rain into other parts of southern England before making it's move further north during the day. Within and ahead of that main rain band is where we'll be seeing the main risk of storms.
Once again, a storm forecast has been issued to cover this - and there is the risk of some more severe storms, with torrential rain, frequent lightning, hail and gusting winds possible.