The last few days of Glastonbury, The Goodwood Festival of Speed and London Pride tomorrow, to name but a few outdoor events over the weekend, will see mixed fortunes weatherwise. Today it should be mostly dry and sunny but tomorrow there is a risk of some showery rain for many events, particularly in the morning.
Hotting up next week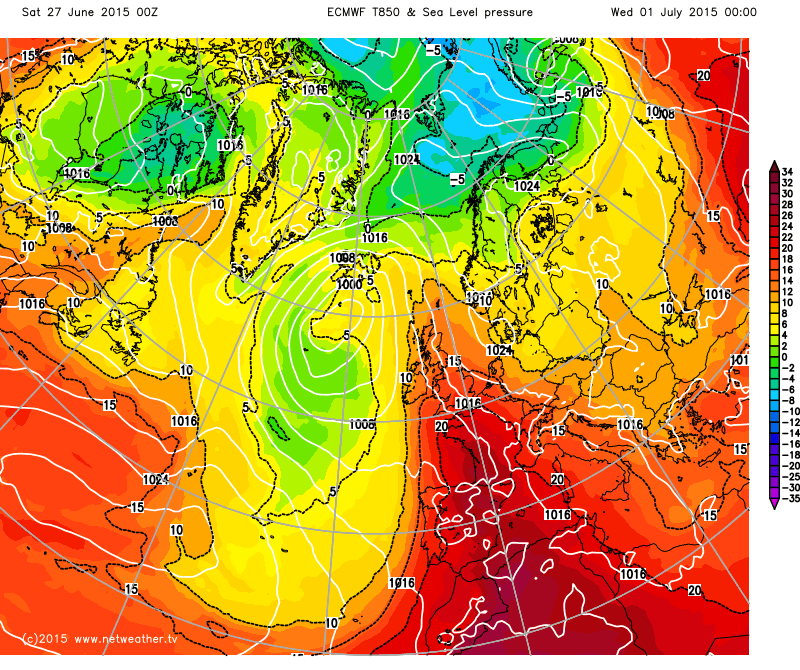 Yesterday we saw the hottest temperature of the year so far, close to 28C recorded just east of London, thanks to to some clearer skies across the southeast of England. But next week will likely see even higher temperatures as we head into the first few days of July, after a June that has been characterised by average or below average temperatures. Parts of Spain and France are expected to see temperatures soar towards 40C by the middle of next week and this hot airmass looks like to spread north across the UK, bringing temperatures into the low 30s across southern Britain on Wednesday and Thursday accompanied by some sultry and humid nights.
For now, Saturday looks set fair across many areas of the UK, thanks to a brief ridge of high pressure building in from southwest. So away from the northern Scotland and Northern Ireland, where we could see a few showers passing through in the morning especially, many places will be dry with warm sunshine and light breezes. A fresher day for all today following a cold front that cleared east overnight, which has replaced the humid conditions of the last few days. Temperatures still reaching a respectable 25C in London this afternoon, 21C in Manchester, 20 in Cardiff, Newcastle and Belfast, 19C in Glasgow, but without the humidity that we saw in the south on Friday.
It will turn increasingly cloudy across Northern Ireland later this afternoon, with outbreaks of rain spreading up from the southwest through the evening, as an Atlantic frontal system approaches. It will then turn increasingly wet and windy across northern and western areas, rain locally heavy, especially over western hills. Further south and east, mostly dry but turning increasingly cloudy.
Rain spreading west to east on Sunday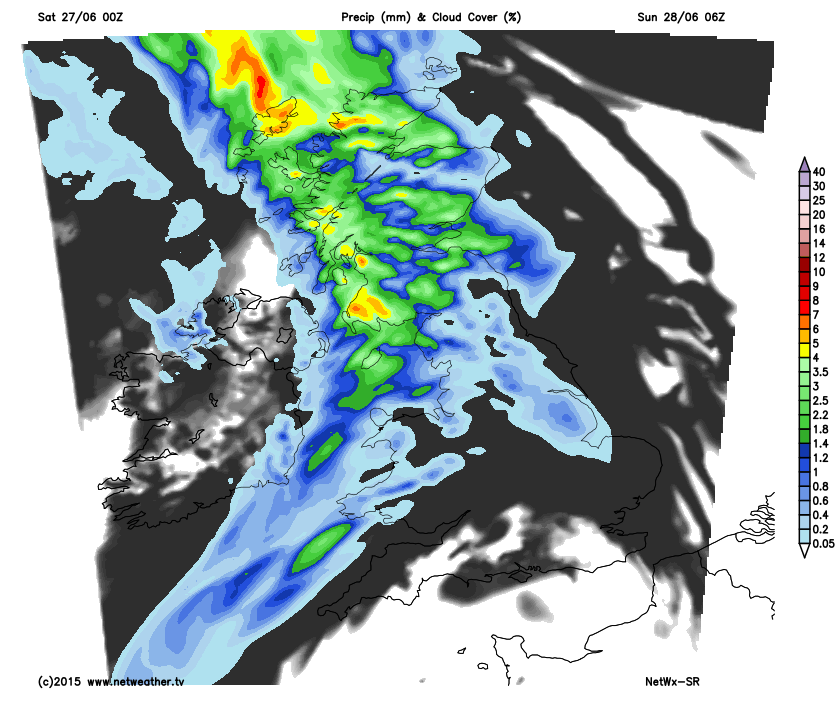 Sunday's looking a different kettle of fish to Saturday to start the day, with many areas mostly cloudy and cooler with outbreaks of showery rain spreading from west to east, rain heavy across the north and west in the morning, though tending to turn lighter by the time it reaches eastern parts in the afternoon. Brighter conditions following across the north and west through the afternoon. Warm and muggy across the southeast of England, temperature reaching 22C in London, 18-20C elsewhere.