May and June haven't been great, officially cool and Scotland has felt more like winter at times this week. England and Wales have enjoyed a few pockets of proper warmth but we've not see over 30C yet this year (26.8C top temp mid June at Kew gardens). If you are after something hotter, July could be your month.
This weekend Iberia is going to see temperatures widely up into the high 30s, potentially reaching the low 40s in the next few days, nudging June record levels for Portugal and Spain. Heat warnings are already out from the Spanish Met. Agency. That air will move up through France early next week then to the UK.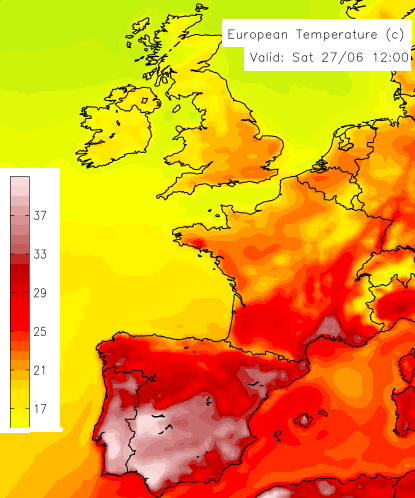 That very warm and humid air does look like it is going to reach the UK next week. With high pressure over Europe and a low in the northern Atlantic the SW flow continues through the weekend before a more southerly flow brings drier, hotter air from the continent.
Temperatures are showing of low to mid 20sC for N.Ireland and parts of Scotland, mainly the west. Wales mid to high 20s, much of England mid to high 20s with over 30 possible for London. At the moment, the high pressure should bring a lot of fine settled and dry weather but its position means a breeze off the north sea for NE England and much of eastern Scotland, so inland parts could reach 18 to 20C but coastal parts won't be in the heat. That could change with any shift in the high's situation. School holidays start next week for Northern Ireland and Scotland, this warmth would be very welcome.