Ok, even though it's a damp, cool Sunday morning, we may as well deal with the elephant in the room first - the talk of some warm, even hot weather later in the week..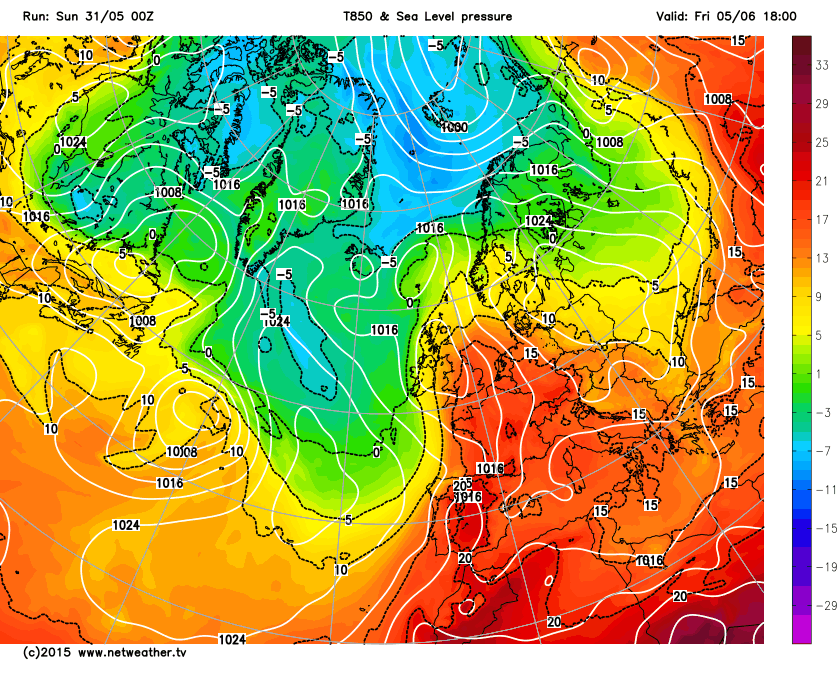 First thing to say is that confidence in the details is low, but yes the forecasting models are pointing toward an increasingly warm latter part of the week as high pressure builds and heat from the continent gets pumped up from the south toward the British Isles. The second thing to say is that it's not likely to be a long lived hot spell - Friday is expected to see temperatures peak well into the high-twenties but low pressure arriving on to the scene could well quickly squeeze away the heat and bring a speedy, potentially thundery breakdown as we head into the weekend.
We'll obviously keep you up to date on all of this over the coming days, but for now back to the present and nearer future.
Overnight we've seen a band of rain crossing the country from the west, it's all but cleared the east coast of England now, but will take a little while longer to get away from the northeast of Scotland. Behind the rain, it's a case of sunny spells and some sharp, blustery showers - these becoming more confined to western regions through the day. The low pressure which drove the fronts east across us is still nearby to the far northwest of the country, so winds will be strongest here - gustng toward 60mph.
The worst of the winds ease in the far north overnight, but it stays blustery everywhere. Away from the still showery northwest of the UK it'll be a dry night. Tomorrow then starts with some sunshine for many of us, but cloud with some showers will be arriving in from the west ahead of the next spell of wet and windy weather which will sweep in during the day.
Wet & wild start to Summer