Thursday will see a north-south split in weather fortunes for the UK, the southern half of Britain will be cloudy and increasingly wet while the north will be mostly dry and sunny. On Friday, we see the north and west turning cloud and windy through the day with rain arriving in the afternoon while southern and eastern parts stay dry and sunny. Over the weekend, we see a north-south split again, but with northern areas unsettled while the south remains dry.
For now, an area of low pressure moving into the SW approaches to Britain is bringing thickening cloud, outbreaks of rain and a strengthening easterly wind across much of Wales and southern England so far this morning. To the north, it's a sunnier but chilly start across northern England and Scotland, with temperatures falling close to freezing earlier this morning, though do have some mist and low cloud near eastern coasts. For the rest of the morning and through the afternoon, it's a day of contrasts. Much of Wales, southern England, the south Midlands and the southern half of East Anglia remaining cloudy with outbreaks of rain, which will turn persistent from the southwest. Cold too in these rainy areas in the strong easterly wind, with temperatures no better than 7-10C. Further north, it's a sunnier and drier story for the rest of day, with temperatures reaching 12-15C generally, perhaps 16-17C across western Scotland.
This evening and overnight, the cloud and rain across the south will ease and gradually clear away into the near continent, with clear spells developing later in the night. Northern areas will have another dry and chilly night, with clear spells leading to a grass frost in sheltered rural areas.
Rain arriving from the northwest on Friday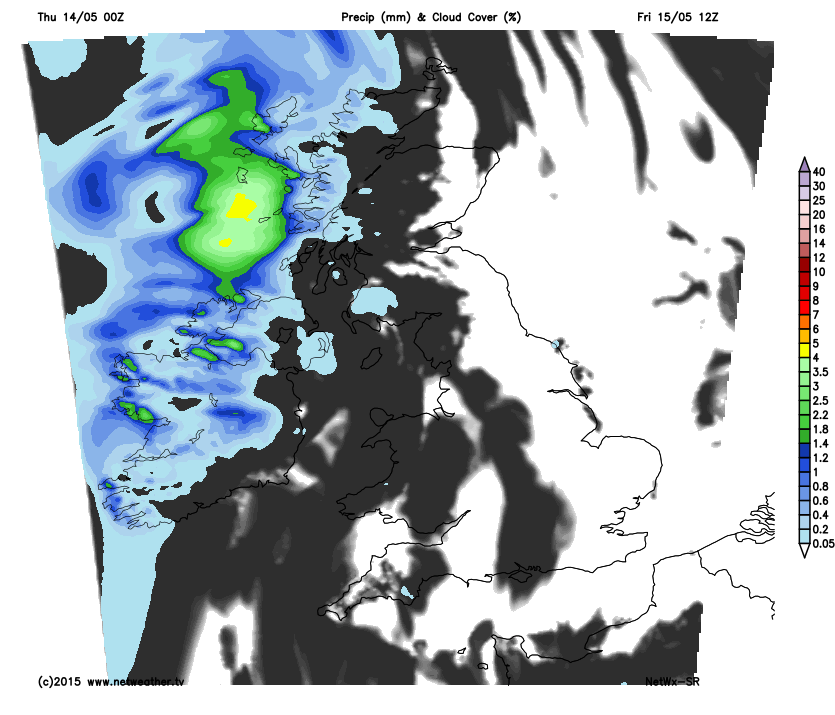 A ridge of high pressure builds in for the start of Friday, so for many it will be a dry, bright or sunny morning after a chiilly start. However, it will turn increasingly cloudy and windy through the afternoon across northern and western areas, with rain spreading in across the northwest. Staying dry, bright or sunny across southern and eastern England. Temperatures reaching 18C in London, 15C in Manchester, 14C in Cardiff and Belfast, 13C in Edinburgh.