We have a north-south split in our weather today, the north of the country - especially Scotland and Northern Ireland seeing some rain at times, further south and it's drier and warmer with some sunny spells coming through.
Starting with those wetter areas, we have a few fronts in play today, the first ones arrived overnight and are slowly clearing northeast through Scotland. The final one (a cold front) is moving into western Ireland (both Southern and Northern) and will continue east through the day, reaching the west of Scotland into the afternoon. Between the two it's not bone dry either as there'll be a reasonable scattering of blustery showers.
Today's fronts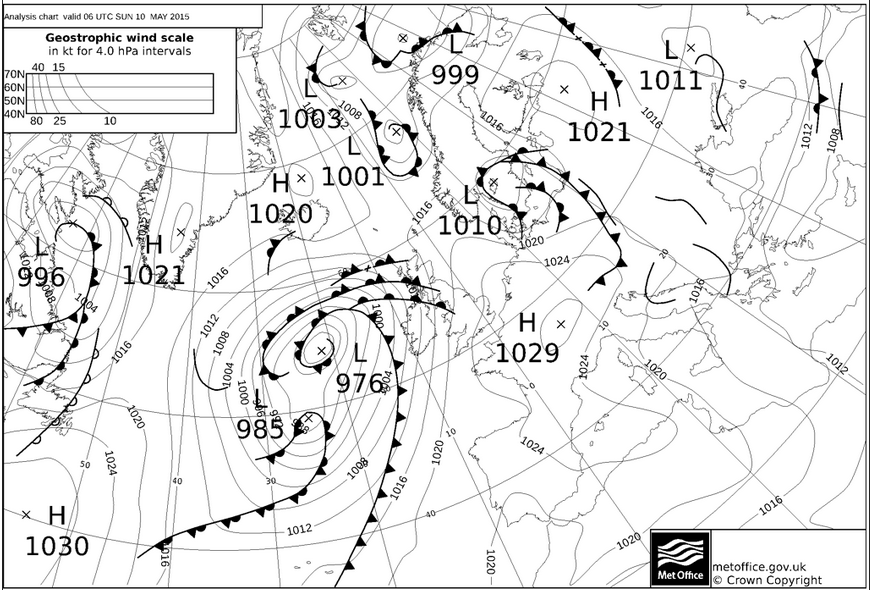 Heading further south, the far north of England will see a few showers too, but in the main for England and Wales it's a dry picture. There's a fair amount of cloud around this morning, but it should break up during the day to allow some good sunny spells to develop. South facing coasts may see some mist and murk though. Temperatures today will be warmest in central and eastern England at 18-20c, a little cooler further west but still 15-17c here, under the cloudier skies in Scotland and Northern Ireland, 10-13c is more likely.
Overnight tonight the front bringing the rain to Scotland and Ireland slowly slides southeast, to be into northern England, Wales and the far southwest of England by morning. It'll be gradually fizzling out all the while though, so as tomorrow moves on it'll just be a few spots of rain and mostly just some extra cloud. To the south and east of it we'll see another warm day with sunny spells and highs of 21-24c in the southeast corner and East Anglia. 16-18c in central and eastern England. Further north and west, it's cooler and there'll be frequent, blustery and squally showers into western Scotland, along with the west of both Northern & Southern Ireland.