After a fine Bank Holiday Monday for many, the weather has taken turn for the worse overnight and the rest of the week will be changeable with rain or showers at times and windy too. In fact, a look at the weather charts this morning, they have a distinctly early Spring look to them, with a deepening area of low pressure becoming slow-moving across Scotland by tomorrow. However, it should feel pleasantly warm in any sunshine now.
Deepening low heading across Scotland tomorrow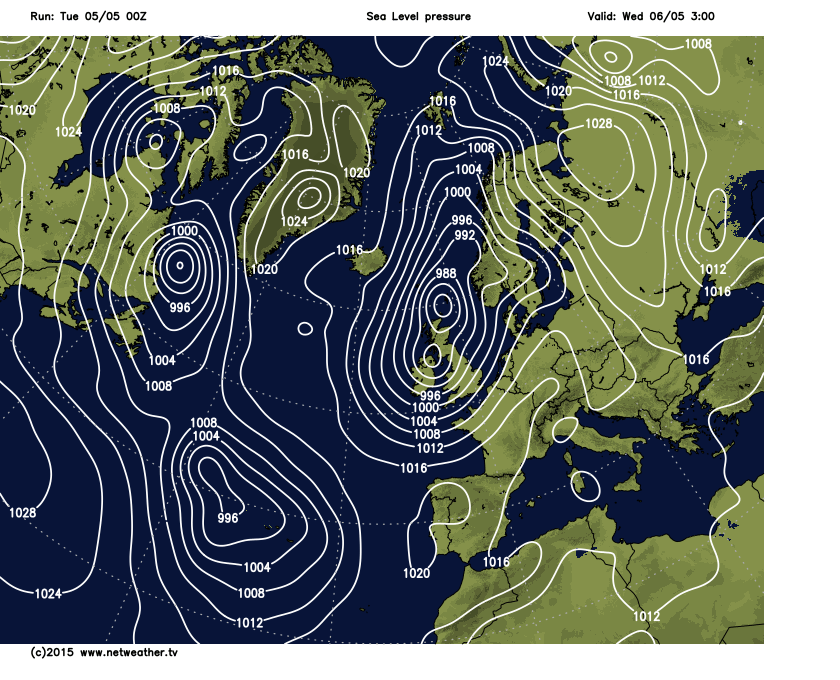 For now, a broad swathe of heavy rain has pushed north overnight across England and Wales and is now across Northern Ireland, northern England and much of Scotland, though it's still dry across NW Scotland. This rain will grind to halt across Northern Ireland and Scotland for the rest of today and we could see up to 12 hours of continuous rain in places here, so there will be a risk of some localised flooding. Further south, after a cloudy and damp start this morning, with showers in places, brighter but increasingly windy conditions with gales will follow across much of England and Wales later this morning and into the afternoon, the wind gusting to 40-50mph quite widely inland, perhaps more along southern coasts. Showers will continue across Wales, SW England and into the Midlands, drier and sunnier in the east. Cool under the rain band in the north, temperatures reaching 10-12C at best. in the brighter skies further south more like 13-16C, perhaps 17C in the southeast.
Rain & showers through today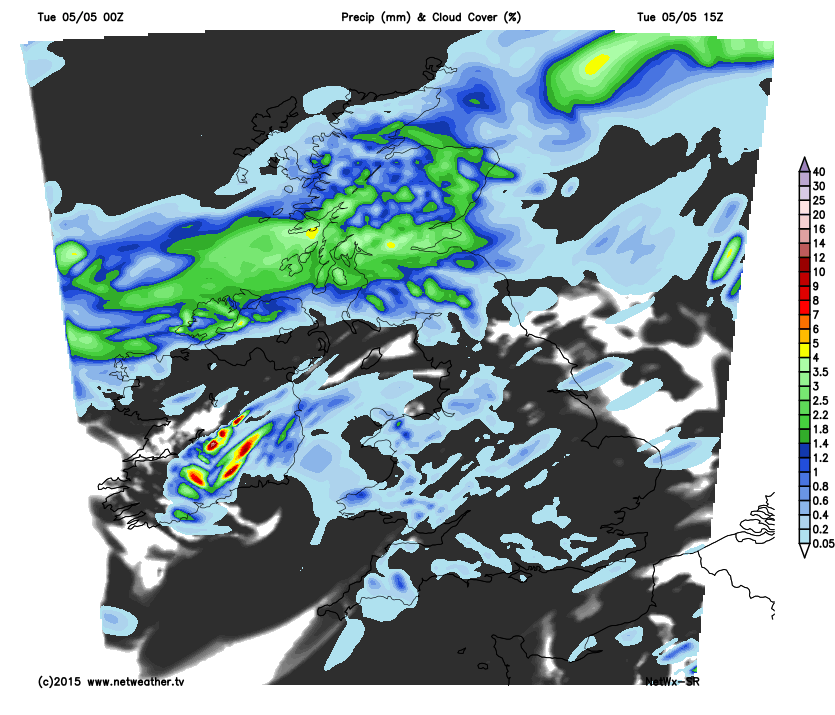 Tonight, we will see a fairly deep area of low pressure become slow-moving across Scotland, with bands of showers spiraling around the low across many areas of the UK and a band of more persistent rain loitering across northern Scotland. So you'll be lucky to stay dry overnight and it will continue to be rather windy across many areas with gales in places, so keep those recycling bins and anything else loose secure!