The Bank Holiday weekend looks a mixed bag, with rain affecting pretty much everywhere at times, but it's not a washout with decent sunny spells and temperatures turning a little milder from the south. Michael Fish will have the detailed forecast later today in his regular video update.
Before the three day break, we have Friday to get through, and it has started chilly and frosty for central and northern areas of the Uk, while cloud kept temperatures up for southern areas. There's already rain affecting the south of Ireland and far south west of England out to the Channel Isles, and that band of patchy rain doesn't look like it will make too much progress through the day, slowly spreading further north through Ireland, but lingering over the south west of England with occasional heavy showers developing.
Generally dry for much of the UK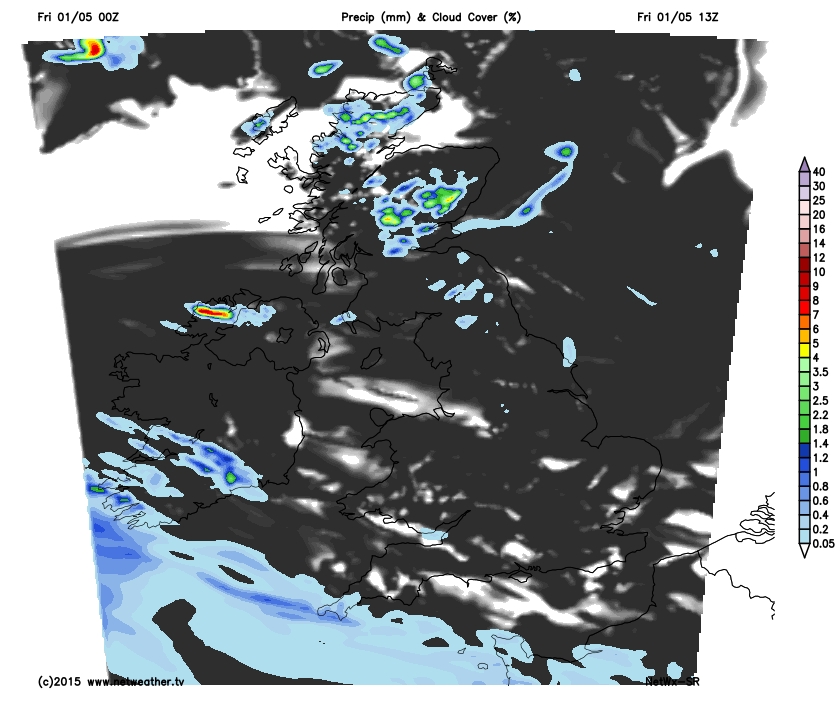 Elsewhere in the rest of England & Wales it will be a cloudy day with occasional sunny spells and the odd shower developing, especially for north western areas, a chilly breeze for the south will keep it feeling quite fresh. Scotland will see showers develop from the east through the morning, heavy at times and becoming more widespread later on before clearing to the west through the evening.
Tonight will see clear spells for northern and eastern areas with a frost developing, cloud over the rest of the UK will keep it a little milder and that rain over the south west will make progress in land, heading north east leading to a damp start for the south west of England, and much of Wales, Ireland & N Ireland. How far the rain will reach through the day is tricky to pin down at the moment but much of the north and east of the UK should stay dry through the day with the best of any sunny spells for eastern areas. It will also be a blustery day generally, especially for western areas, with gales possible for exposed coasts at times.