A lot of low cloud has snuck in overnight from the North Sea, spilling over eastern, central and southern England. To the west of this it is clear and sunny but nippy, down to 2 or 3C. Yesterday, the shores of Loch Ness saw 21.2C (70F) but by Sunday it will be closer to 5C with the risk of sleet as the weather throughout the UK turns cooler.
A cloudier start today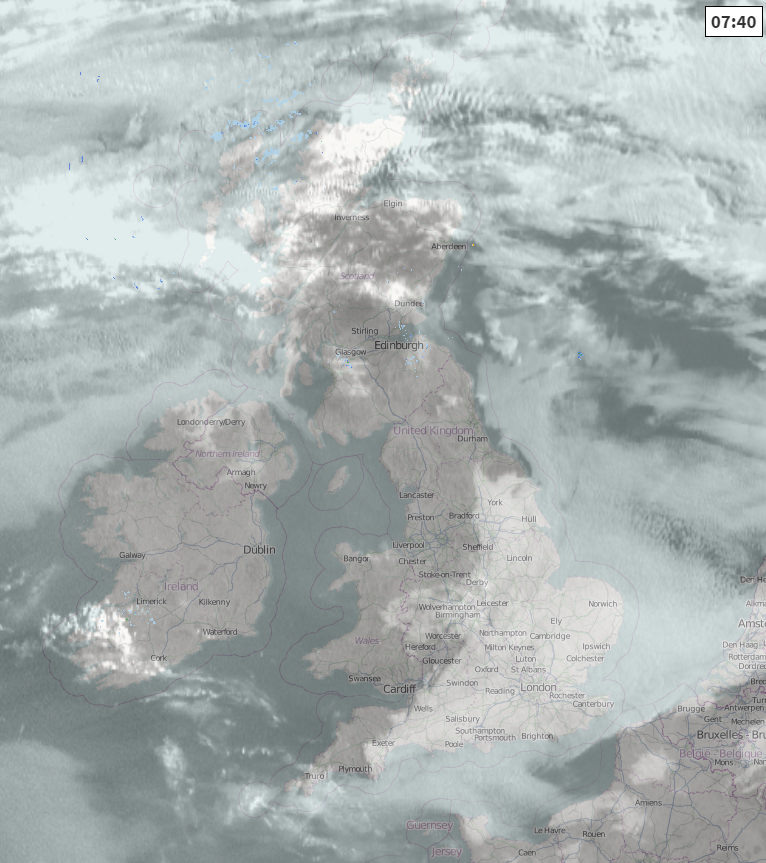 The sunny areas of England will continue with fine weather today and see temperatures around 17C for N.Devon, 18C for Manchester. The cloudy parts will brighten up inland and see the sunshine this afternoon with temperatures up to 17C. Around the coasts where the cloud may linger it stays at 12C. Yorkshire could see up to 18 or 19C but everywhere will feel warmer in the sunshine as the winds will be much lighter today. That wind was chilly yesterday. By late afternoon there could be the odd sharp shower moving from the Pennines over NE England but otherwise it's dry and bright. Wales is in for a lovely day with hardly any breeze, plenty of sunshine and temperatures up to 17C inland. N.Ireland does have some mist and fog this morning but most of that will shift to leave sunshine on a fine day. There will be a bit of low cloud lingering for the north coast but winds will be very light and temperatures up to 17 or 18C. For Scotland there is a weak weather front edging down from the north bringing more cloud. Temperatures here will be 8 to 12 C but for the Central belt and southern Scotland there will be sunny spells and warmth again. With a light westerly breeze it will be Falkirk, Lothian and Borders seeing temperatures heading for 20C. Late afternoon, the front could bring some light rain to Orkney with the risk of a sharp shower for inland eastern Scotland.
Two fronts pushing in during Friday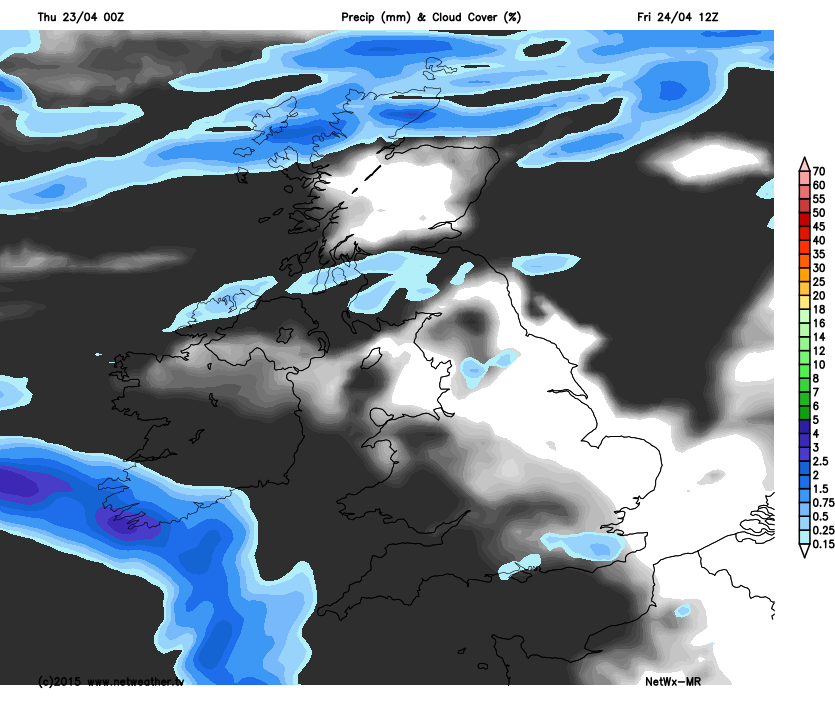 During Friday we begin to see changes to the dry settled spell. The cold front continues to move southwards through Scotland bringing more cloud and patchy rain, followed by another band of rain in the far north. Another weather front heads into SW Britain, bringing cloud and rain and more of a south-westerly wind through the afternoon. In between these two damp areas it will be another fine day. Eastern England will do well with warm sunshine and temperatures of 18 to 20C.