In a week where we've had supermoons, a spectacular eclipse and the spring equinox, this morning's update has a bit of a feeling of being after the main event, but we still have plenty to talk about. Even though the weather this weekend is going to be fairly quiet and mostly dry away from the north of Scotland, changes are afoot into next week...
Today, an old friend has returned - that chilly wind. It's blowing down from the north to northeast and is particularly affecting England and Wales - with eastern regions in particular bearing the brunt. It's bringing plenty of cloud inland with it, some of it thick enough to bring some patchy light rain and drizzle in the east but in the main it's a dry day with the best of any sunshine in western parts.
Chilly wind today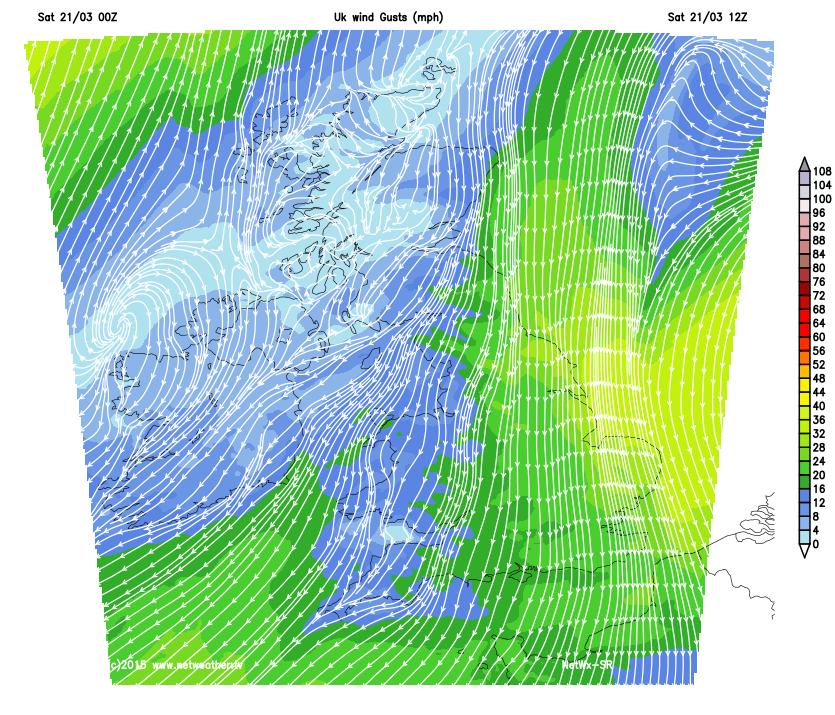 For Scotland and Northern Ireland, the winds are lighter, so feeling much more pleasant here with more in the way of sunshine to be had as well. Temperatures today peaking in the sunnier west at 11-13c, cooler the further east you head - reaching 5-7c on the east coast and feeling chillier than that in the wind.
Overnight, the brisk northeast wind gets squeezed ever further south, leaving just the south coast feeling the effects of it into Sunday. At the same time, southwest winds will be increasing across Scotland and some rain will push down from the north during the night and into Sunday morning. The continues south for a time, struggling to reach the far south of Scotland though before pulling away to the east during the afternoon.
For the rest of the country, it's another dry day with the cloud breaking up and bringing some sunny spells through. Temperatures will range from 7-11c typically, Ireland will likely be the warmest place to be with 13-14c possible here.