Wednesday was a fine day for many, with plenty of sunshine, but there was a chilly breeze. This breeze from the northeast has brought cloudier skies inland overnight across eastern, central and much of southern England - so it's a rather grey start here this morning. Elsewhere, we've seen clear skies overnight across SW England, Wales, Ireland, NW England and southern Scotland - which has allowed temperatures to fall below freezing across Ireland and from central Wales up to the central lowlands of Scotland - with a frost to begin with here for the morning commute.
Persistent cloud for some today, brighter for others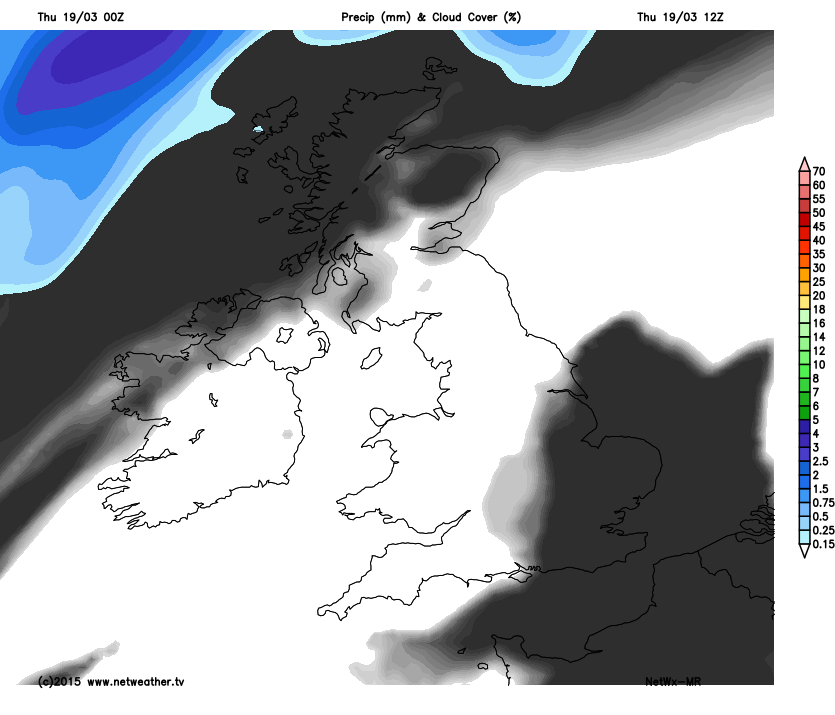 Thicker cloud has arrived across northern Scotland and Northern Ireland this morning, with some patchy rain spreading in across Highland. There won't be a great deal of change as we go through Thursday. It will remain cloudy and damp across the northern half of Scotland and cloudy at times across Northern Ireland. But for much of Ireland, Wales, northern, central and western England it will stay dry and sunny with light winds. The cloud in the east of England will recede too, though eastern coastal areas and southeast England perhaps staying grey all day, with a cold northeasterly breeze. Temperatures climbing to 10-12C where we see the sunny spells, temperatures pegged back to 7-9C in the cloudier areas.
As the high slips to the west, cloud becomes an issue for eclipse watching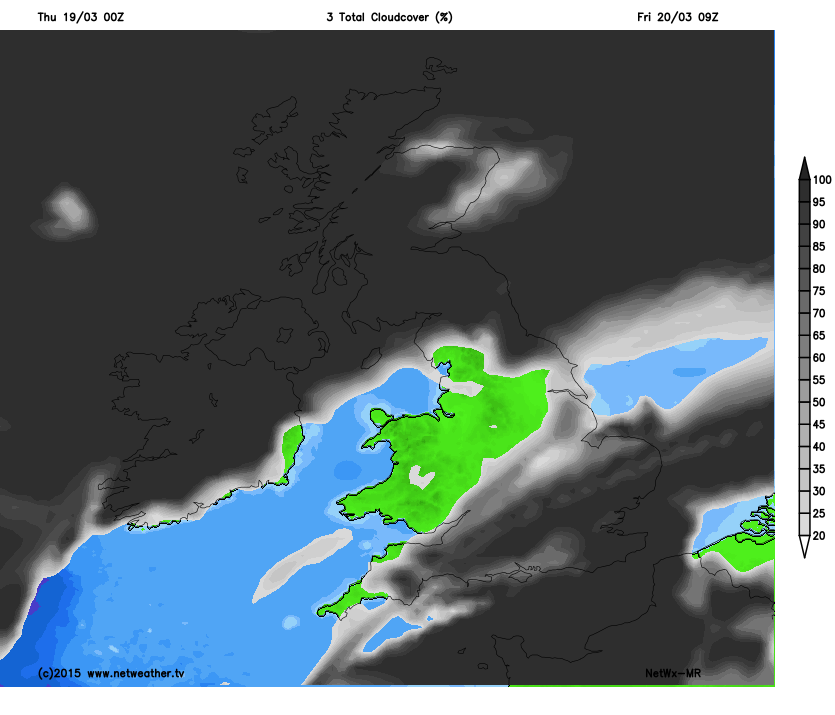 The area of high pressure sat across the UK today will slip away southwestward tonight, so although much of England and Wales will keep clear spells overnight, the cold front bringing cloud and rain in the far north will move south across Scotland - which could obscure the Eclipse on Friday morning across much of Scotland, Northern Ireland and the far north of England. But for Wales, central and southern England, we should have clearer skies in the morning ahead of this front, so here most likely to see the Eclipse. The peak times of the eclipse between 0920 and 0940 across the UK. A fine and sunny afternoon for southern England and south Wales, but cloud will spill down further north as we see that cold front continue south, though patchy rain will be mostly confined to Scotland. Temperatures reaching 9-11C in the north, 11-13C in the south.