I'm glad the eclipse wasn't this morning, because there wasn't a lot to be seen at the end of my street never mind 93 million miles away. There is a lot of low cloud about for Monday and it comes and goes this week, with worries for Friday.
Last week I had a look at how to view the eclipse and where the totality zone will be in part 1 then times and glasses in part 2
The forecast is now within the more comfortable 5 day ahead zone but forecasting layer cloud within a high pressure is tricky. Breaks can appear at just the right moment, as happened for some lucky people in the south west of the UK for the 1999 total eclipse, whereas others 20 miles down the road saw very little.
Forecast cloud map, Friday 20th 9am - still time for a change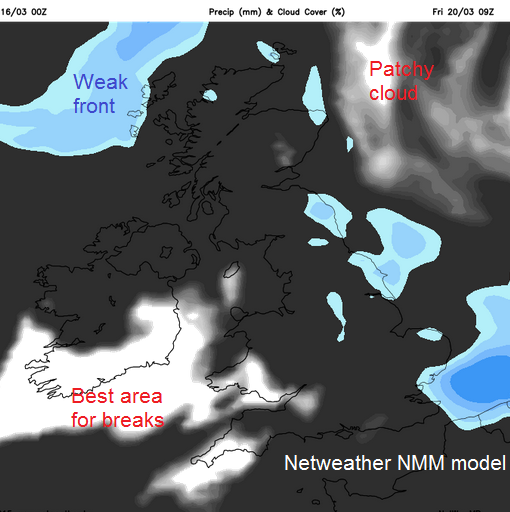 South west of the UK & southern/eastern Ireland currently best placed
High pressure is still over the UK for Friday, but seems to be fading and slipping to the south west. This will allow a cloudy flow from the North Sea, with a light North Wind. Away to the north west the winds will become south westerly as a weather front edges in. Timings on this could change as it is still 5 days away and hopefully they will.
Anyone who has booked to go to the Faeroe Islands will be looking at today's charts and grimacing as there is a cold front with rain right over that region. A front will clear and should bring clearer skies but it could be a tense wait with totality only 2 minutes around 0930. This front with its cloud and rain could pester the Western Isles and NW Scotland at completely the wrong time. So we'll wait for some changes over the next few days.
Elsewhere, SW Britain looks most favoured for breaks and a view of the sun. The cloud for NE Britain does also look quite patchy, but it seems there could be disappointment for some viewers on Friday.
Picture credit: Sagredo (Own work) [Public domain], via Wikimedia Commons