Ahhh, easterly winds - bringers of cold air, bright skies and big, spectacular convective snow showers coming in off of the north sea.... No? Ok, not this time. Our current easterly wind will be a bringer of lots of cloud, and a few showers here and there, and a chilly but not bitter feel.
It isn't all slate gray clouds and no sunlight though, this morning (as you can see on the satellite picture below), there's a decent chunk of southeast and central England seeing the sunshine, as there is in northern Scotland, and a few other breaks down through western regions.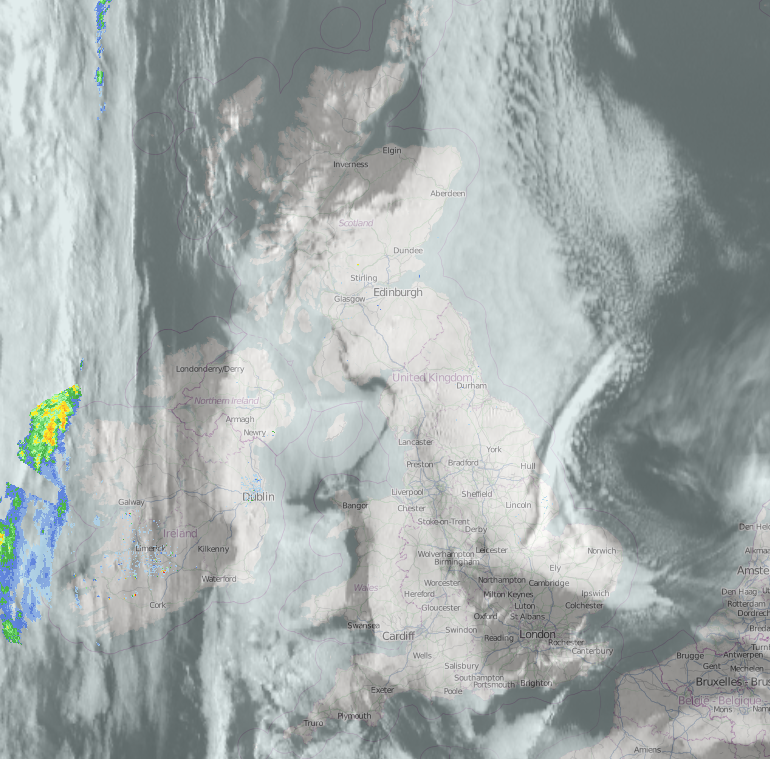 The southeast is bucking the trend a bit, as it's mostly western regions, along with the north of Scotland which are likeliest to see some sunnier spells, with the thickest, more persistent cloud and highest risk of showers in eastern parts. With the clearer skies, it's also the west and north at greatest risk of some overnight frost patches too. Temperatures by day will typically peak at 7-10c in central and western parts - with the top end of those figures reserved for areas where there's some sunshine. Head further east and it's cooler with 4-7c more typical, and with that nagging wind it'll feel colder than this if you're out and about.
Although the air coming across from the continent on this particular easterly isn't frigid, it's still cool enough and Sunday into Monday brings some slightly colder air in. We'll also see a few more in the way of showers in eastern parts during Sunday and Monday, along with southern regions for a while overnight tonight and into tomorrow, and the likelihood is that they will be wintry at times.
Colder air filtering in for a time into Sunday.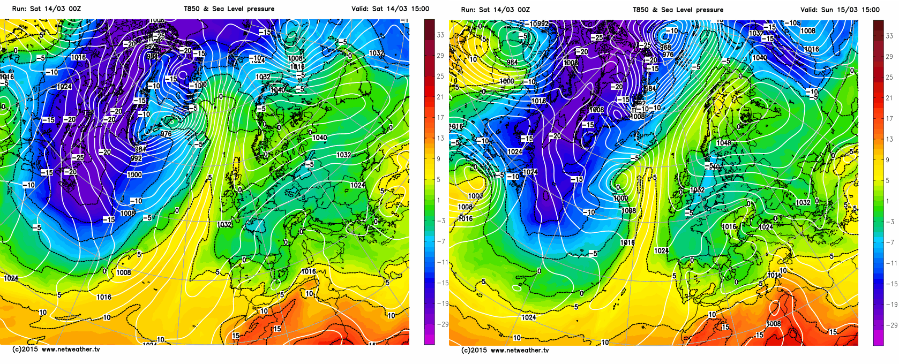 The same pattern takes us right up through to Tuesday, but then we start to see a slackening of the easterly flow, with high pressure trying to build right over the top of the UK into midweek. This should mean that Tuesday brings a bit more in the way of sunshine and a more pleasant feel to the day with lighter winds and temperatures nudging upwards a few degrees.
Wednesday continues that theme, although it's at this point the models start to diverge a litttle.. All have high pressure remaining as the main player but with it being centred somewhere west of the UK and potentially ridging northward, there is the chance of colder weather moving down across the UK. It's how sharp, widespread and long lived that this potential cold snap is which is the bone of contention between the model runs. As of this morning, the ECMWF is the chief cheerleader in terms of the potential for something colder coming through from Thursday and into the weekend, whereas the GFS is a bit less keen.