image credit EUMETSAT
A chill in the air for eastern and central Britain this morning, down to -5C in Lincolnshire. However, it is milder further west with Co.Down starting the day at 7C. The cold air is in areas with clear skies and lighter winds thanks to a ridge of high pressure. The milder air is accompanied by wind and rain from a warm front, moving in from the Atlantic.
A Stormy Monday For Northern Areas
This warm front links back to an intense are of low pressure which has been deepening rapidly overnight. The low centre of forecast to move close to NW Scotland touching gale force over N.Ireland and N.Britain this evening. Winds could reach severe gale or storm force for a time for the Outer Hebrides, Lochaber and Wester Ross, moving towards N.Isles by midnight. Gusts near to 90mph are expected with 60 to 75mph gust over the northern half of Scotland and 50 to 60mph for the Central Belt this evening. So a heads up for later today.
Gales Up To Storm Force Later Today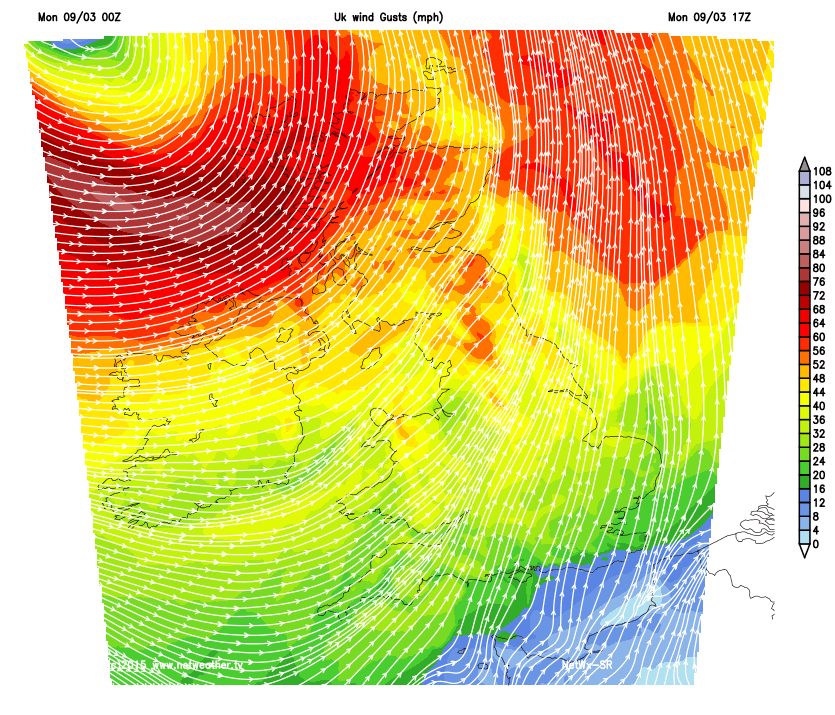 This morning N.Ireland will see rain spilling in from the west, a lot of cloud and strong S winds, gusting to 60mph. This afternoon will be drier and mild up to 11C for Belfast but still blustery with a SW wind and gusts of 60mph for the north coast. The afternoon will be fairly cloudy with a few brighter spells and the winds will settle to a moderate Westerly overnight. Much of England will have a fine sunny start this morning, although nippy for some. The warm front cloud is already arriving in the west and patchy rain will start over SW England soon with some heavier pulses for NW England by late morning. The rain band will weaken as it moves over the Midlands, S and E England, so just turning cloudy and a bit damp in the air. Temperatures rise to 10 or 11C with a bit higher likely for SE Britain but it will feel fresher than at the weekend.
The winds will pick up today, to a fresh Southerly with 50mph gusts for the far north of England by late afternoon. Inland Wales will see some fine weather this morning but there is already more cloud in the west from the warm front and rain will soon arrive. This will be patchy in places but heavier over the hills and will pep up this afternoon as the cold front moves through. Temperatures will reach 10 or 11C which is mild enough but with a freshening S wind. For Scotland, the calmer lull isn't going to last and the fine weather will soon be replaced with more cloud and rain from the west. Heavy rain will set in for Western Scotland which isn't need after the problems at the weekend with disruption and landslides. Further east, there will be some shelter with Lothian and the Moray coast looking favoured. So a wild evening leaving a fresh westerly wind for the small hours away from stormy Shetland.