The gritting season usually runs from 1st November until late March, sometimes into April. Most of the work is done at night, as the roads and carparks are quiet then.
A typical night would start at 5/6pm when the lads come in and load the gritters and service the lorries. They would leave about 7pm, get around the gritting run and maybe finished by 3/4am. The run can take longer is traffic bad or if is weather awful. There is a set route to follow, which is influenced by the weather. Sometimes, only high level routes need gritting and low levels can be left if they will stay above freezing. The amount of outings in a season can vary from 26 on a very mild winter to 40/50 grits in a colder one.
A typical day for Rob would begin at 6am reading the first Netweather FreezeAlert forecast and checking conditions for the following night. By about 9:30am he has contacted all his customers as to whether or not they are going to grit. This is done by email, text or phone and he'll explain what is going to happen that coming night. If it is going to snow, he can be up all night. Rob doesn't look, in detail, any further forward than 48 hours. He'll glance a bit ahead as a guide but thinks the forecasts further head vary too much, so keeps away from outlooks.
The first FreezeAlert forecast of the day arrives by 6:30am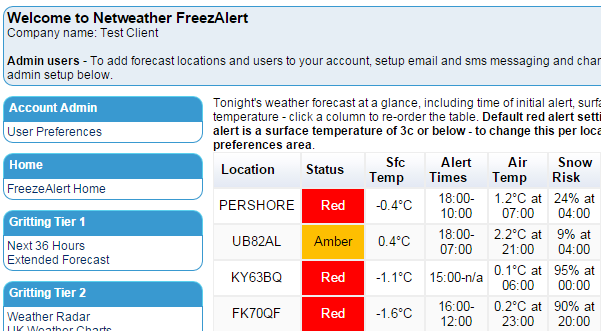 Specific Forecasts For Each Postcode
Rob explained that different customers had differing needs and that FreezeAlert output is ideal for that "With your weather forecast I can set it up in various different ways. If you have a customer, who is H&S conscious, say like a hospital, they could grit at +2C. Many shopping centres grit at zero or if it snows. With the use of your specific forecasts we can adjust the output from the forecast for each customer site, the customers can dictate the conditions they want us to come out at."
So different customers may have different temperatures that trigger their gritting needs but all of them want to know about snow. Rob starts looking into more detail once the FreezeAlert forecast shows a 20% or higher risk of snow.
With snow, you have to get the grit down before it snows, to stop it sticking. And there is not a lot you can do about heavy snow; if it is going to snow hard, it is going to stick. Then the only option is to plough sites off and re-grit.
Tricky Weather Situations
If it rains until 2/3am in the morning, then that is very difficult to deal with. The rain would wash off any early salt, which would be a waste. Trying to get around the run late in the night, before it all freezes at 6am, is hard. It leaves less time to get out and get the grit down before everyone is on the move in the morning. Showers are also annoying as they more localised and can wash off salt in places.
Live radar updates track snow and rain, helping with the decision of when to grit<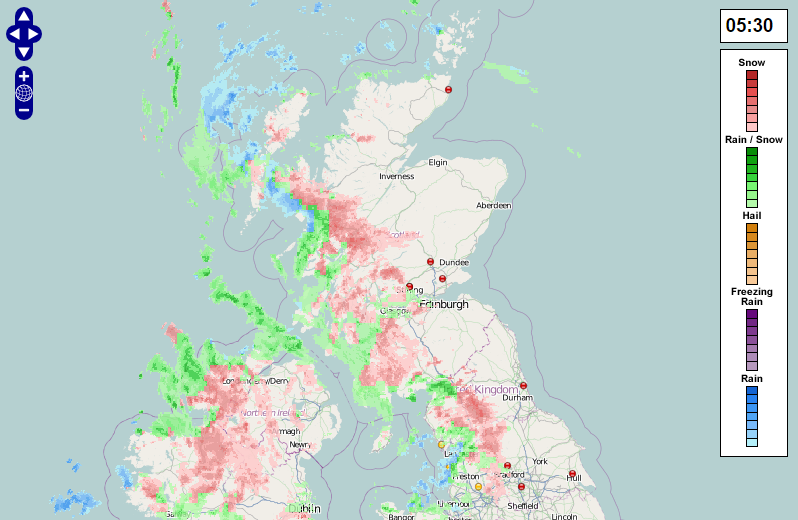 Borderline conditions are the trickiest. Each customer has a budget and doesn't want to grit unnecessarily. So when temperatures are forecast close to freezing but could be +1C and not freeze, Rob has to balance customers' bills and the H&S considerations. Forecasts can flip +1 to -1 between model runs and sometimes it is a really close call.
Rob likes the postcode specific FreezeAlert forecast rather than having to deal with a large area forecast as it removes some of the 'should we grit or not' questions in borderline conditions. The postcode part allows him to look at low level areas and hill top routes for his sites across the UK.
Can The Media Influence Customers?
I wondered if certain tabloid headlines such as "Worst winter ever, 100 days of snow" etc. caused any extra concerns for his customers. He said maybe it generated some extra business but that most people don't believe it anymore as they've seen it all before. Let's hope so!
What is Grit?
Rock salt (plain and treated) is the most commonly used 'grit'. Salt can stop ice forming and cause existing ice or snow to melt and is quick to apply and easy to spread. It is most effective when it is ground down, so can work quickly on roads. Salt doesn't work instantly; it needs sufficient time to dissolve into the moisture on the ground. Spreading the salt is only the start of de-icing. Movement of the salt around the road by cars and lorries completes the process. Pedestrians do the same on pavements but more slowly. Most rock salt is mixed with sand and then used to grit surfaces. White pure rock salt is often used by fancy office blocks that don't want mess outside and in, and there is a cost associated with using that.
Do you have a Salt Mountain?
Every winter there seems to be a TV journalist standing by a salt mountain with the latest scare story about how the council is getting in their winter stocks. Rob has a reasonable stock in, not admitting to a mountain as he says rock salt is readily available, it can be ordered one day and arrive the next. Trouble happens in a severe winter like in 2010. The mines can only produce and stock a certain amount. Getting it in and out of the mine is restricted due to how many vehicles can manoeuvre about.
Do Quiet Winters Hit Business?
Even with the long hours and winter nights Rob is pleased with how the gritting business is going. "It has been a huge growth market, with 146% growth of turnover in past 3 years, even with last year's mild winter and this year's moderate one. The bad winters really set into motion a lot of new gritting companies and larger customer need", This alongside the 'Taking every precaution to prevent slips, trips and falls' claim culture.
Sunshine
Away from work, what is Rob looking for in a weather forecast? "Nice, sunny, hot weather" he says with a laugh. "My little girl knows, I am the only parent not looking to be going sledging when it snows, I'll be at work tearing my hair out"
http://www.heritagelandscapeservices.co.uk/
http://www.gritting.org/ - Rob's business
Netweather FreezeAlert
https://www.gov.uk/clear-snow-road-path-cycleway - Advice about your own driveway and paths
Worth a look at 'Gritter Cam' from Derbyshire Council, shift those parked cars!
http://www.derbyshire.gov.uk/transport_roads/roads_traffic/road_maintenance/snow_info/tackling_snow/gritter_cam/default.asp
Icy Road picture By Z22 (Own work) [CC BY-SA 3.0 (http://creativecommons.org/licenses/by-sa/3.0)], via Wikimedia Commons