It's a chilly start this morning with ice in places, thanks to the overnight clear skies. N.Ireland and Scotland looking particularly prone to ice this morning. Temperatures are just around freezing with light winds for southern Britain, a moderate SW breeze further north. Scotland still has showers, some wintry coming into northwestern parts and a few reaching N.Ireland. Otherwise it is a fine, sunny start with a nip in the air.
England and Wales stay fine and bright during Friday. High cloud will feed in from the west, as eastern parts hold onto the sunshine. Western Wales and SW England will turn cloud later in the afternoon with a little patchy rain by evening and a moderate W wind. Temperatures will around 7 to 9C so not feeling too bad in the sunshine. N.Ireland will see the cloud increasing by lunchtime, but stay bright and mainly dry. There will be a fresh SW wind as temperatures reach 8C and it will turn damp this evening as a weak weather front arrives from the west. Much of Scotland is dry and sunny but cold this morning. The showers feeding in from the NW are rain for the Islands and falling as sleet and snow over the hills. Through the day eastern and parts stay dry and bright but cloud will increase from the west, with patchy rain for Highland and Argyll (still as snow over 500m). It will be quite a blustery day with a fresh SW wind and temperatures in west 4 or 5C, in the east 7 or 8C.
Tonight will be breezy with more cloud and rain from the west, although eastern England will dip n ear to freezing for a time late evening. There will be SSW gales for NW Scotland. The frontal rain will be heavy for a time over W.Scotland and Cumbria as it makes slow progress over Britain
A Messy Start To The Weekend
Saturday looks messy. There is a lot of cloud about, patchy rain to start with and then more rain arriving from the west. N.Ireland will turn wet in the afternoon, with heavy rain arriving for W.Britain in the evening. Elsewhere, it will be breezy, some bright spells but often feeling damp and so cooler than the 7 to 11C suggests. Saturday night will be very mild in the south.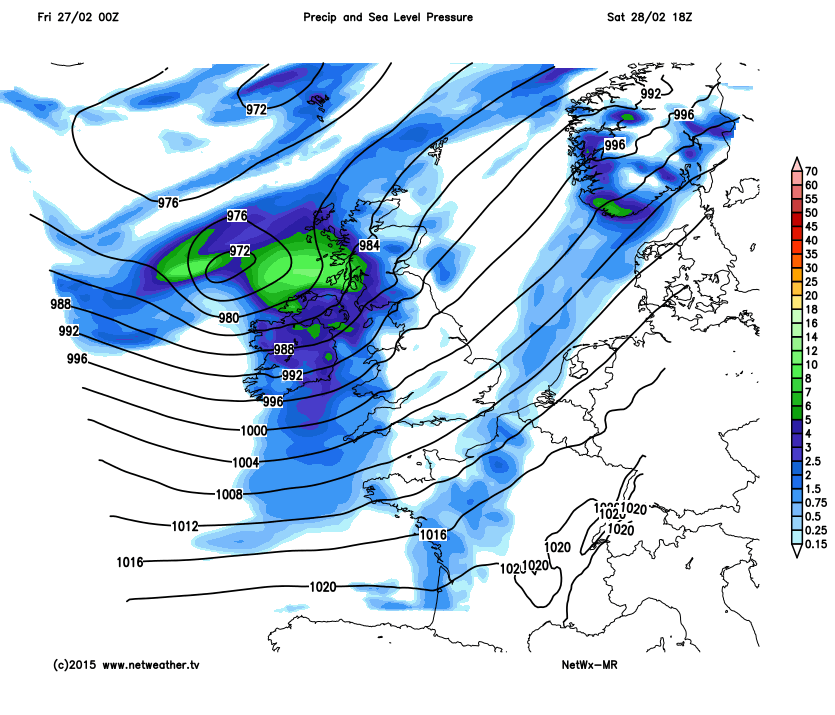 The heavy rain on Saturday evening is associated with a low pressure centre which is going to move over Scotland on Saturday night. This feature looks like it will bring strong and gusty SW or W winds with it. Across Ireland, N.Ireland, Irish Sea, Wales and into N.Britain. It could bring stormy conditions as it moves in, to the north coast of N.Ireland and SW + W. Scotland with severe gales and gusts over 70mph. Land gales could rattle through the central belt in the small hours, depending on the track of the low, if a westerly funnels along the lowlands.