The weekend starts on a cold and wintry note this morning, with snow falling from showers spreading southeast in places, even here in London, though settling snow has been confined to higher ground in the south. Temperatures are still close to freezing across the north and higher parts of the south, so there remains a risk of ice on untreated surfaces where showers have fallen.
Wintry Showers, Followed By Early Frost
For the rest of Saturday, the cold westerly to northwesterly wind will continue to blow in wintry showers across many parts, falling as sleet and snow even to lower levels in the north, as wintry mix further south with snow mostly confined to higher ground. Showers will be most frequent in the northwest. There will be some sunny spells between the showers and some places may miss the showers completely and remain dry throughout. Temperatures will reach 7C in London, 6C in Cardiff and Plymouth, 5C in Manchester, Belfast and Glasgow, 4C in Aberdeen.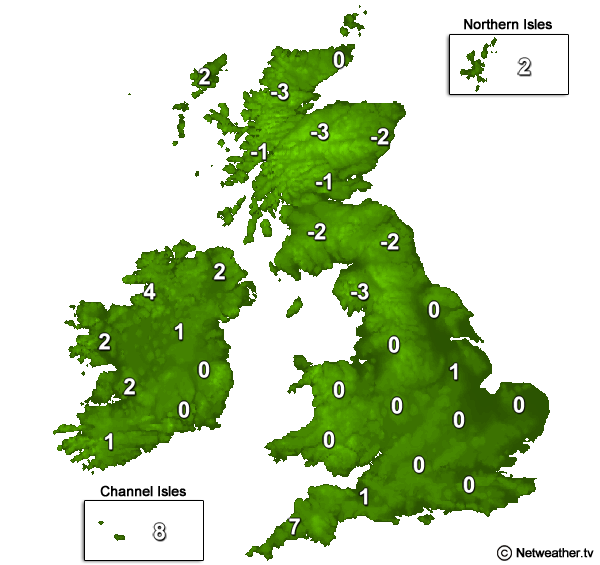 Wintry showers will die out this evening and overnight and with clearing skies and winds falling light - we will see a widespread hard frost develop. We will see cloud move, the wind strengthen from the southwest and some rain arrive across the far northwest by the end of the night.
Frosty Morning, Wind, Rain & Snow Heading In
So a cold, bright and frosty start for many on Sunday morning. However, we will see the weather go down hill through the day, as wet and windy conditions spread in from the west. Rain, heavy at times and accompanied by a strong to gale force southwesterly wind, will spread in across the north and west by lunchtime then elsewhere by early evening. The rain will turn readily to snow across higher parts of Scotland, northern England and north Wales - where we could see some significant accumulations for a time. A raw feeling day in the strong winds across Scotland and northern England, with temperatures reaching 3-6C at lower levels. Further south, milder air pushing in with temperatures reaching 7-9C generally, perhaps a mild 10C across the far southwest.