The wintry outlook continues as more snow is expected tonight and tomorrow for Scotland, N Ireland and Ireland, and wintry showers possible elsewhere, especially down the east coast compounded by hard overnight frosts.
An Alert has been issued for tonights snow, as it could lead to some disruption, particularly for higher routes and the overnight freeze will also lead to a risk of ice on untreated roads. As you can see from the forecast ground temperature for 6am tomorrow, it is going to be a hard frost for many areas. The snow risk chart for the same time shows the percentage chance of snow, and the red lines mark the height of the freezing line, above which any snow (if any aound the south east as it will be quite patchy) will fall.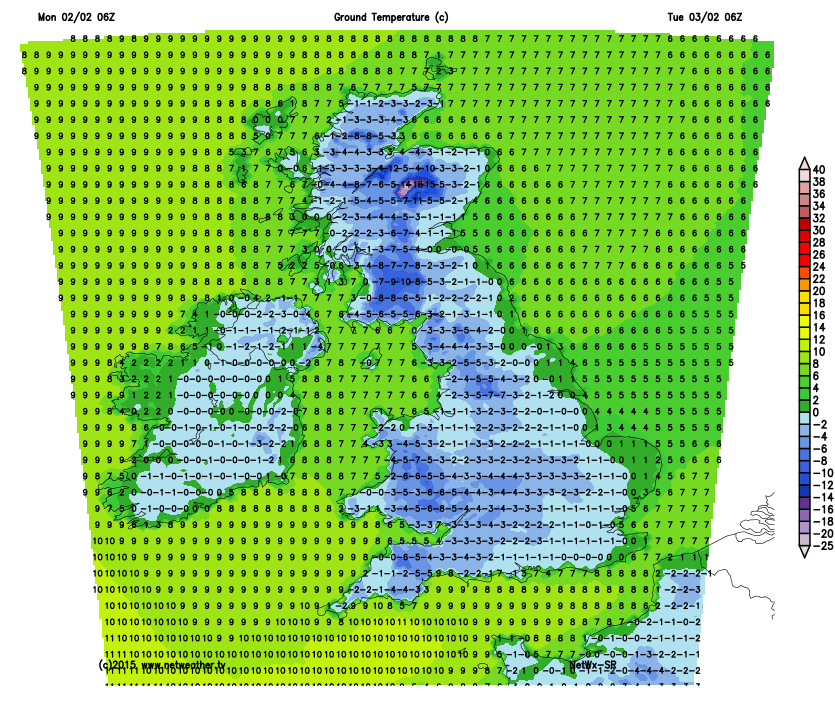 The risk of disruptive snow slowly eases through tomorrow as the wind direction changes to a more north easterly flow any snow or wintry showers will gradually become more confined to eastern areas. Once again the temperature will rapidly fall into the evening with an early frost setting in and as high pressure is in control, the light winds mean that the frosts will continue through mid week, as will the patchy wintry showers being fed in from the east coast.