For Thursday, again N.Ireland and W.Scotland looking prone but also western Britain. This could be a setup for Cheshire Gap showers. As the NW flow funnels in between the higher found over N.Wales and NW England, showers can stream in a line off the Irish Sea and manage to reach quite far inland. A few snow showers for N.coast of Devon and Cornwall so Exmoor may see some lying snow. Thursday night there seems to be a signal for something more lively feeding down from northern Scotland which could bring snow to eastern parts as it travels south. Polar lows have been showing up on the forecast charts. Hard to pinpoint, these small scale features run down the flow from the north bringing pulses of snow showers, with more oomph and so they can reach further south.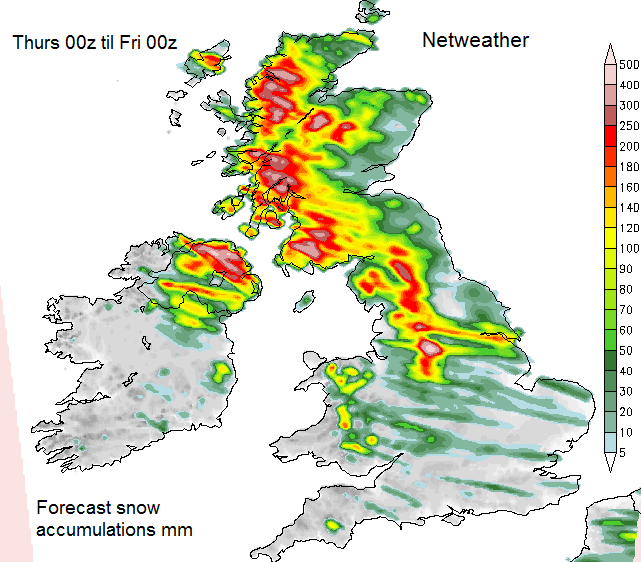 Friday looks much quieter, some wintry showers, snow for the Grampians
The weekend, we have a northerly flow and more snow showers expected to run south, especially from Saturday night onwards. These could clip eastern Britain, so a change from the midweek western bias
As it is not frontal snow, there is no great swathe of heavy snow coating all areas. Showers as always hit some spots and miss others just a mile down the road. If you're looking for a snow day in England and Wales I think you will be disappointed. What I would highly recommend are those ear muffs that go behind your head, not the big fluffy things that go on top. These ones mould around the back of your head and keep your ears subtly very cosy. And with these cold winds, that is what will be needed. Stick your favourite hat on top and all is snug. My snowboots are still up in the loft, since moving to Lothian from Grampian they haven't seen any action with last year's mild winter. I'm in Eastern Scotland, and I'm not rushing to get them, just yet.