The weather is set to change today, as we see much colder air sweep in from the northwest across all areas by mid-afternoon, with these much colder conditions set to stay well into next week.
For now, it's still cloudy, windy, mild and damp across England and Wales, with a band of heavy rain across northern England and north Wales and patchy light rain further south. This band of heavy rain marks a cold front, which will sweep southeast this morning clearing away the mild, cloudy and damp conditions from the southeast of England by early this afternoon.
The cold fronts shown on the Met Office Fax analysis chart for 6am this morning.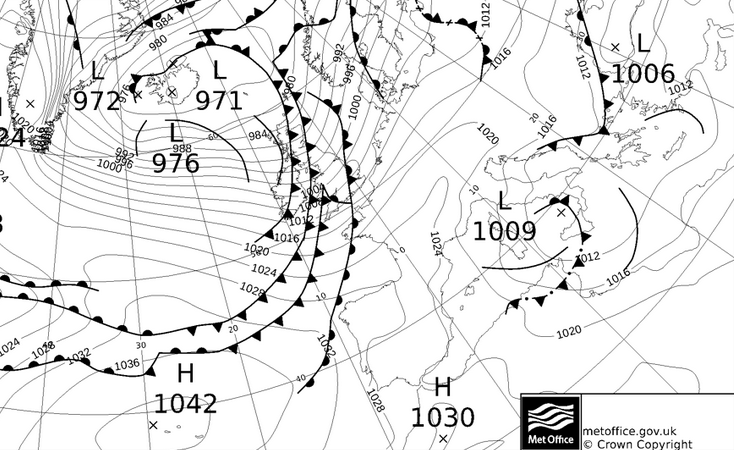 Following on much colder, brighter and windier conditions, already across Scotland and Northern Ireland, with increasingly frequent and heavy wintry showers spreading in on a strong northwesterly wind across the north. The showers will fall increasingly as snow away from coasts across Scotland, Northern Ireland, northern England and north Wales, with accumulations in places, even at lower levels by the evening. Some wintry showers also penetrating inland across south Wales, central and southern England later. Temperatures falling through the afternoon across England and Wales, after the mild start, temperatures reaching 7C in London, 6C in Cardiff, 4C in Birmingham and Manchester. Even colder across Scotland and Northern Ireland, 3C in Belfast and Glasgow, 2C in Aberdeen and feeling colder this in the strong raw west to northwesterly wind.
Sleet and snow showers pack in overnight - shown on the NetWx-SR