Christmas Day is only 10 days away now. To quote Elf, SANTA!!!!!!!!!
Whenever there is a screaming headline about some extreme weather in the next season to come, I am often asked, how far ahead you can really forecast. Answer -5 days. Met Office has got a brand new super computer and so the 6 to 10 day period is now firming up with its output. Hence the excitement of Dec 16th putting us into that section. Beyond that, forecasts are more about themes and trends than being able to say, it will rain, snow, be sunny in Birmingham on January 22nd at 3pm
Still day 9 or 10 is a long way off, and when looking at a deterministic output (one solution) there is still a lot of scope for change. But even so, it's the chance of a white Christmas, have to have a peek. Book makers are currently varying from Edinburgh and Glasgow 2/1, Aberdeen just lower than that and Birmingham and Cardiff 5/1, although I did find 5/2 for Scotland cities and 7/1 for Penzance. At the start of December, Norwich airport was 8/1 which is looking a much better bet on today's charts. The odds always fall once it actually snows, regardless of the forecast. Headlines of "odds slashed on a white Christmas" as London moves from 7/1 to 6/1 earlier this week seem to just be a bookmaker's publicity dream to take more money off punters.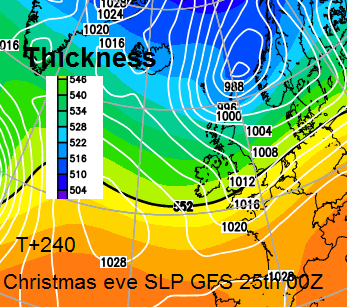 So the GFS chart for Christmas Eve 00z, Santa is out there and this chart shows a favourable tail wind for him to whizz to the UK from the North Pole. Remember on 1000-500mb thickness charts, the 528 line is a rough rule of thumb for snow. So northern Scotland and the islands could see snow showers and through Christmas day as that low to the north pulls away, the north winds could sweep down the east coast of Britain, perhaps bring a flake or two to Norfolk?? That's cold air for the north and east. Southwest, forget it.