It will be mild much of this week, with temperatures above average, especially Wednesday & Thursday. However, turning colder from the north on Friday & into the weekend and temperatures look to stay slightly below average for rest of the month and likely into early December too.
After a mild Monday-Thursday, turning colder from Friday, then temperatures perhaps staying a little below average for the rest of the month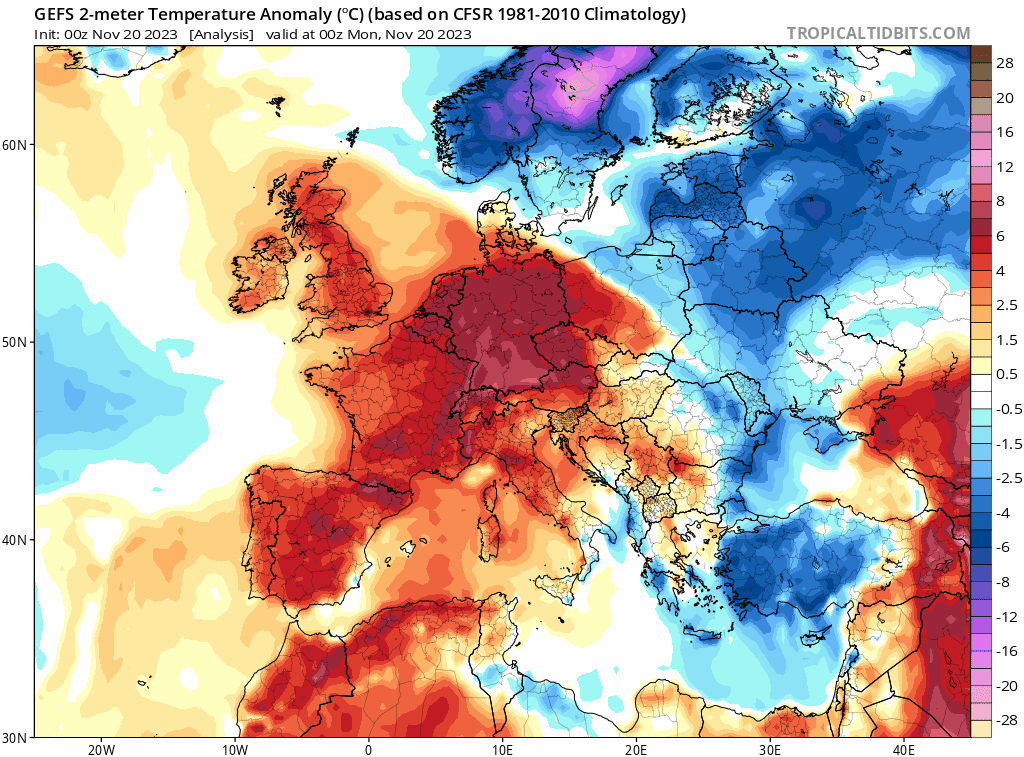 The good news is that it looks to become drier for most too for the rest of the month. After low pressure with its showers today pulls away, allowing high pressure to build in for the next few days, ensuring most of England and Wales will become dry. Cloud and patchy rain will plague Scotland, but on Friday a cold front looks to sweep south, introducing colder but brighter conditions from the north, with wintry showers in the far north. The weekend looks to be mostly sunny and dry but chilly with overnight frosts.
For now, quite a bit of cloud around today with low pressure close to the east and associated occluded fronts drifting south and east across the country. An area of rain associated with one occluded front moving across the south earlier clearing Kent into the near continent followed by scattered showers moving south across many areas, though some bright or sunny spells developing between. Outbreaks of more persistent rain across the far north of Scotland moving southeast across NE Scotland. Temperatures fairly mild, reaching 10-13C generally, perhaps 14C in the far southwest. A westerly or northwesterly breeze for most.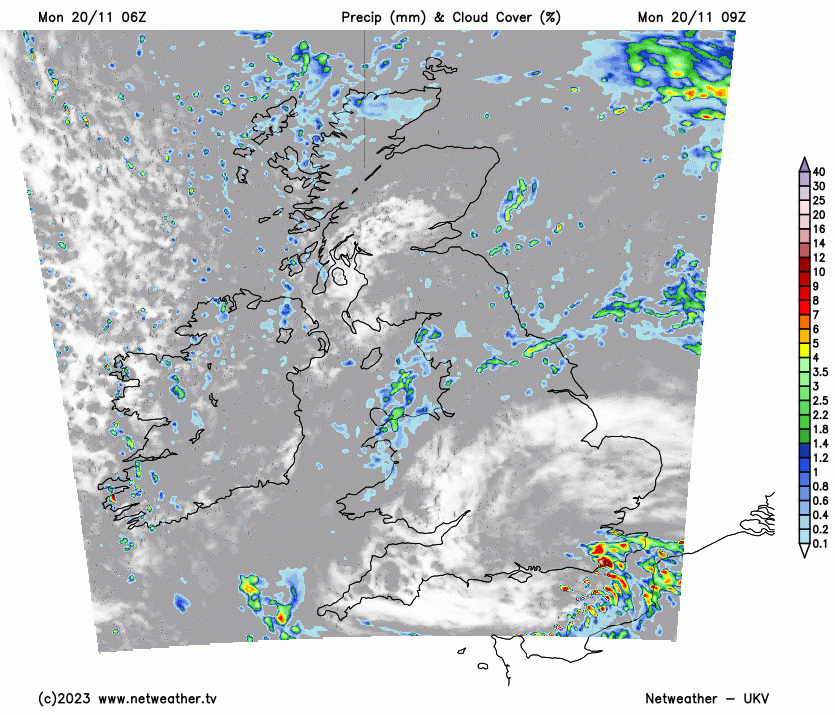 Mostly cloudy for England and Wales overnight, with well-scattered light showers drifting south in places. After a cloudy start with showery rain in eastern Scotland, clearer and colder conditions will spread south across Scotland and N. Ireland overnight. This will lead to a widespread frost developing inland, with some mist and fog patches developing too.
A ridge of high pressure builds in from the west on Tuesday, bringing a largely fine and sunny day for Wales, northern and central England. It will be a cloudy morning across southern England and East Anglia, with some scattered showers, but these will become increasingly confined to the far southeast through the afternoon, with increasing sunshine from the northwest elsewhere in the south. Turning cloudier from the west across Scotland after cold, frosty and sunny start, with some patchy rain arriving in the far northwest. Temperatures reaching 8-12C.
Ridge of high pressure builds in Tuesday before sinking south on Thursday, allowing a cold front to drop south introducing colder air Friday onwards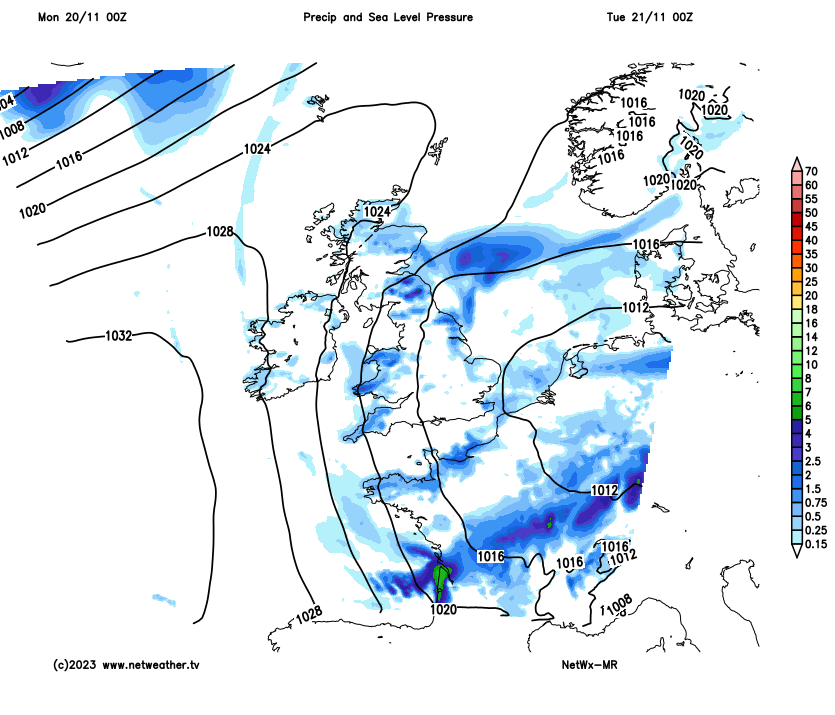 Wednesday sees the ridge of high pressure sinking south across southern Britain – allowing a waving frontal boundary to bring cloudier skies and spells of rain to Scotland, Cumbria and Northern Ireland. Windy in these areas too. Rest of England and Wales largely dry, a fair bit of cloud around but also some sunny spells. Quite mild, even in Scotland temperatures reaching 13C.
Thursday sees a slow-moving frontal boundary across Scotland start to move south into northern England, with early cloud and rain moving south from Scotland into northern England during the morning, followed by brighter but colder conditions, with showers across northern Scotland turning increasingly wintry in the afternoon. Ahead of the cloud and rain moving south across northern England, mostly dry with sunny spells. Temperatures reaching 12-14C. Colder in the far north.
Cold front clears south Thursday night, clearing the south coast early hours Friday, followed across all parts by sunnier but colder northerly flow. Most staying dry, sunny but chilly on Friday, but showers will pepper northern Scotland, where they will be wintry, and also down the east coast of Britain. Temperatures reaching 5-7C in the north to 8-11C in the south.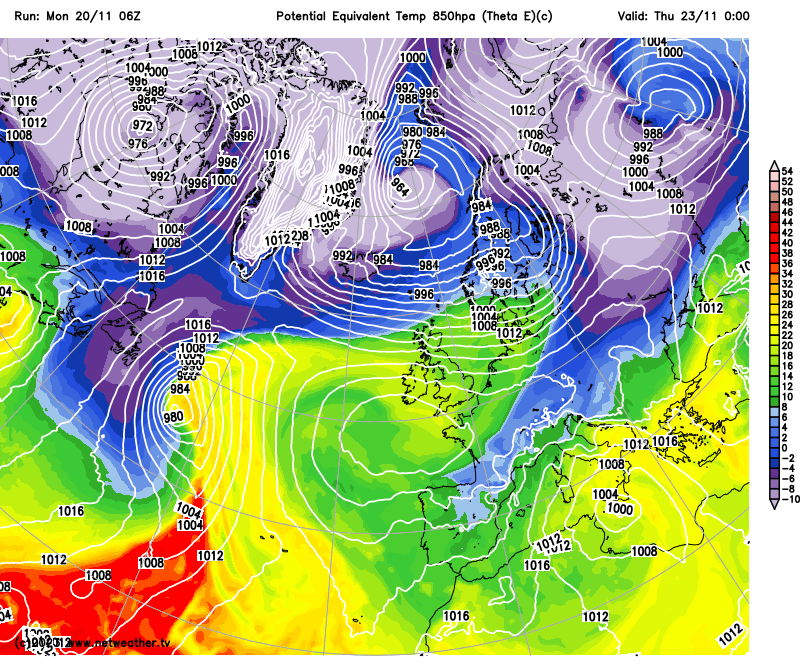 A chilly but mostly dry weekend looking likely, the cold northerly wind eases on Saturday, as high pressure builds from the west. Mosty places sunny but cold, showers close to eastern coasts. Temperatures 5-8C. Sunday looking mostly dry and bright or sunny, with high pressure in charge, though thicker cloud and some patchy rain may affect the southwest. A widespread overnight frost likely Saturday and Sunday mornings.