Somerset saw 16.6C on Saturday and Greater London 14.7C, the UK maximums during this past weekend. Next weekend many might be nearer 8C with -2C overnight.
It felt mild for mid-November although temperatures have dipped away in a north/ northwesterly flow for the start of the working week. Monday and Tuesday will be closer to average at 10 to 13 Celsius. Midweek sees milder air reach over northern Britain and Northern Ireland after a nippy start for SE Britain on Wednesday. There will be a touch of frost this week even snow showers for the far north. These will reach Scottish hills in the far north, and maybe some wintry ones brushing exposed coasts.
This isn't a scene that screams " weather map shows snow bomb heading for huge swathes of UK" as The Mirror suggested. Shetland yes, Scottish Highlands yes, tops of other northern hills getting a slight covering overnight, likely. Flurries for the north coast of Northern Ireland and north Wales from wintry showers caught in the flow on Friday evening and a mix of sleet, hail and a bit of snow for the Western Isles, yes. Also, the north and west coast of Scotland and perhaps by Saturday some of those wintry showers feeding down North Sea coasts, but mostly as icy rain. The ground is also very wet and not cold making it tricky for any snow flurries to settle.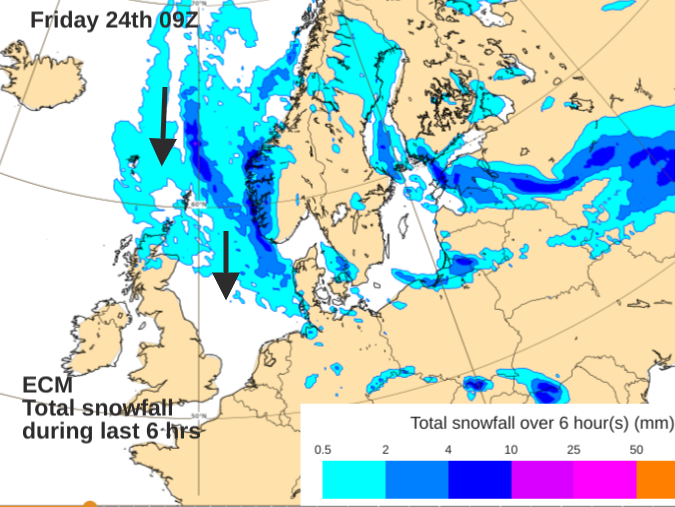 The models vary greatly by next weekend, where and how the dig of colder air will spread. And whether any low pressures manage to push near to or over the UK and come up against that Arctic air. There are plenty of uncertainties, how cold the air will be, and how far it will reach. The UK will be on the edge of the colder plunge of air and with several days still to go, that is quite a time to be predicting where frontal rain will be with certainty, let alone if it will turn to snow at any point.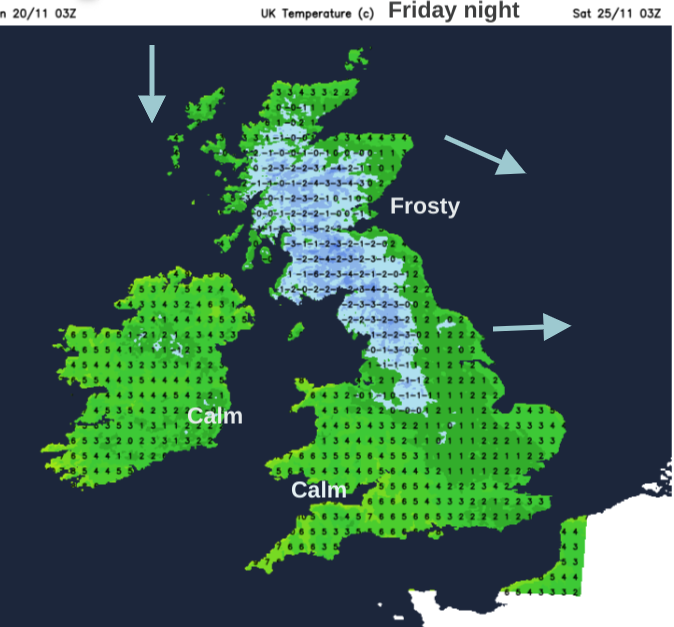 The overall setting for later this week will be one of colder air and a higher likelihood of frost by night. The ECM has a large protective high pressure for Saturday running north-south, steadying our UK weather but allowing a flow of showers into northern Scotland and down the North Sea. Then a low pressure lurching in from the west/SW during Sunday.
The GFS shows snow showers piling into northern Scotland on Friday, a few reaching the north coast of Northern Ireland and more clipping North Sea coasts on Saturday. The suggestion of an arriving low pressure is later in the weekend and more focused towards NW UK.
A good deal of dry weather with only a few areas likely to see snow accumulating
There does look to be a lot of cloud around the high pressure, so that may add to the subdued feeling next weekend. Little sunshine, grey skies and a chill in the air although with mostly light winds. Where breaks do appear overnight, temperatures will fall away and there could be ice in places as the ground is still so wet. If we do see any night-time freezes in November, ice will be an issue.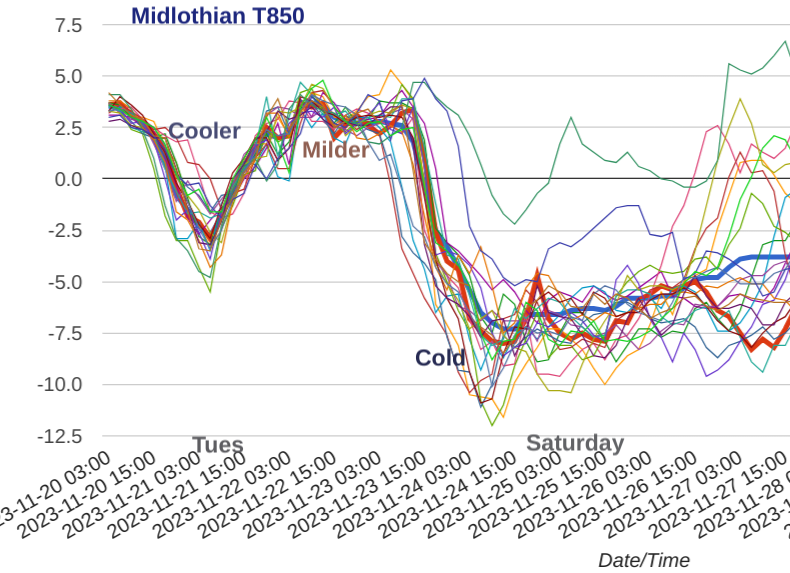 It's time to start preparing for winter. Changing the dilution of screen wash in a car and having a de-icer to hand, especially for evening journeys. The RAC has advice about demisting your windscreen as it gets colder, it involves shaving foam and the air-con.
Some people change their car tyres in preparation or have all-weather ones, and the same for bicycle tyres with more mud around. Bike lights are needed and more visible clothing for you when out and about and for the hound when dog walking.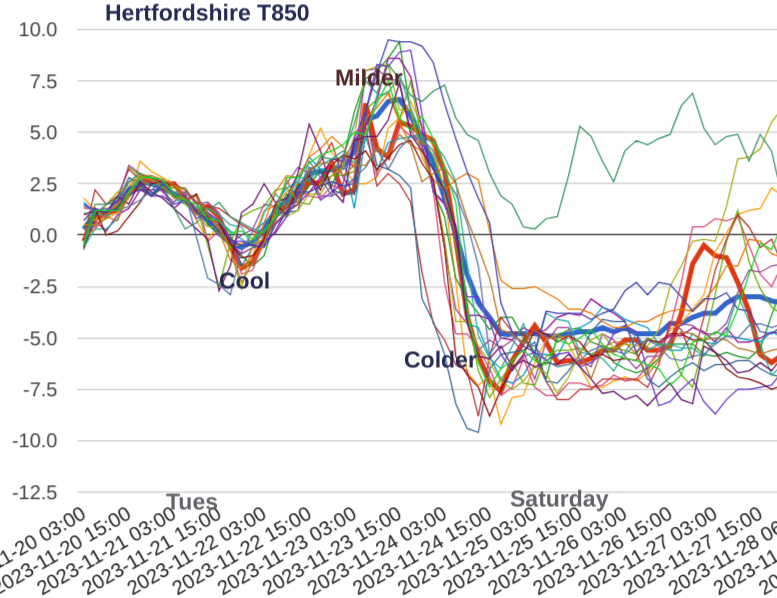 With high pressure building in, the trend is for drier weather. England will have a scattering of showers to get rid of on Tuesday as the low fades away towards central Europe. Western Scotland looks wet and windy by Wednesday as weather fronts brush by. Lee effects for northeast England down to the East Midlands are showing with a band of rain parallel to the Pennines and lee gusts.
Rain could reach East Anglia for a time on Wednesday, linking back to the clearing warm front heading for Denmark. By Thursday, high pressure will be sitting to the southwest of the UK and there will be more rain for the far north/NW of Scotland and windy weather for the Northern Isles and eastern Scotland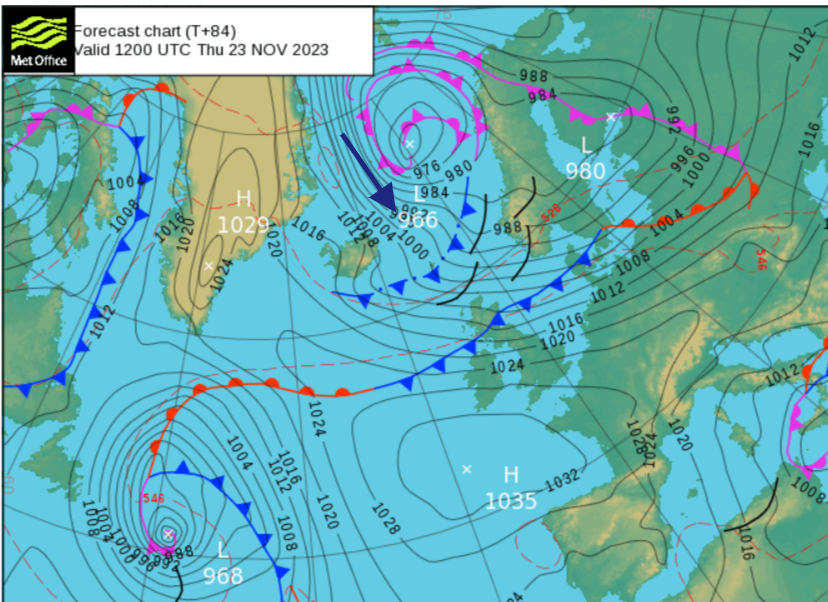 The turn to a more northerly flow starts on Thursday night and continues on Friday as the colder air arrives. The far north of Scotland will see sleet and snow showers, exposed to the cold flow. We'll have to wait to see if an Atlantic low bumps in from the west by the weekend.