It's been a fairly quiet start to the week. But that's all set to change as Storm Agnes, named by the Met Office yesterday, for the potential for disruption from strong winds, arrives over Ireland on Wednesday.
Tomorrow's storm is currently a fairly shallow low mid-North Atlantic, but as the low tracks east today it will deepen explosively this evening, as it moves onto the northern side of the jet stream and in the 'developmental' left exit of jet streak, where upper wind divergence causes air to rise from the surface. Storm Agnes looks to be deepest phase to the southwest of Ireland early on Wednesday, with winds potentially gusting to 100mph out over the Atlantic, before the low begins to fill as it tracks northeast over Ireland, before reaching Scotland Wednesday night. However, Agnes will still pack some very strong winds across northern and western areas, particularly during the afternoon and early evening.
Watch how Storm Agnes deepens explosively early tomorrow, as it moves onto northern side and left exit of strong 140mph jet stream: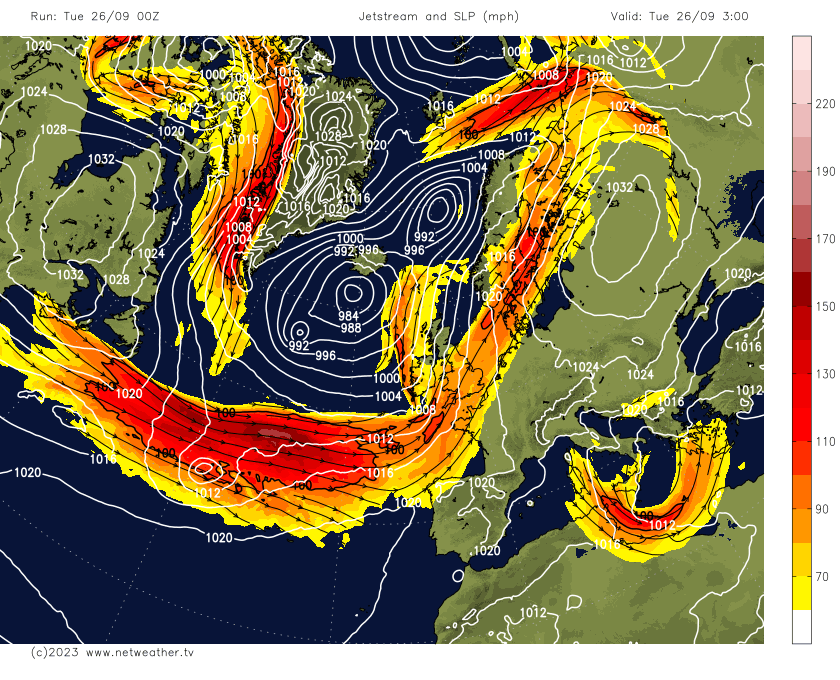 Although the very strong winds will ease across the north and west into Thursday, as Agnes heads northeast to west of Norway, it will remain windy and unsettled, with showers spreading east and perhaps a longer spell of rain in the south. Friday's looking drier, brighter and less windy – as a ridge of high pressure builds in.
For today, there is a chance a spell of rain or a shower or two for many today at some point. Cloudy skies and some heavy showery bursts of rain, with the odd rumble of thunder, will spread northeast across central, northern and eastern England this morning before clearing early afternoon to brighter conditions in the west. However, there is also a cold front currently bringing a band of rain, locally heavy, across western Scotland, N. Ireland and west Wales – this rain band will move east across mainland UK through the day, turning showery as it does so across England. Drier and sunnier conditions either side of the band of rain or showers. Southern England likely becoming dry and sunny though after early showers. Despite cloud and showers, temperatures reaching 20-23C across England and Wales, 15-18C across Scotland and N. Ireland.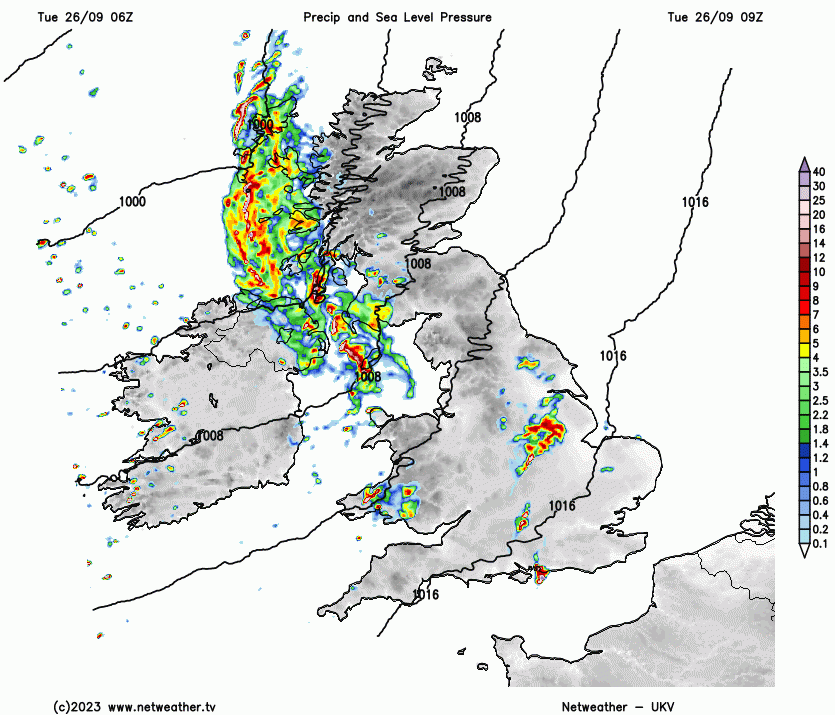 Showers tending to fade and die out this evening and overnight away from the far northwest, with clear spells developing. Winds picking up and cloud thickening in the far west, as Storm Agnes, which looks to deepen more than 24mb in 24 hours making it a 'weather bomb' starts to impact the west of Ireland by dawn. Heavy rain and gales will sweep north across Ireland, N. Ireland, Irish Sea, Wales, northwest England and Scotland through the morning and afternoon. Wind gusts reaching 50-60mph inland across N. Ireland, north Wales, northern England and southern Scotland, over the Irish Sea and adjacent coasts there is potential for wind gust to reach 60-75mph. So, some disruption to travel is likely and with trees still in full leaf, large branches or even whole trees may be brought down.
Wet across parts of Scotland as Agnes moves in: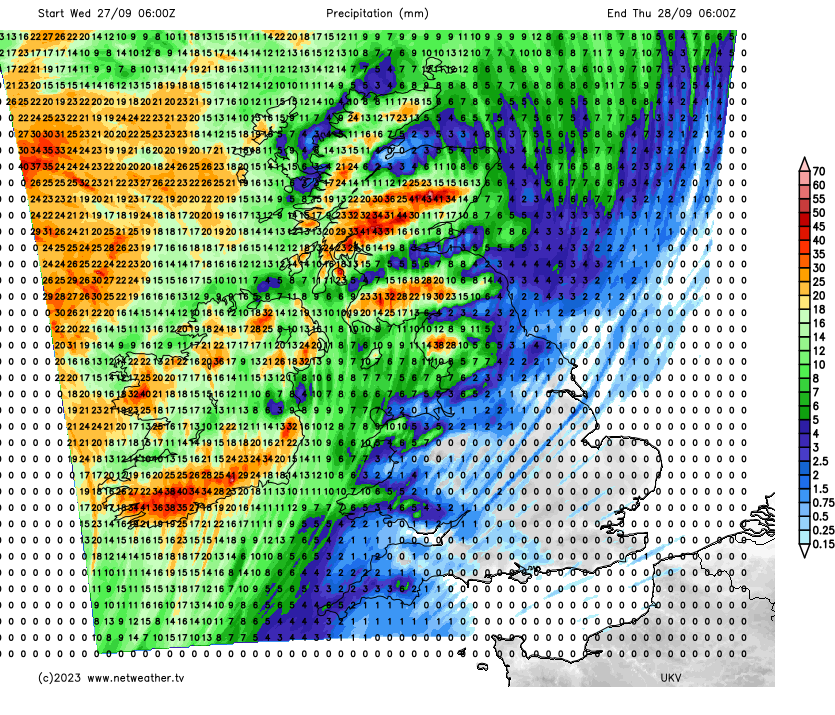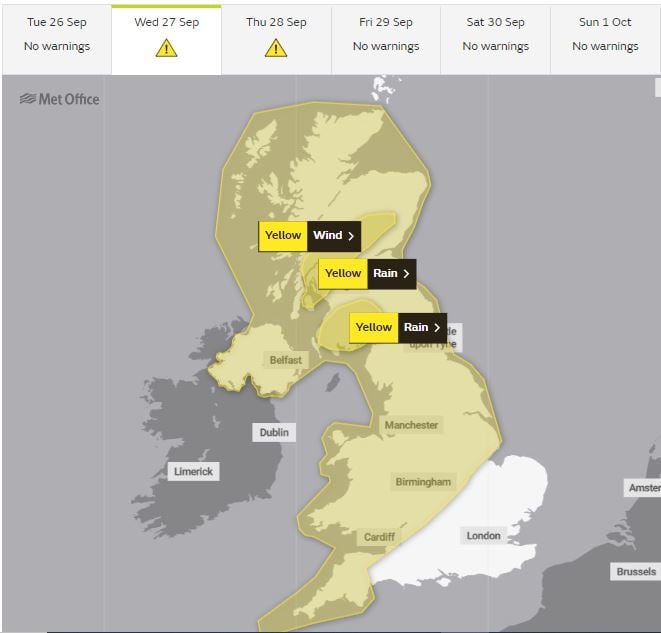 Met office Yellow Wind & Rain Warnings
Agnes low will tend to weaken as it crosses Scotland in the evening before clearing northeast Wednesday night, but remaining rather windy across the north, with gales around coasts and over hills. It will stay quite blustery on Thursday, with showers spreading in from the west after perhaps a dry and bright start, potentially a longer spell of rain spreading in from the southwest across parts of Wales and England during the evening, but some uncertainty over this.
Friday less windy and looks like becoming mostly dry, sunny and settled after early showers in the northwest ease – thanks to high pressure building from the south. The weekend turning unsettled and windier, with spells of rain or showers for many, but also some drier and sunnier interludes, still quite warm in the south though.