A deep Atlantic low, which will be heading our way for midweek, has caught the attention of weather watchers in the UK and Ireland. This is Storm Agnes. It is forecast to bring strong winds even severe gales, heavy rain with flooding and will become the first named storm of the season. The UK Met Office has named the low on Monday morning after a widespread "early alert type" yellow wind warning was issued on Sunday 24th for Wednesday and overnight.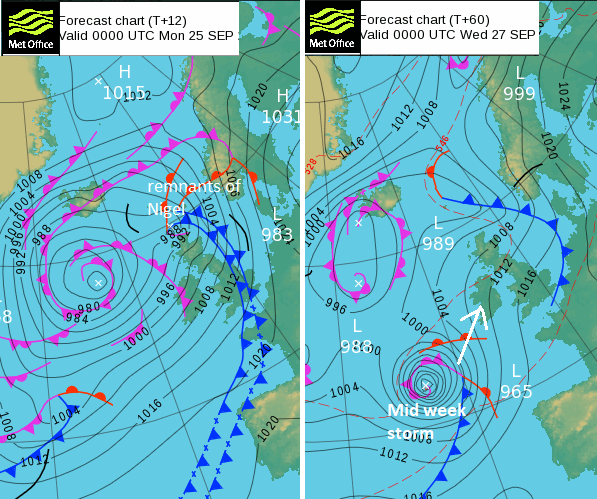 It was quite windy overnight for parts of the UK with wet and blustery weather on Sunday. A secondary low pressure developed and headed up to the Northern Isles, linked to the main low out in the Atlantic. This included remnants of Hurricane Nigel. The midweek low will also pull in a bit of tropical energy although it will be its own rapidly deepening cyclone.
Ex-Tropical Storm Ophelia made landfall on Saturday with flooding and windy weather for North Carolina and Virginia on the Eastern Seaboard and its remnants get mixed up in the flow across the Atlantic behind what will become Agnes.
It throws up the ongoing discussion about what role Naming Storms has alongside specific area yellow/amber/red warnings. I'm all for early naming of storms, using the wider media and allowing the novelty of a storm name to help spread the severe weather messaging to a wider audience. This was its aim! The constraints and structure of the severe weather warnings can be issued and tweaked nearer the time (as long as still useful to the pubic). If a storm is coming, no-one in the UK should be assuming that the most serious impacts will definitely in their backyard, just from a name. Yet hopefully many more will pay a bit more attention to the weather forecast in the days before, especially those with travel plans. A storm name should be highlighting an event is on its way, not a last minute 11pm box ticking exercise, which is of no wider use for the public early next morning. So, hoorah for this naming on Monday.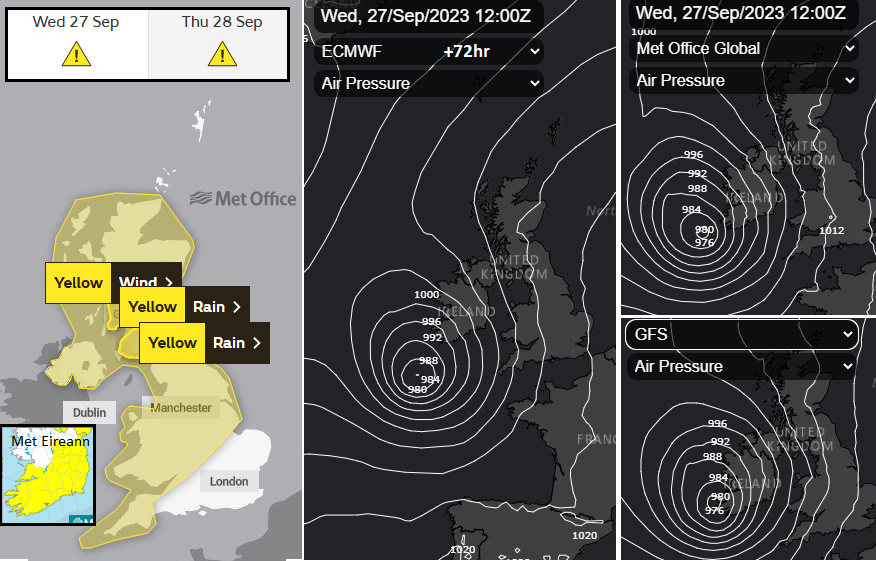 There is still some uncertainty around how the low centre will deepen, where will see the heaviest rainfall and the strongest winds even gales.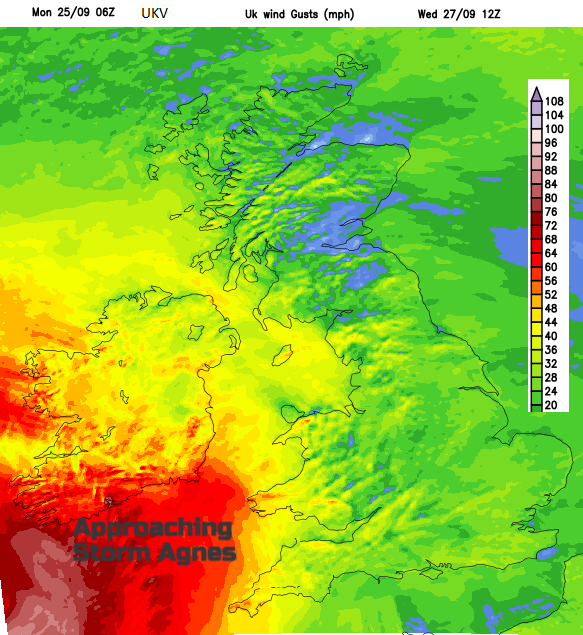 UKV wind gust chart for 12Z Wednesday showing intense gusts over Western Approaches
There are now rain warnings for parts of Scotland embedded within the wider net of the large area wind warning. There will be more updates coming up, but do give some consideration to this incoming wet and windy spell of autumn weather. Whether that is not putting your bins out on Wednesday evening, tidying and securing outdoor bits now or potentially having to adapt travel plans late on Wednesday or giving extra time for Thursday morning.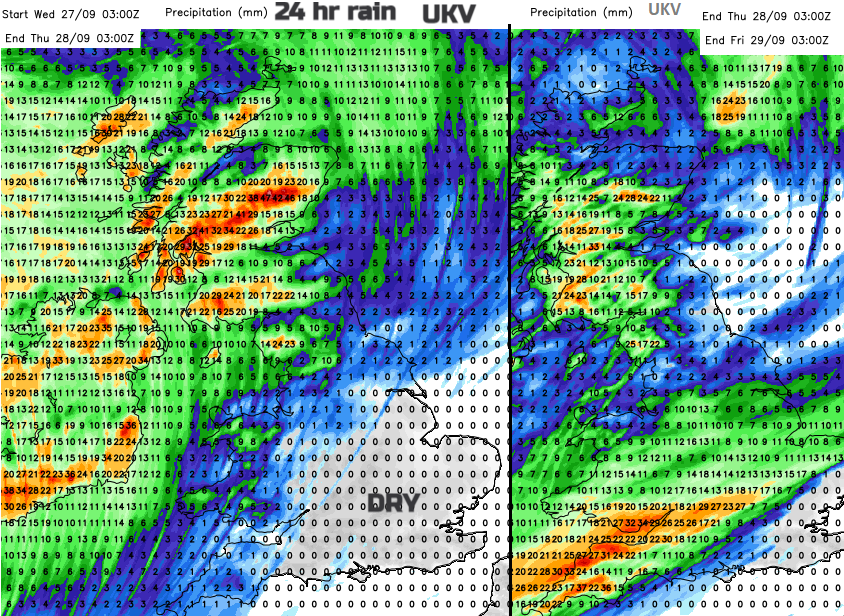 Heavy rain for Ireland and Scotland as the low centre moves by, with frontal rain for SW Britain from trailing fronts into Thursday night.
More chat about Agnes this week in the Community forum.
Discussion around Name our Storms