A weekend of two halves is coming up. Saturday looks fine, cool yet calm. Sunday will be blustery, milder and some parts of the UK will get very wet.
There has already been torrential rain this week. Northwest Britain saw rain from Tuesday through to Thursday and southeast Britain saw torrential downpours on Wednesday evening which gave a well-needed soaking. Although perhaps a bit too much in one go. The cold front responsible is heading southwards through France, Spain and Portugal where there are weather warnings which include, high waves, heavy rain, thunderstorms and strong winds.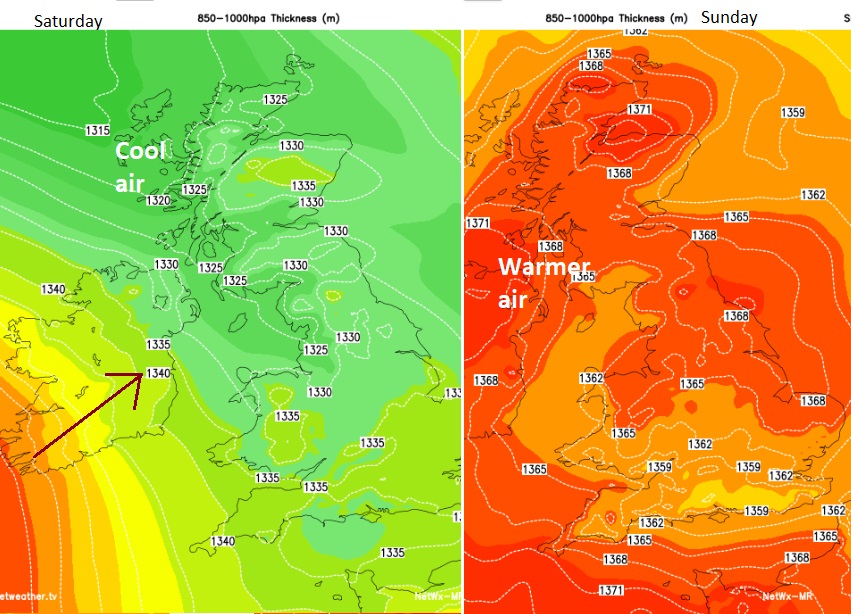 Changing air, from cool Arctic air to milder Tropical maritime air
The low centre continues to whirl off northern Scotland on Thursday and will gradually pull towards Norway on Friday. A cooler northerly flow will follow as bands of showers linked to occlusions move southwards over Britain with some sharp downpours. There will be bright even sunny spells in between but blustery conditions in the north. The showers ease down later on Friday, with a few late clusters for eastern England as skies clear.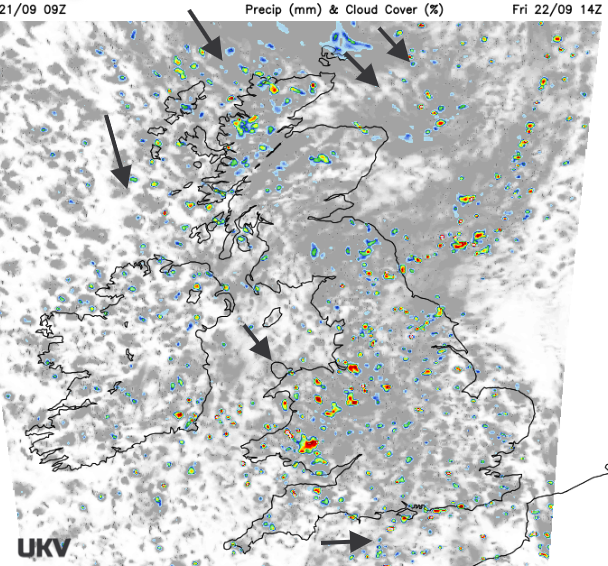 Friday night, early Saturday will feel colder with a touch of frost in the countryside for northern Britain and Northern Ireland.
The strong north-westerly winds last into Saturday morning for the Northern Isles as the low centre takes its time to clear. This low was linked to the remnants of Hurricane Lee which gave extra tropical energy and enhanced the rain over NW Britain and the Wednesday evening rain in the southeast.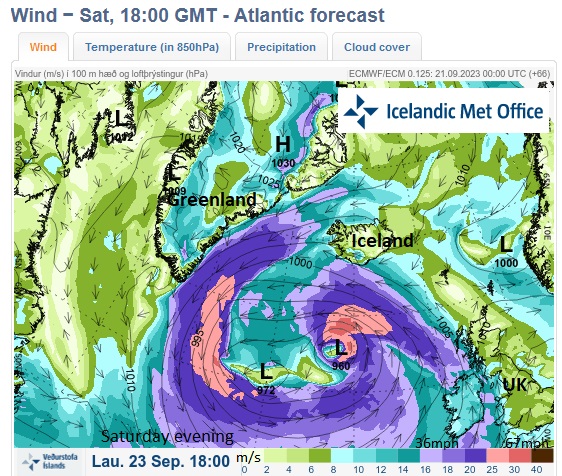 We have another ex-hurricane heading our way. Hurricane Nigel is beginning its transition from a Tropical cyclone to a powerful extratropical low, way out in the Atlantic.
"Late Friday and into the weekend, models show Nigel interacting with a larger polar low over the North Atlantic… By the end of the forecast period, Nigel will become absorbed in the aforementioned larger polar low." NHC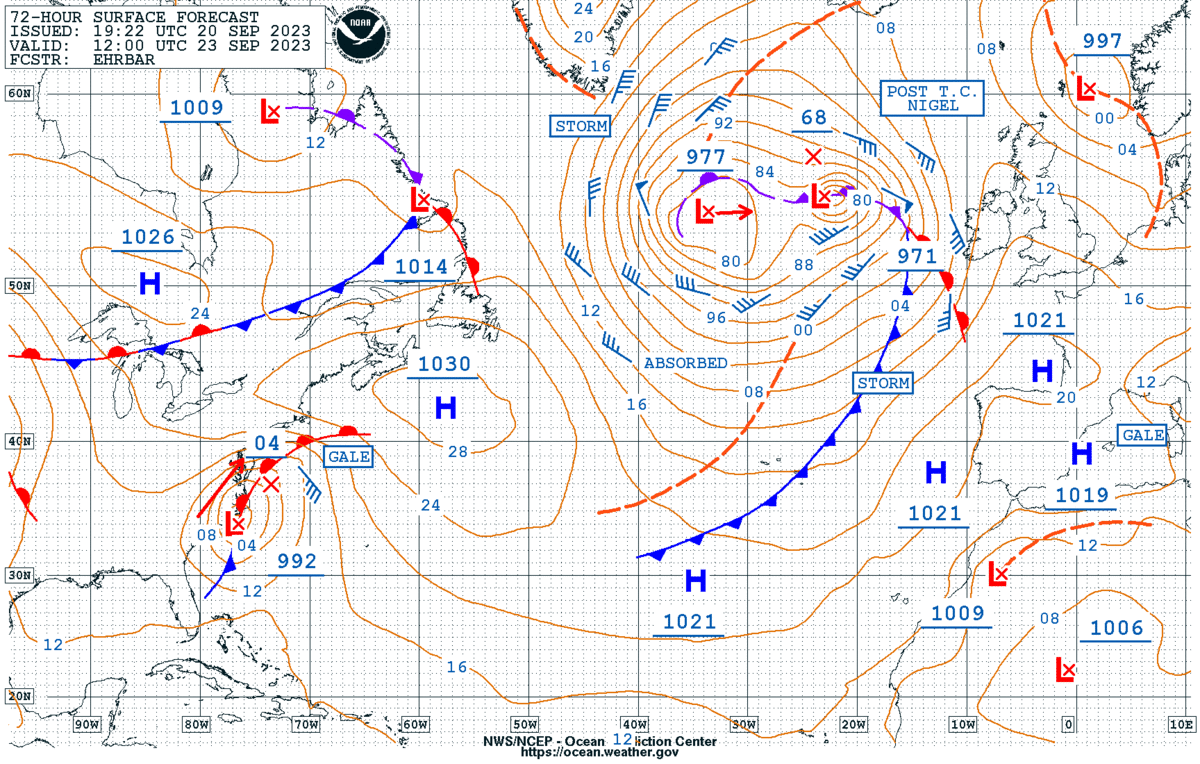 It will send large waves across the Atlantic towards NW Europe; surfers will be keeping watch for the start of the new week. Iceland and southern Greenland will see windy conditions as the low centre churns about in the north Atlantic later this weekend.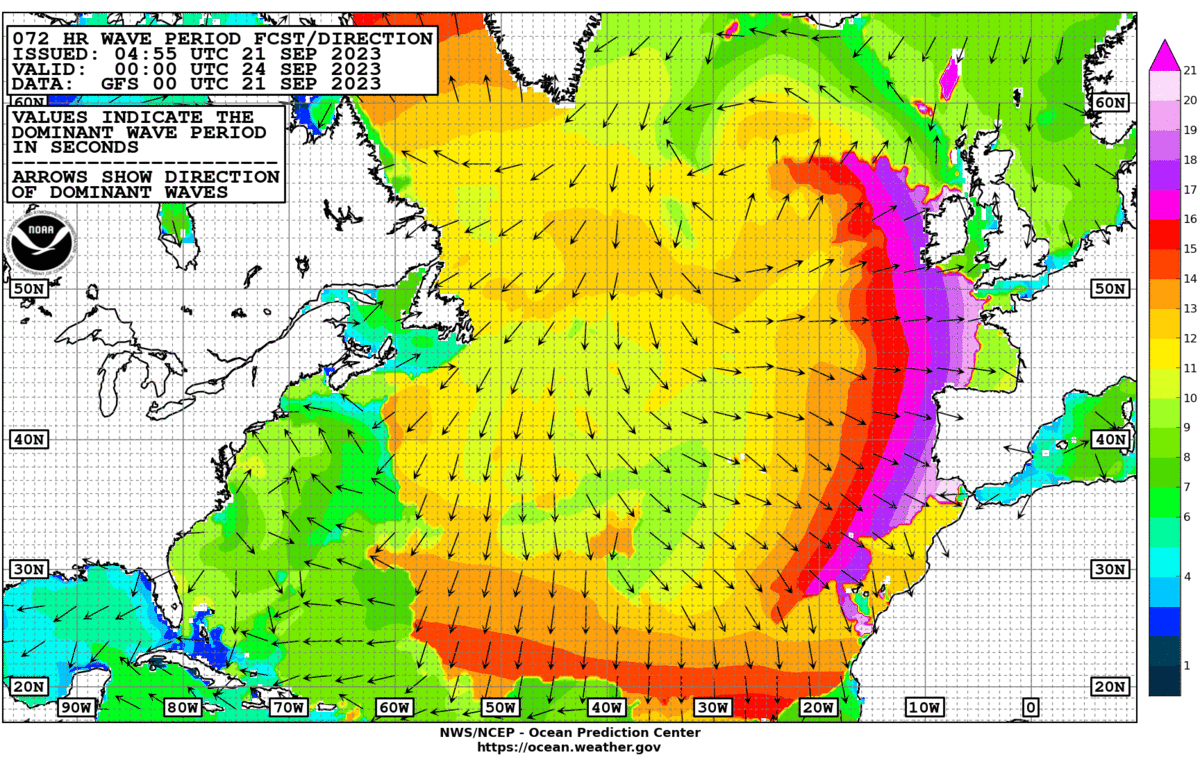 Saturday
Before that, there will be a ridge of high pressure ahead of ex-Nigel with a nippy start on Saturday, the coldest of the season so far. Cloud amounts will vary during the day but there will be bright or sunny spells with light westerly winds, even calm at times for western Britain. The day changes gradually from the west. High cloud will increase, the wind will back to a southerly and freshen then the first of the rain bands will reach Northern Ireland later in the day.
Temperatures will be in the mid to high teens. It will feel pleasant in the sunny spells with little breeze but the air will be cool. The frontal rain will edge from Northern Ireland into western Britain during Saturday night.
Sunday
Warmer air will be wrapped up in the ex-tropical system reaching the UK on Sunday. Temperatures could move up to the high teens and low twenties but it will be a blustery day yet it will feel quite different from Saturday. However, if you are under persistent heavy rain, it won't feel that great.
Currently, it looks like the main frontal bands will push up from Ireland over northern Britain, particularly western Scotland and wave their way north-eastwards. A conveyor of heavy rain would bring the risk of flooding. This part of the forecast will be worth keeping an eye on as the bands could wave a bit further south or north and the areas affected would change.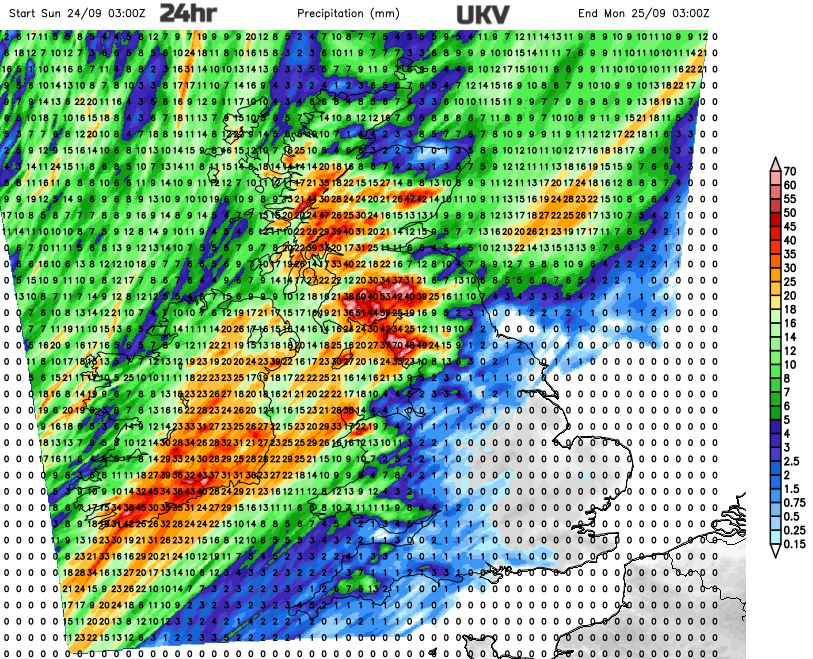 The UKV 24-hour rainfall totals show very high totals through southern Ireland, the Isle of Man, Cumbria, southwest Scotland up to Central Scotland. Some of these areas have already seen high rainfall totals midweek. One heavy pulse focuses on the Solway Firth on Sunday morning and then very heavy rain appears for Northern Ireland later in the afternoon which transfers to western Scotland.
Sunday also looks windy across the UK with a brisk southerly wind. Again, there could be changes but there does look to be a core of stronger winds through the Irish Sea with strong gusts which reach through central Scotland later on Sunday. So, disruption to travel is possible and the risk of surface water flooding will continue.
The Environment Agency have already highlighted NW England in their five-day ahead forecast "Local flooding is possible but not expected from rivers across parts of Cumbria and Lancashire on Sunday."
The ECM model also pushes a frontal band of rain across the Irish Sea to western Britain early on Sunday but focuses one portion of the heavy rain on Wales and then the Peak District up to the Lake District by lunchtime on Sunday. This then leads to a very wet night for the northwestern half of the UK, so Northern Ireland, NW England and Scotland (particularly western counties) with the worst of the heavy rain pulling northwards over Shetland by Monday morning.
The low pressure which gobbles up ex-hurricane Nigel does stay away to the northwest of the UK this weekend but we will see impacts from heavy and persistent rain for some regions and a widely blustery day on Sunday, although with milder air.
Top image NASA WorldView 21st Sept